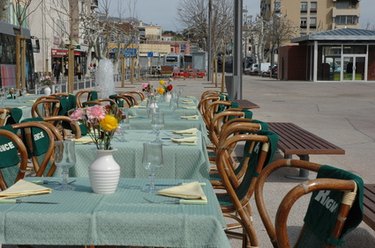 Tablecloths and placemats are normally used separately; however,there are no set rules when it comes to using them and etiquette rules do not require that these two items be used separately. Placemats are used alone at very informal events, while tablecloths are used when the event is more formal, but can also be used for fun, festive, informal celebrations. Both items can be used for special occasions or everyday dining, depending on the atmosphere you want to create.
Step 1
Choose the tablecloth and placemats according to the event you are having. If you are celebrating a wedding, use light neutral colors such as champagne or ivory. If you are celebrating a birthday or summer holiday, use bright colors such as reds, oranges, blues, or greens. Use patterned table cloths for informal events and solid colors for formal events. Purchase placemats in seasonal colors. These usually are items you use every day, so use seasonal colors to add interest to the table.
Step 2
Put placemats at every chair, directly on the table. Place table settings on the placemat for very informal family meals. These can be used on a daily basis, but you can change styles depending on the day of the week. Use more colorful placemats on weekends or when there are guests at the dinner table.
Step 3
Place a pad underneath the tablecloth, so whatever tablecloth you use falls smoothly over the table. Place a tablecloth that is a suitable size over the table--for romantic or formal events, they should be fabric tablecloths with a drape of 8 to 12 inches. Place your dinnerware settings directly on the tablecloth. However, there is no set rule here, and some people use placemats on top of the cloth. If this is the case, use cloth mats with a cloth tablecloth. Place delicately patterned placemats on solid-color tablecloths, and solid mats on patterned tablecloths.
Step 4
Use floor-length tablecloths only on buffet tables, to make them stand out. Avoid using placemats on this type of table.
Step 5
Place plastic tablecloths for informal, fun occasions. Use square patterned or brightly colored vinyl tablecloths for children's birthday parties and fun holiday celebrations such as the Fourth of July or Halloween. Set the place settings directly on the tablecloth or place vinyl or plastic placemats on them. Use solid colors on patterned tablecloths, and patterned placemats on solid-color tablecloths.