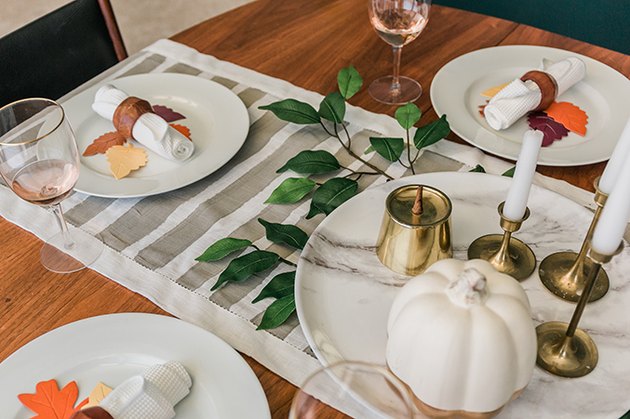 So, you remembered to defrost the turkey, pull out your holiday-themed decor, and create a beautiful fall-inspired centerpiece for your Thanksgiving feast. Good for you! The only problem is that you forgot to order that gorgeous table runner that you had been eyeing. Fear not — you can make your own! (With just a few products you can get delivered ASAP from Amazon, or pick up from your local crafts or hardware store.) We've got you covered with this easy 20-minute project.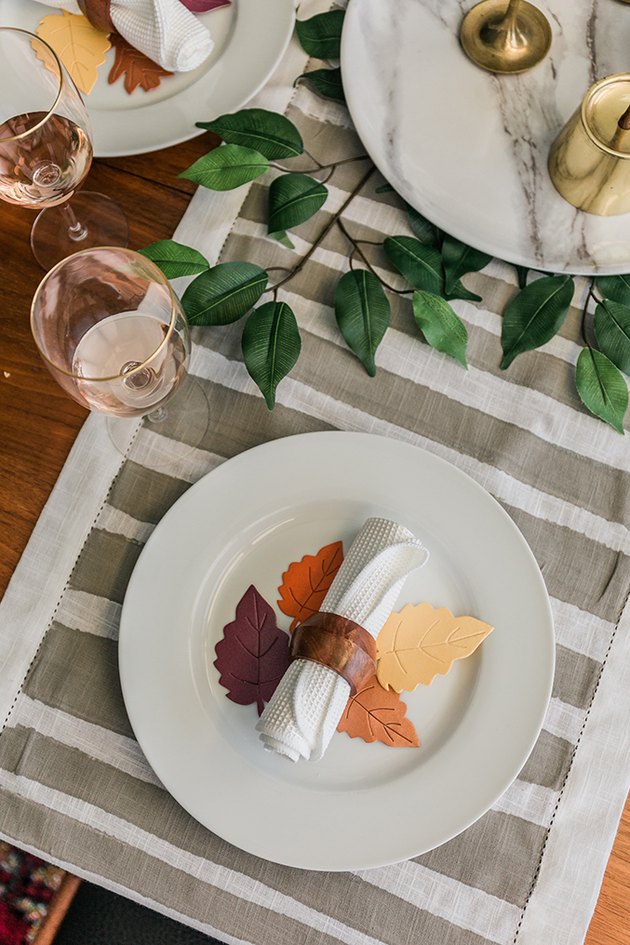 Step 1
Lay your white cloth table runner on a large foam core board, then mask off the edges using painter's tape. If your runner has a stitched border like ours does, then you can use that as a natural end point for the edge of your stripes. Press the tape firmly in place with your fingertips.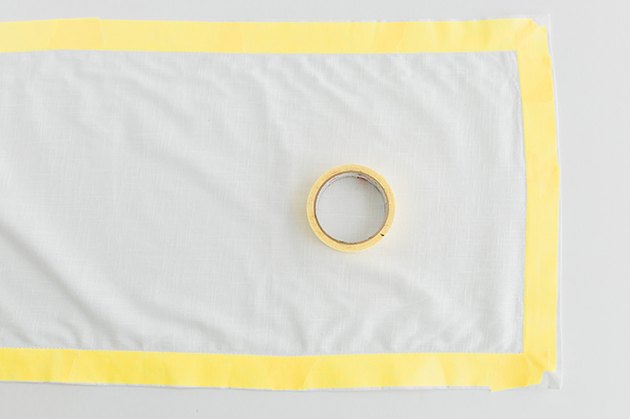 Step 2
Fill the foam roller with acrylic paint using the instructions that come with your roller. Note that we ended up using almost an entire 8 fl. oz. bottle of paint for this project, so, depending on the width of your stripes, you might want to order two bottles to be on the safe side.
Step 3
Practice using the foam roller on a sheet of scrap cardboard; that way, you can get a feel for how hard and how often to squeeze the roller for paint application. You can also play around with different ideas if you want to go with a slight variation on our striped design. (Think: checks, squiggles, spots.)
Step 4
Carefully but quickly roll painted stripes out onto your runner, making sure to paint up and over the masked areas on each side for a smooth edge. Feel free to get creative with your stripe widths to give it a playful vibe — thick, skinny, and anywhere in between. Resist the urge to try for perfection! Have fun with this project, and embrace the rough edges. It's handmade after all!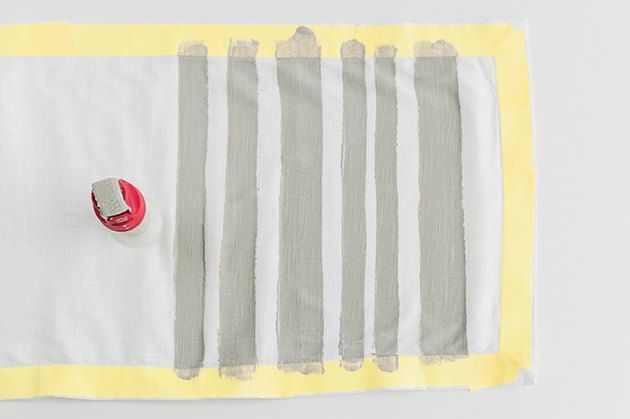 Step 5
Before the paint has a chance to fully dry, remove the masking tape and discard it. Then, peel the runner off your foam core board. The paint will seep through and make it stick to the board, so make sure you pull it away from the surface before the paint dries. Place the finished runner on a drop cloth to dry completely for two to three hours.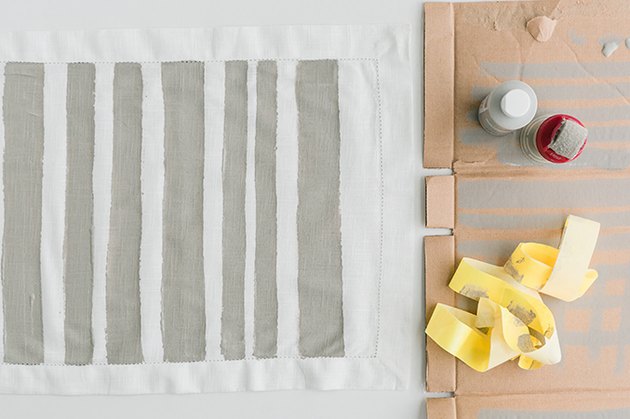 Step 6
---
Carrie Waller is the writer, stylist and photographer behind the lifestyle and crafting blog, Dream Green DIY, which was founded in March 2011. Her work has been featured by Domino, Better Homes and Gardens, Design*Sponge, HGTV Magazine, Country Living, Rue Daily, Glitter Guide, and Apartment Therapy. Carrie lives in Waynesboro, Virginia, with her husband and their three pets.
View Work