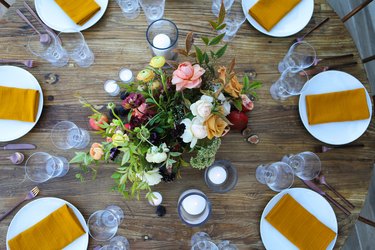 When Annie Campbell threw her first Thanksgiving with her partner, Greg, six years ago, she went big. Turkey three ways. Two types of stuffing. Sweet and mashed potatoes. A signature cocktail, plus Negronis and lots of American wine. Six kinds of pie. It's not something you might attempt your own first time out — she is, after all, the owner of her eponymous Laurel Canyon-based boutique catering and event business. In fact, she says, "I wouldn't recommend it to everyone. We're maniacs."
Thanksgiving, perhaps more than any other meal of the year, is a time to hew to the classics, to honor tradition, and to feed the masses — and yet, somehow, to also add a personal touch that people will remember. For Campbell, who now hosts every year, it's always an elaborate spread, typically for 30 or more, a melange of friends, Thanksgiving orphans, some strangers and, these days, small children. "I'm very sad and think I'm having a small Thanksgiving," she says — and by small, she means "only 20."
Whether your Thanksgiving celebration is for four — or 40 — Campbell has some hard-won wisdom to share, including how much food and drink you actually need per person.
The Table Setting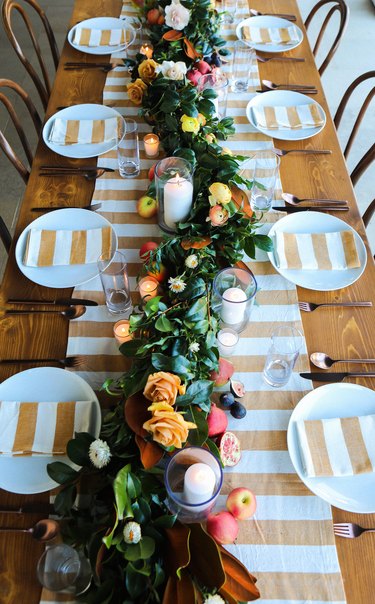 Table size: one foot per person. That's how much table space you'll need. So if it's eight people, you need a six-foot-long table with chairs at each end. If it's 20, you need 18 feet of table. At Campbell's house, it's one very long table spread — but somehow it just works. "It still feels intimate," she says.
Tablescapes. Campbell calls herself "a candle monster," and she typically plans for 12 candles for every eight feet of table. But she also says that table decor is really up to time and money. Single stem bud vases are great for a novice florist, as well as an easy DIY seasonal centerpiece. Or, she says, you can forget the flowers, and spread persimmons, pomegranates, and votives across each table. (For a creative way to set the kids' table, these ideas are simply adorable.)
At least eight feet for a separate buffet table for Thanksgiving dinner, says Campbell. (Space permitting, of course.)
At least a glass per person per hour. This goes for wine, water — or whatever.
Don't forget the serving pieces. It's an all-too-common mistake, especially for first-timers. "The day before Thanksgiving, you should be setting your table and pulling your serving pieces," says Campbell. If you do it even earlier — which she wholeheartedly recommends — you still have time to run to the store to pick up any large spoons or tongs that you're missing.
Pick one source of inspo — and go with it. "Every year for Thanksgiving, I definitely start with a palette" says Campbell. She might be inspired by one element of the table — burgundy peonies, or goldenrod-colored napkins. Everything else, when it comes to decor, flows from that one thing. "I'm more thoughtful and intentional about my table at Thanksgiving," says Campbell.
The Food
Although Campbell has, in the past, considered Italian and Asian-inflected Thanksgivings, she knows that classics are the way to go. "Seventy-five percent are tried and true dishes, and twenty-five percent, we're doing different twists on things," she says. (See below for tips on how much food and drink to serve per person.)
Turkey: "I do think the rule is a pound per person," says Campbell. But since she also intends to send everyone home with leftovers, she says, "I always want extra."
Stuffing: "Across the board, for most people, Thanksgiving is all about the stuffing," says Campbell. For her first Thanksgiving, she did one fennel sausage, kale, and squash sourdough stuffing (similar recipe) and another with mushroom, leeks, and cornbread (similar recipe).
Vegetables and salad: This is where Campbell changes things up, year to year. Last year, she did a roasted delicata squash with pomegranate and mint (similar recipe). This year, she's thinking of braised savoy cabbage, with stone ground mustard. "I'm always inspired by the different things I see at the farmer's market, or in restaurants," she says.
Sweet potatoes: "I didn't grow up with sweet potatoes," says Campbell, so it's something she would potentially assign to one of her guests.
When it comes to food, however, Campbell says not to scrimp. "People will have multiple helpings of the things they love," she says. "And it's very sad on Friday to not have a turkey sandwich."
Dessert. "It would not be Thanksgiving for me without pumpkin praline pie." It's her grandmother's recipe — which is always a nice touch for a Thanksgiving meal. At Campbell's house, the rest of the desserts are potluck. "That's what I have people bring," she says.
The Drinks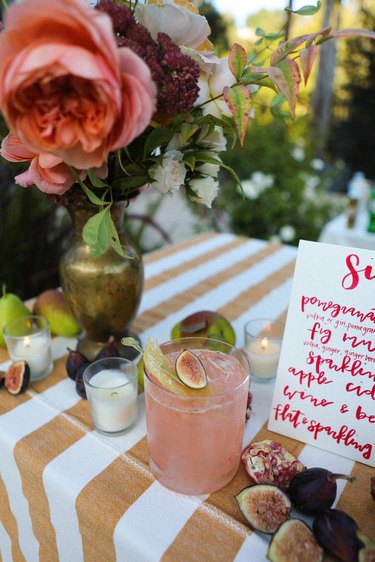 Sips. "I really don't do any party without a signature cocktail," says Campbell. And for Thanksgiving, a self-serve signature cocktail is a really nice detail. Campbell always makes cranberry king-sized ice cubes (similar recipe), and prepares a pitcher or two of something special in advance, "so that nobody has to play bartender while watching football or cooking the bird." Nice options are a cranberry Moscow Mule, an Old Fashioned, or a harvest margarita, with cider, lime and cardamom. "In L.A., everyone likes tequila."
At the table, she serves American wines — as well as non-alcoholic options, like a cran-raspberry spritzer. And, of course, sparkling cider for the kids.
Giving Thanks
"We always do one table and every year we go around and everyone says what they're thankful for. That takes all of dinner, given the size," she says. "But I think it's something that everyone looks forward to every year." It helps, she says, that it's a big collection of friends and strangers, and not necessarily family. "Not every family table is quite as open or quite as vulnerable," she says.
The After Party
At Campbell's house, dinner and pie is always followed by a raucous game of Celebrity. And everyone goes home with her signature leftover kits.
Pro Party Tips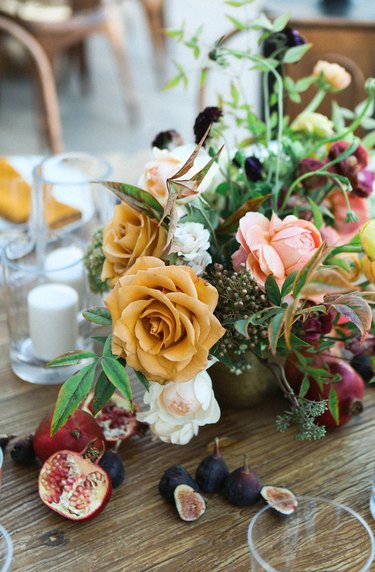 Campbell's primary tip for Thanksgiving, is that everything can be done even sooner than you think — so do it early. That means vegetables for stuffing can be prepped that Sunday or Saturday. Certain dishes, like mashed potatoes, can be cooked Tuesday — and reheated. Cranberry sauce can be made a week in advance, as can gravy." It's about breaking down all the things that you're making and thinking, what can I do now? Can I make the salad dressing?" she says.
Don't plan to serve something hot or last minute for an hors d'oeuvres.
Don't transfer prepared foods into serving dishes right before the meal, she says. "Put things that are served at room temperature in their proper dishes, then you can start the party with clean dishes and a clean sink."
Let go. "At a certain point, you can prepare and plan and do your best and inevitably there will be mess ups," she says. "And that's okay. I don't lead by example, I'm a maniac, I'm tense. My dishwasher is full when people arrive. And I do this for a living!" For a foolproof Thanksgiving, the trick is knowing that foolproof is not the point — it's about the people gathered together, and the spirit of tradition.
"You don't want to feel tight on Thanksgiving," says Campbell.
How Much Food and Drink to Serve Per Person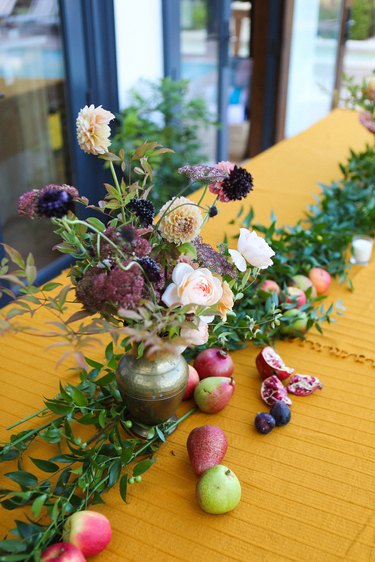 Turkey: At least one pound of turkey per person, and up to two pounds if you're planning on leftovers.
Stuffing: "I'd say a 9x13 dish of stuffing for every nine people — or more," says Campbell. It works out to about ¾ cup per person.
Mashed potatoes: For this Thanksgiving winner, also plan for ¾ cup per person.
Sides: "Trust the recipe," says Campbell, when it comes to vegetables and other sides — and round up for the group. Generally-speaking, plan for a pound for every four people.
Cranberry sauce: Don't scrimp. Plans on at least ⅓ cup per person, more if you're sending home leftovers.
Wine: A good rule of thumb is to ask each guest to bring a bottle, and then have another ½ bottle per person on hand.
Pie: One pie for every six to eight people.