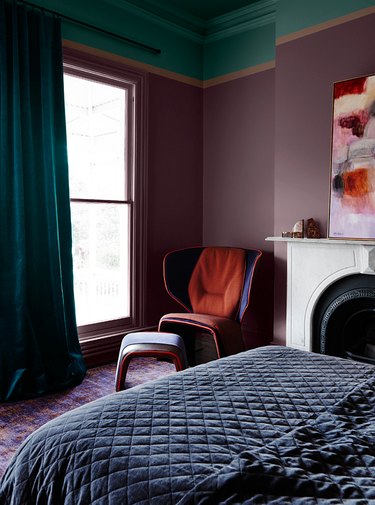 But before you take the leap, have you thought about what colors actually go with purple? It's not at all a neutral, like white or cream, which can pretty much blend in with anything. It takes a little extra creativity and a good eye to pair the dramatic hue perfectly with other shades. Never fear. We're here with a beginner's guide to complementary colors that go with purple.
1. Purple and Yellow
A purple and yellow combination is not for the faint of heart. If you're going for a glam, vibrant space, it's a mix that'll unquestionably turn heads. Consider adding splashes of yellow with the help of drapery, artwork, throw pillows, and pair with a vibrant purple rug à la this space belonging to Cassie from Hi Sugarplum.
2. Purple and White
3. Purple and Pink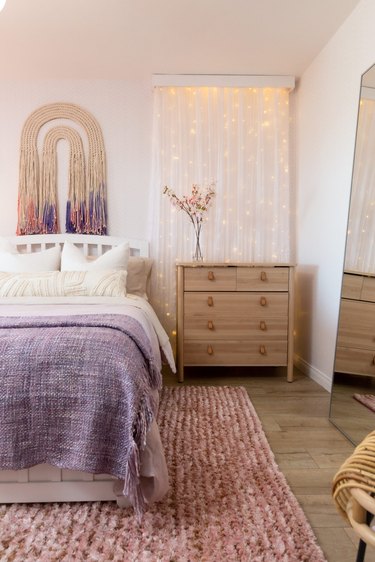 If you're striving for a totally feminine look in your space, among colors that go with purple, none are more feminine than pink, of course. Allow this bedroom by Kate and Joey of Mr. Kate to inspire you. Filled with fairy lights, pastel shades, and cozy textures, this sanctuary is as dreamy as it gets.
4. Purple and Green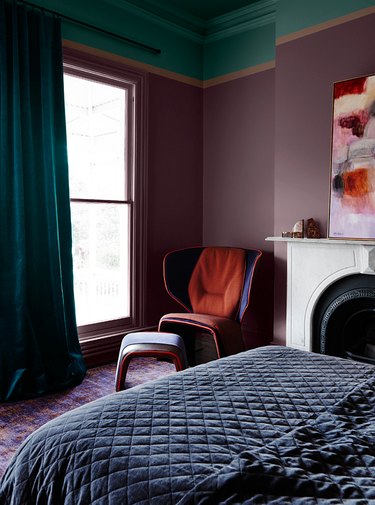 Deep shades of purple and green play quite nicely together, as seen in this jewel tone boudoir. The artful use of the color combo puts varying shades of both green and purple to work, resulting in a picture-perfect bedroom design bursting with drama and decadence.
5. Purple and Salmon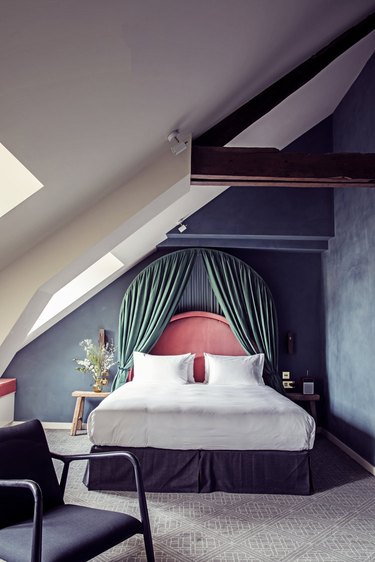 We are loving the calming matte shade of purple used on the walls of this bedroom, created by Dorothee of CHZON. The soft, uneven finish pairs beautifully with a salmon-colored headboard flanked by canopy drapery in a muted shade of green. Bonus points for bringing in yet another color that goes with purple.
6. Purple and Blue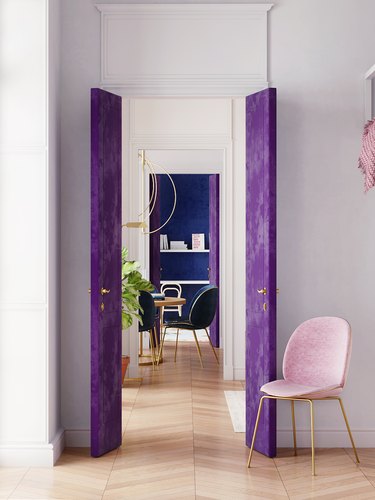 Purple and blue are very close to one another on the color wheel, and since they're pretty much from the same family, it's no surprise that they mesh flawlessly together. But don't take our word for it. In this delightful Paris apartment designed by Crosby Studios, the oversize upholstered doors flaunt a rich violet hue while the back wall of the office and the dining chairs are upholstered in dark navy, saturating the bright space in just enough color to keep things interesting.
---
Shelby Deering is a lifestyle writer who contributes to national magazines and websites, including Country Living, Good Housekeeping, Well+Good, and more. When she's not writing, you'll find her shopping flea markets, hiking, and going for walks with her corgi.