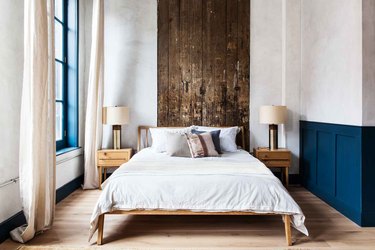 Industrial style has come a long way since its inception in the early 20th century. Once synonymous with lofty spaces showcasing exposed brick walls and beam-covered ceilings, it has since evolved with comfort and design at its forefront. The use of recycled elements, raw materials, and a hard contrast — often between wood and metal — are classic markers of an aesthetic that champions a mix-and-match approach.
When it comes down to the color schemes associated with industrial style, we may be quick to look to shades of gray and black when in reality, there's an entire rainbow of different hues at our disposal. Need proof? Ahead you'll find five industrial color palettes that promise to keep things interesting.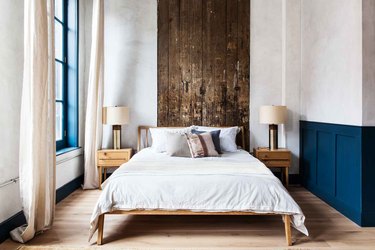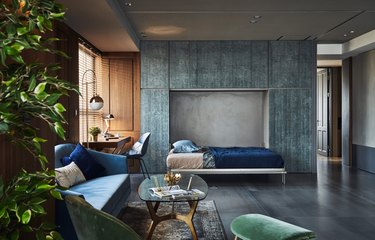 As the smooth faux-iron floor tile and the cement-inspired walls in this industrial-style urban dwelling set the groundwork, the blue furnishings and accents paired with subtly patterned cabinet fronts and warm wood wall paneling offer a textural component that lends the room a sense of depth.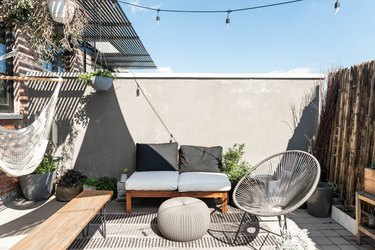 Smoky hues are a mainstay of industrial style — after all, materials such as concrete, iron, and stainless steel are considered emblems of the aesthetic. To translate that into an interior (or exterior!) go for a monochromatic industrial color palette centered around shades of gray.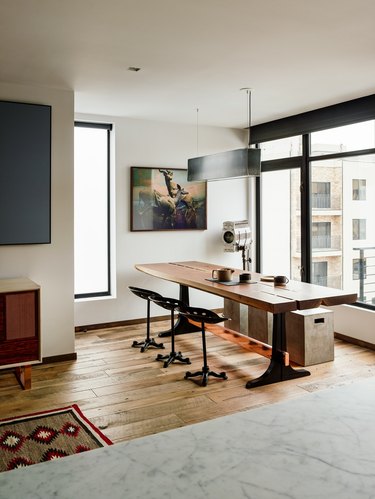 Industrial style can be refined, yet rugged, and it's the thin line between the two that makes it so unique. Take this Brooklyn apartment, for example, where off-white walls seem entirely ordinary, but the black, steel-framed windows, wrought-iron fixtures, and steel table base immediately ground the backdrop with dynamic flair.