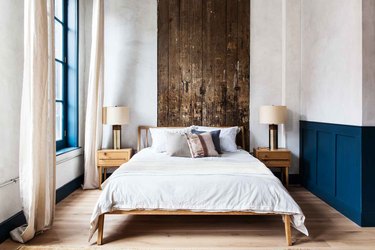 These days, most smaller hotels make an effort to vibe with their surroundings. But not many are shrines to their locales. That's what co-owner and founder Chad Ludeman wanted to do with Lokal (get it?), the hotel he opened in Philadelphia's Old City neighborhood last year. Infusing the interiors with Philly spirit, each of six rooms is named after a city native — think Tina Fey, Will Smith, William Penn, Betsy Ross.
The industrial building is also rich in history. "They made light caps and different things for World War II and it was a shoe store and liquor store at one point, in the '20s," says Ludeman. The most recent use was a print shop where its owners lived upstairs.
Ludeman brought in Jersey Ice Cream Co., a design firm, to help with the renovation and styling. The overall goal? For guests to really feel like they're experiencing the city as if they live there. "We wanted ... a neighborhood vibe where you felt like you were a local staying in a really well-done apartment," says Ludeman. So the rooms — which combine midcentury furnishings with industrial and rustic finishings and start at $195 per night — feel more like Airbnbs thanks to kitchenettes and living room-like seating areas.