These days, most smaller hotels make an effort to vibe with their surroundings. But not many are shrines to their locales. That's what co-owner and founder Chad Ludeman wanted to do with Lokal (get it?), the hotel he opened in Philadelphia's Old City neighborhood last year. Infusing the interiors with Philly spirit, each of six rooms is named after a city native — think Tina Fey, Will Smith, William Penn, Betsy Ross.
The industrial building is also rich in history. "They made light caps and different things for World War II and it was a shoe store and liquor store at one point, in the '20s," says Ludeman. The most recent use was a print shop where its owners lived upstairs.
Ludeman brought in Jersey Ice Cream Co., a design firm, to help with the renovation and styling. The overall goal? For guests to really feel like they're experiencing the city as if they live there. "We wanted ... a neighborhood vibe where you felt like you were a local staying in a really well-done apartment," says Ludeman. So the rooms — which combine midcentury furnishings with industrial and rustic finishings and start at $195 per night — feel more like Airbnbs thanks to kitchenettes and living room-like seating areas.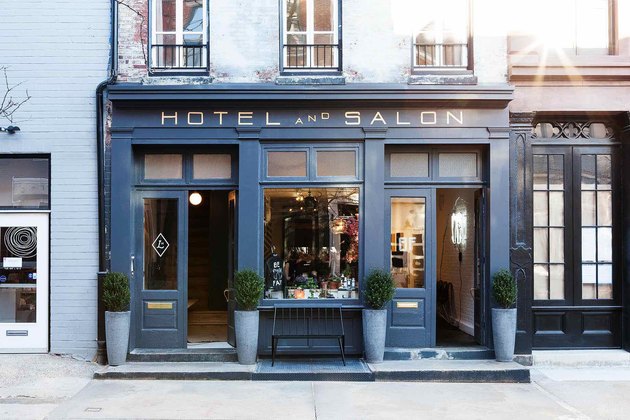 1 of 8
Exterior
Design and tattoo company True Hand Society helped with the branding, logo, and signage. The hand-painted lettering on the front of the building was done with gold-leaf paint and made to look distressed and imperfect to match the building, says Ludeman.
2 of 8
Room
The two-bedroom Betsy loft, named after Betsy Ross, is the hotel's lone family suite. It features a wall of multi-pane windows, a comfy leather couch, a separate room with bunk beds, and a dining room table that can seat five.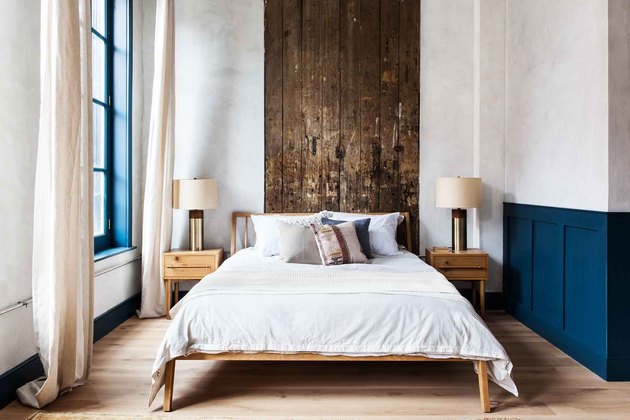 3 of 8
Room
Lokal's designers wanted to go above and beyond what hotels normally offer for bedding, which is why they scouted out direct-to-consumer brands. Casper was chosen for the mattresses and Parachute for linens and towels. Bed frames were created by Hedge House Furniture in Ohio.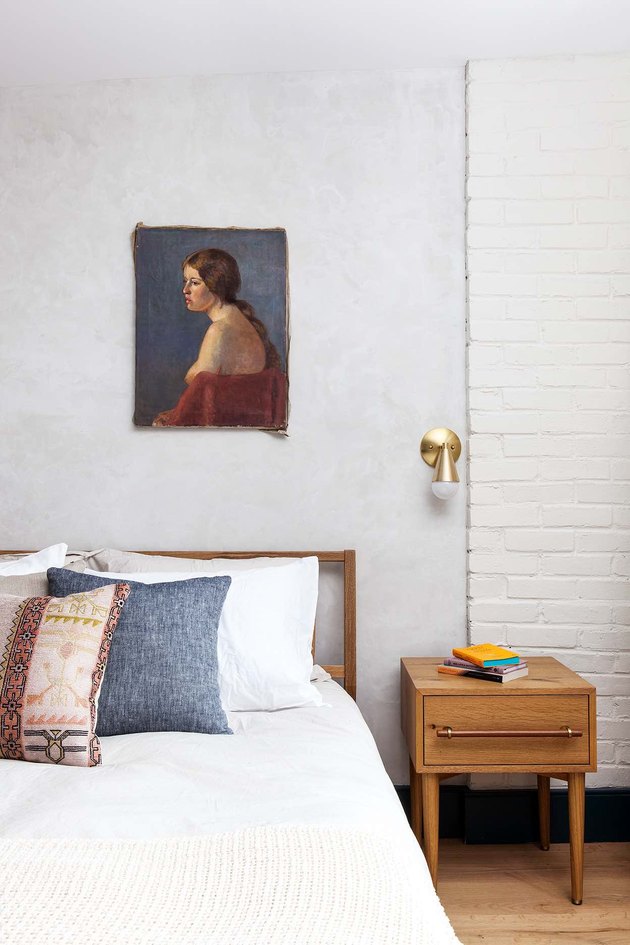 4 of 8
Room
The team scored a package of vintage oil portraits on eBay, and divided them up among the rooms.
5 of 8
Kitchen
The Ben (Franklin) room's kitchen features pops of cornflower blue and brass light fixtures. Philadelphia Woodcraft Company created the custom islands.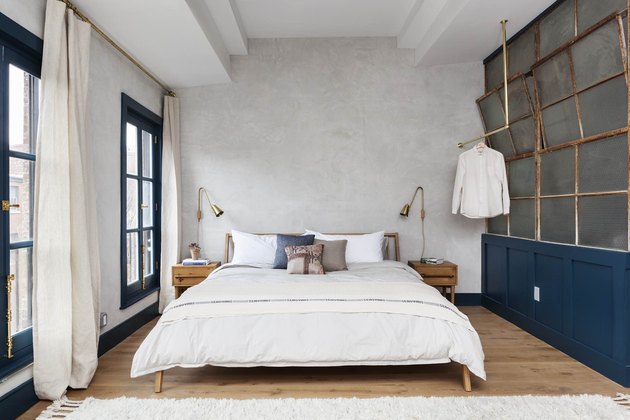 6 of 8
Room
"The biggest salvage-architectural company (Provenance) is two blocks from our headquarters in Philly," says Ludeman. The company was tasked with installing wide-plank flooring and room dividers "very similar to the original ones which were rusted and in bad shape," explains Ludeman.
7 of 8
Dining Area
In the Tina (Fey) two-room suite, Philadelphia Table Company's dining room table is minimal in design, allowing other features to shine, including the globe pendant lighting and vintage oil portrait.
8 of 8
Bath
A timeless and carefully chosen black-and-white look in each bath extends to the black claw-foot tub. Toiletries are from Duross & Langel, a Philly-based sustainable line.
---
Based in Wisconsin, Kristine Hansen covers art, architecture, travel and food/drink, and lives in a 1920s bungalow.
View Work