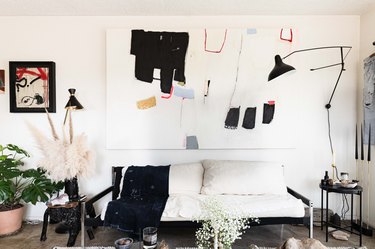 ​Hunker may earn compensation through affiliate links in this story.​
No one would ever mistake Bay Area interior designer Alison Pickart's style for modern industrial, but that doesn't mean she shies away from industrial lighting. "It has a place," she says. "You can be the fanciest of fancy and it still has a place. You can be the girliest of girly, and it has a place. It works with all styles."
"Know when to say when," Pickart says. When industrial lighting is used sparingly or as an accent, it can transform the personality of a room. "If you can weave your story throughout your house or apartment with a well-placed, sculptural piece, that's fantastic. When it gets to be everywhere, it looks like a homework project that went awry."
1. Go Basic (but Not Boring) With a Humble Light Socket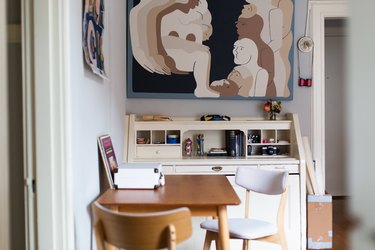 "Our basic best friend: the porcelain socket," Pickart says (seen here in artist Buckley's home studio in Portland). "It's the origin of illumination. And there are iterations of it now that are fantastic." You can get a basic socket at the hardware store for under $5, and then options blossom from there. In particular, Pickart is a fan of the simple flush mount lights you can find at CB2. "With bulb shopping today, you have so many options. That can be your adornment."
2. Consider a High-End Reinterpretation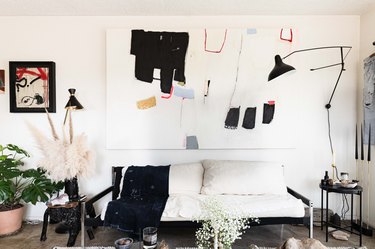 The French lighting manufacturer DCW éditions specializes in reimagining classic shapes. A traditional industrial swing-arm lamp grows and becomes praying mantis-like in this statement piece for the living room.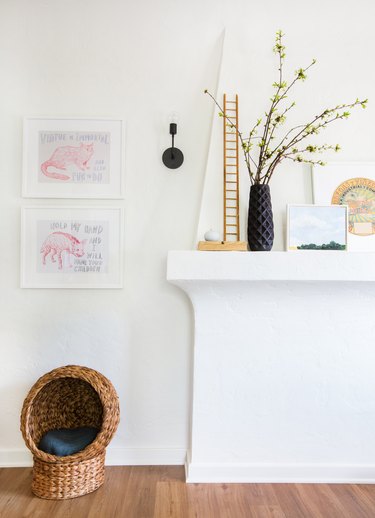 Living room lighting doesn't always have to make such a statement, though. This chic, industrial sconce is both simple and modern.
4. Cool a Traditional Space With an Industrial Fan/Light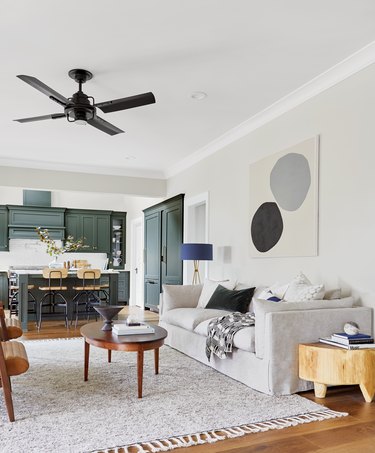 Instead of a simple white fan that would disappear into the ceiling, this industrial LED fan makes a strong visual statement and acts as a beautiful contrast to the more traditional choices elsewhere in the room.
Part of the charm of industrial lighting is that you can sometimes recreate it yourself with one trip to the hardware store. Pete Panciera of the home goods brand Norden hand built this sputnik-style industrial chandelier, which anchors his open living room-dining room, in about six hours. The brass continues to age and change.
6. Use It as a Counterpart to a Refined Space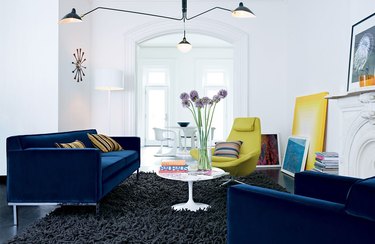 "In order to make industrial lighting feel good, it needs to have a counterpart," Pickart says. Trying bringing a midcentury piece with an industrial feel to an otherwise refined space, which brings in a lighter, more fun sensibility. "Spaces can start to take themselves too seriously if they're only fancy," she says.