Nothing says effortlessly cool and low maintenance more than an industrial-style living room, does it? It's pretty much our dream to be that easy-breezy kind of homeowner who simply throws a sofa against a brick wall and reaches optimum cool in a matter of seconds. Yes, we're talking Andy Warhol Factory-style circa 1965.
Key features of industrial style include concrete floors, brick walls, Crittall steel-frame windows, exposed pipes, and ceiling beams — and you don't necessarily need a lofty warehouse to achieve the look. Here are seven industrial living room ideas to unleash your inner creative.
1. Opt for hairpin legs.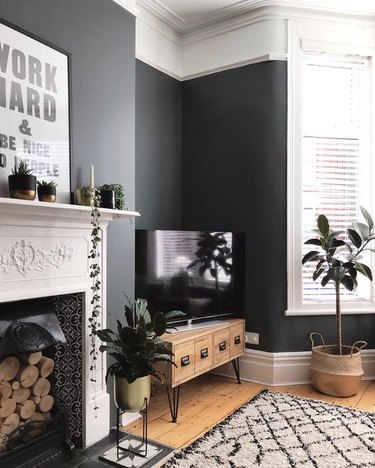 Hairpin legs are a crowd-pleaser and Jen of The House That Jen Built is spot-on with her wood and metal TV cabinet — we're swooning over those vintage-inspired handles. Not to mention, the addition of a shaggy rug and some plant life creates a perfectly thrown together look, ideal for getting cozy by the open fire.
2. Make the most of concrete walls.
Concrete walls are a surefire way to bring interest and texture to a room without breaking the bank. Make the most of them by incorporating wood, slate, and other natural materials to accentuate their raw, organic appeal. For example, blogger Ema Brenda keeps her industrial living room looking oh-so-dreamy by using an earthy color palette of brown, gray, and black. And her potted plants add just the right pop of color for visual interest.
3. Keep it neutral.
Industrial living rooms tend to look best when a neutral color scheme is maintained throughout. Steer clear of bold hues unless used on an accent piece such as an Anglepoise-style floor lamp or art print. Instead, go monochrome for a clean aesthetic like this lofty space created by RailiCA Design.
4. Dare to go bold with lighting.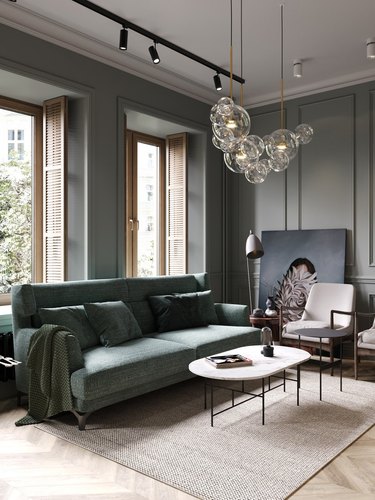 Don't be afraid to inject luxe detailing into your industrial abode — after all, high ceilings were made for statement lighting. The team over at Cartelle Design has nailed this industrial living room idea with the help of a sculptural glass chandelier, plush velvet sofa, and light wood herringbone floors.
5. Go for an open floor plan.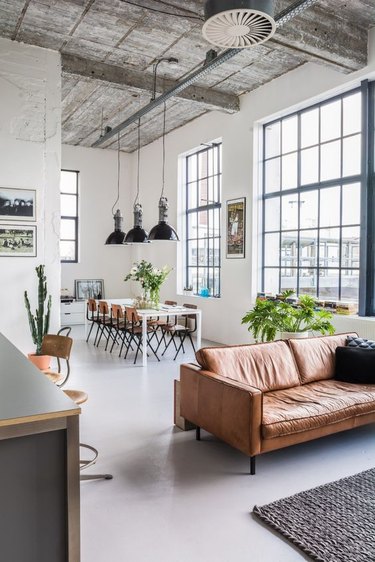 If you're thinking of renovating your home, always opt for an open floor plan — it's the ultimate industrial living room idea. This layout will allow natural light to flow from space to space, so your home will feel bright and airy. Just look at this lofty pad in the Netherlands for inspiration. You're welcome.
6. Use contrasting materials.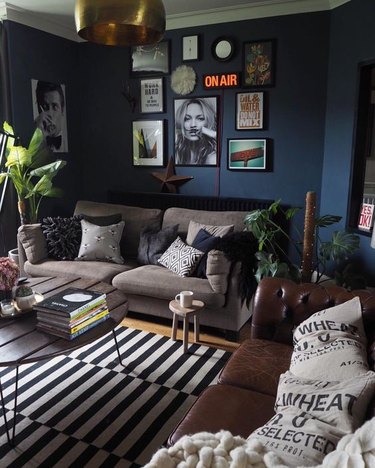 7. Expose brick.
Brick walls are a common industrial living room idea, but that doesn't mean that you have to embrace them in their original state. Interior designer Becky Shea painted her client's exposed brick in a soft shade of white, complementing the look with blackened steel and natural materials like leather. And we're digging the layered rugs that bring warmth and comfort to the light and airy room.