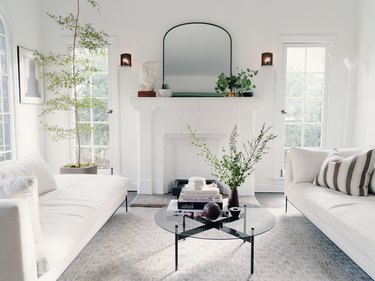 Choosing modern lighting for your living room is a solid choice — modern light styles can easily suit many different kinds of decor, and due to their straightforward designs, are not likely to feel dated as the years go by. Here, you'll find out how and where to source modern light fixtures as well as inspirational ideas for incorporating them into your own living room.
Defining Features of Modern Living Room Lighting
While modern lighting can often allude to other styles like industrial or midcentury, for the most part, it is defined by streamlined shapes without excessive embellishment. When trying to source modern light fixtures for your living room, think about the materials: The primary components of modern styles are glass and/or metal. Modern lights also tend to rely on the colors of their components and do not feature bright or splashy hues — instead, look for white, black, and metal finishes.
Large Metal Pendant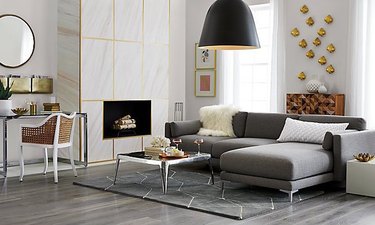 A metal pendant will direct the light in your living room to one focal point, which means this can be a great option for smaller living rooms.
Modern Chandelier
When you think of chandeliers, you might first think of pieces that feel more traditional or rustic, however, there are plenty of chandelier options (like this one from Schoolhouse) that draw on more simple forms. This circle of globe-shaped bulbs will provide plenty of illumination in any size living room. Other popular variations of this chandelier style include structures that stagger bulbs or place them on pieces of angled metal.
Arched Floor Lamp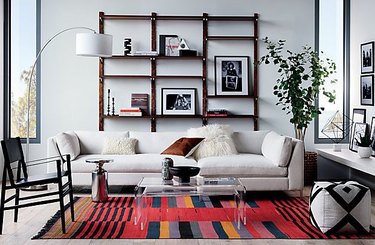 An arched floor lamp with a cylindrical shade is a classic form — you can find high-design versions of this look that will cost you thousands, but you can also source arched lamps from bargain retailers.
Streamlined Flush-Mount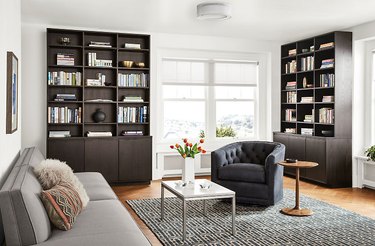 The brilliance of modern living room lighting is that you don't always need to get so specific about it. A simple flush-mount in a perfect circle will blend right in.
Geometric Pendant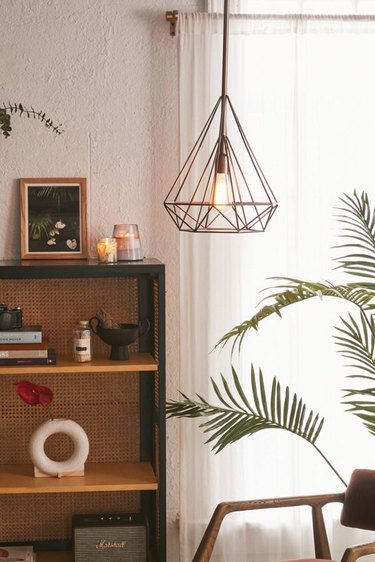 Geometric forms are common in modern lighting. Because they expose the bulb, the illumination is strong.
Vertical Sconces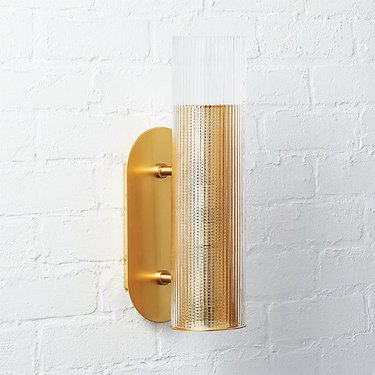 Sconces are generally not very effective as a living room's sole light source. They can, however, become sophisticated accents, especially when framing a particular area or object in your living room — like a couch, fireplace, or credenza. If you want to make the look modern, then sconces that are narrow and vertical can achieve that.
Glass Pendants
Glass pendants can come in many shapes and colors — for your modern purposes, look for circular styles that are either clear or lightly smoked.
Semi Flush-Mount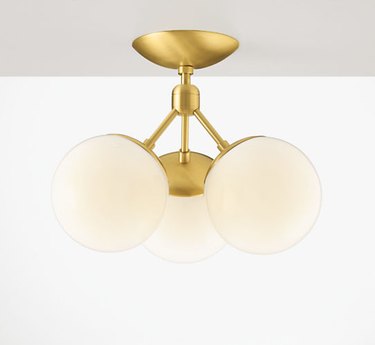 If you want a style that doesn't hang from the ceiling and provides plenty of light, try a semi flush-mount fixture that has space for more than one bulb — like this model from Room & Board.
Exposed Bulb Sconces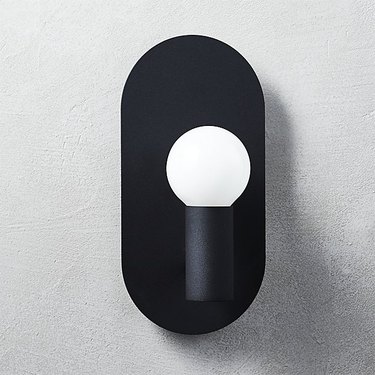 Sconces that use an exposed bulb (as opposed to casing it in a globe or shade) tend to feel modern if the setting is simple enough.
Where to Shop for Modern Living Room Lighting