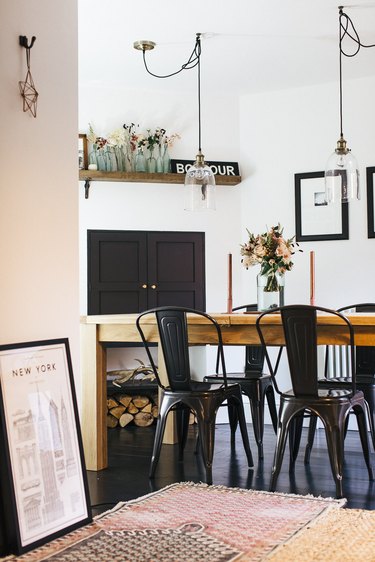 Defined by its use of raw materials such as wood, metal, brick, and glass, industrial style is most certainly a vibe. But you don't need an airy Manhattan loft to achieve the look (although, it certainly doesn't hurt) and you definitely don't need to break the bank. The aesthetic, also known as a vintage lover's dream, often features repurposed and antique elements, giving a second life to storied furniture and decor. The tactile nature of these accents makes the look well-suited to spaces dedicated to dining. Delve into these six industrial dining room ideas, keeping your eyes peeled for any scavenging opportunities while you're at it.
1. Keep it light and fresh.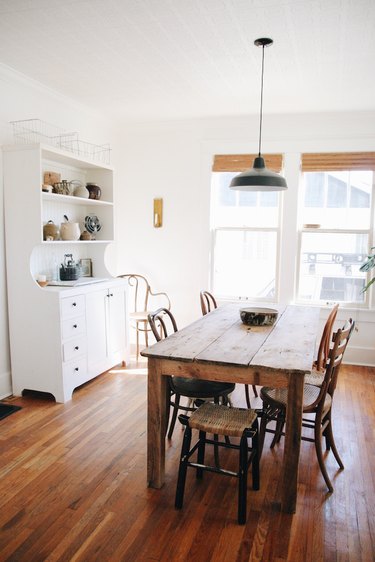 Like white? Industrial style embraces all things organic and if you're working with a rental, your first home, or simply want to keep things minimal, the rough textures will really help elevate a literal blank canvas. Kaitie Moyer and her husband kept things simple with this industrial dining room idea by introducing a wooden table, chairs, and a metal factory style pendant. Easy, timeless, and versatile.
2. Or, go dark and moody.
On the other end of the spectrum, concrete walls and floors are the perfect backdrop in an industrial dining room. The moody, dark aesthetic complements wood and steel details, setting the tone for a theatrical dinner. This transformed garage designed by Bricks Studio is perfect for entertaining thanks to the lofty ceiling height and long dining table with mismatched chairs.
3. Consider exposed bulbs.
Exposed lightbulbs have become a core staple of the industrial look thanks to the stripped-back and utilitarian vibe they bring. Miranda Schroeder shows us how it's done with the help of industrial metal dining chairs and an eye-catching chandelier, similar to this one from Schoolhouse. Get the finished look by painting the walls with Behr Polar Bear and Limousine Leather in Eggshell.
4. Layer accessories.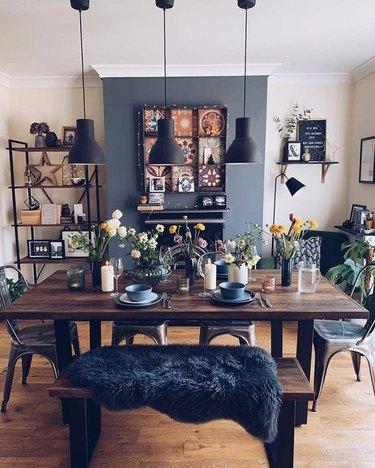 Bohemian and industrial styles can often meet in the middle due to their complementary laid-back elements. Jo of Northern Styling has created a cozy vibe in her dining room by incorporating layers of texture and color. We're also big fans of the blue accent wall in Valspar Bottlenose Dolphin. To complete the look, bring in soft faux fur as well as lots of greenery and freshly cut flowers.
5. Incorporate vintage.
We told you that industrial dining room ideas were a vintage lover's dream — after all you can get the look simply by visiting your local thrift store or neighborhood garage sale. Snag a variety of items made of repurposed wood, retro posters, antique light fixtures, and even a few old suitcases or chests. Natalie from Home Ec. Interiors decked out her space with a rustic dining table and bench, a vintage-inspired chandelier, and old signage resulting in a space that speaks volumes.
6. Champion natural materials.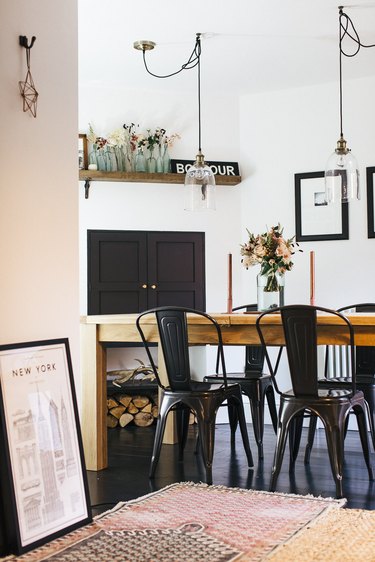 We're going to repeat it louder for those in the back: All industrial dining room ideas NEED raw materials, such as unfinished wood, copper, brass, and concrete. Exposed wiring is absolutely your friend, too, but that doesn't mean the look has to be chaotic. Lauren from Rock My Style kept her space relatively minimal by pairing details like chopped wood and a rustic farmhouse table with metal chairs, industrial pendant lights, and vintage decor.