We know what you're thinking: Beige is boring. But not so fast. The soft shade doesn't have to feel dull. In fact, by pairing the creamy hue with interesting accessories and natural textures, you can transform just about any space into an eye-catching sanctuary prime for relaxation. Here are six dreamy beige bedrooms that might just inspire you to trade in the stark white walls of your sleeping quarters for a warmer tint.
1. Rumpled Luxury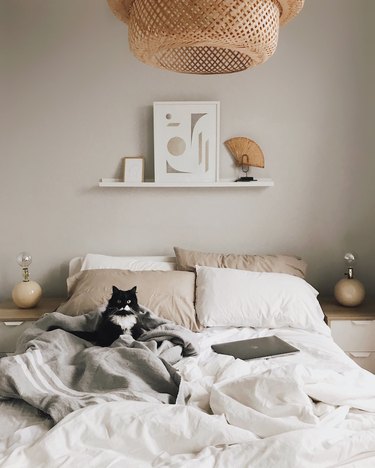 Instagrammer Audrey Rivet's muted pad is the picture of luxury, even her cat agrees. There's just something about rumpled linens in a beige bedroom that manages to feel a little bit decadent and oh-so-cozy.
2. Touch of Vintage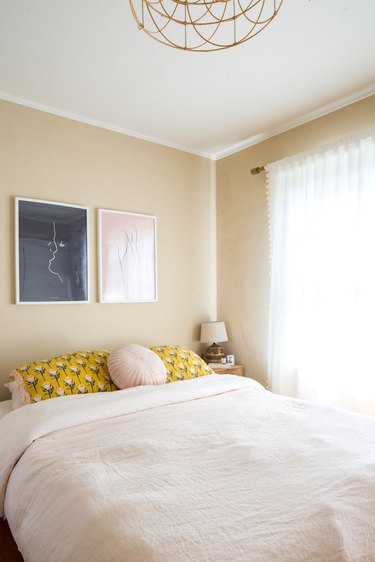 Warm walls, semi-opaque drapery, and vintage accents are the magic ingredients responsible for this dreamy beige bedroom belonging to Pretty Little Fawn's Courtney Halverson.
3. Pop of Color
This 1920s home in the Hollywood Hills complements neutral walls with colorful accents — like a patterned duvet and a framed piece of Los Angeles-inspired artwork. Natural textures — like woven baskets, wood furniture, a sheepskin rug, and a hint of greenery — underscore the California cool vibes.
4. Modern Textures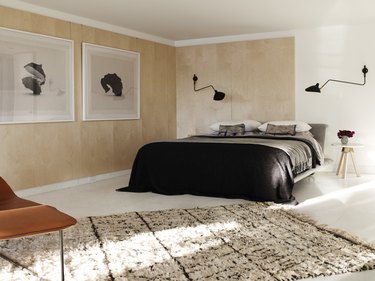 This chic Australian home designed by Amber Road Design plays with texture and color to create a beautiful beige backdrop. The panels of blonde wood on the bedroom walls and the large area rug on the floor blend seamlessly with the black accents throughout, adding striking depth and contrast.
5. Scandi Chic Neutrals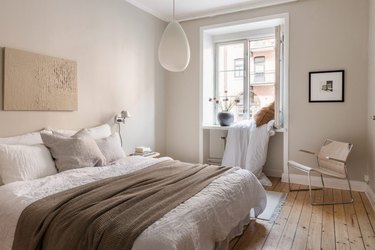 A white ceiling and trim frame the beige walls in this Scandinavian chic bedroom beautifully. White linens, a white teardrop pendant, and light rustic wood flooring add a lovely hint of dimension, without taking anything away from the neutral design.
6. A Minimalist Dream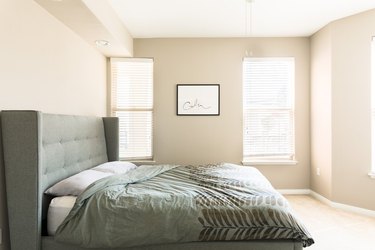 Blogger Aileen Xu added just enough decor to her minimalist bedroom to keep things interesting without distracting from the the tasks at hand: rest and relaxation.