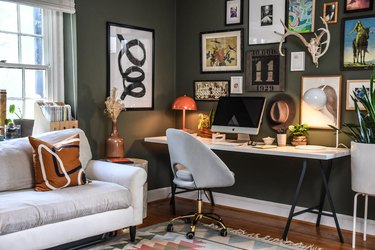 With seemingly every brand known to man releasing a Color of the Year, choosing a palette for your home office can seem like an impossible feat. But whatever you decide, your color choice should have a calming effect, yet motivate you to get the job done. And even if your space is small, you'll likely be spending a lot of time there during the day (and maybe even the night), so the right workspace color scheme is key. How about using a bold shade to give your creativity that extra bounce, or a neutral for optimum focus? There is no right or wrong answer — it's totally up to you. But before you make your decision, check out the following office space food for thought for a little inspiration.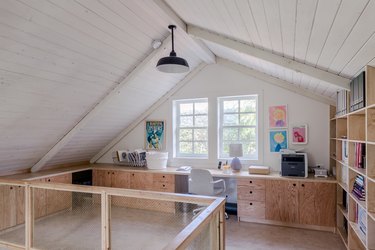 If you want to play it safe, neutrals are always a good bet. Not to mention, covering your office walls in a shade of ivory or off-white is a quick and easy way to brighten things up, especially if your home office space lacks natural light.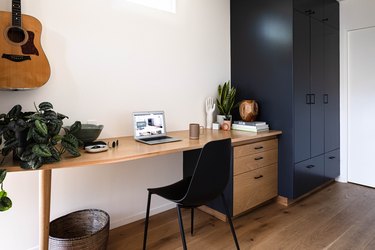 Or, go the opposite route and embrace a high contrast look. Try a bold color like charcoal or black in your WFH setup with a few key pieces of furniture or a bold accent wall. Just be sure to complement the dramatic shade with lighter accents.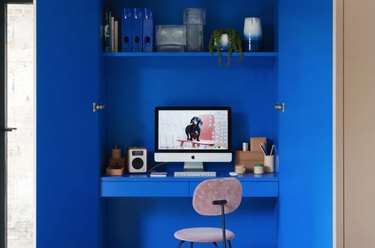 Keep the color palette simple and streamlined by using blue for your home office makeover — then build from there. Consider a monochrome look like this closet nook by 2LG Studio, and use the same hue from top-to-bottom. The good news is that blue comes in a myriad of different shades from light blue to dark navy, so there is a perfect color choice for everyone.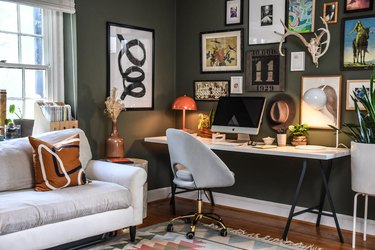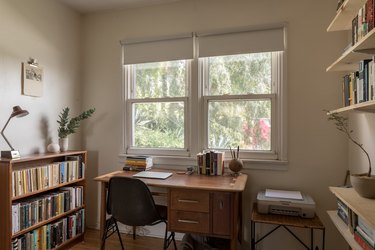 If your home's palette is more on the neutral side, shades of gray and greige are great colors. Try something with a slightly darker undertone for a touch of drama that will look both fresh and modern. Warm up the look with a wood bookcase and bookshelves.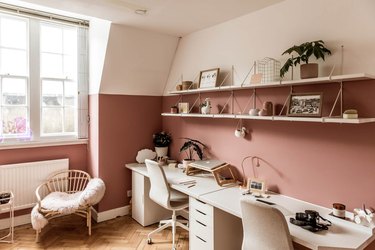 If your style is eclectic, then by all means choose a home office color scheme that reflects your fun personality à la this workstation at Studio Cotton. Pink is a playful and energetic hue that is wildly on-trend at the moment. And bonus: You can pull off the look quite easily, with the addition of a vibrant rug, patterned wallpaper, a modern desk lamp, or a simple accent wall.
Speaking of energetic and bright colors, we just can't get enough of this color block idea from Anna Reynal. Sunset shades like yellow and orange feel optimistic. Plus, they can keep your mood up, which may lead to increased productivity. We dare you not to feel inspired every time you go to open your bright yellow filing cabinet.
Ways to Add Color to Your Office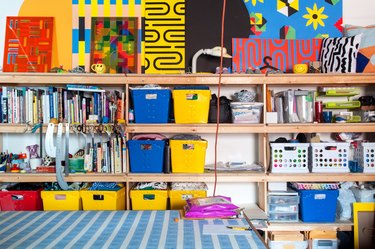 While paint is the most obvious way to add color to your home office, there are other options to consider.
​Paint:​ Once you've selected the office paint colors for your WFH setup, be sure to get samples of each so you can test them on the walls in your space. The lighting in your home changes throughout the day, and will look vastly different than what you see on a computer screen or on a swatch. Here are a few brands to start with that offer some of the best paint colors: Benjamin Moore, Sherwin-Williams, Farrow & Ball, and Behr.
​Wallpaper:​ Wallpaper, otherwise known as a triple threat in the world of interior design, is an easy way to add color, pattern, and texture to any space. And there is literally something for everyone, regardless of your color or style preferences, including removable options.
​Furniture:​ Sometimes paint and wallpaper aren't always feasible, not to mention they're somewhat labor-intensive. Or, maybe you just prefer to start small when it comes to color. Whatever the case, furniture is a great way to add a pop of color to your workspace. With a bold storage cabinet or a vibrant desk chair, you can quickly brighten things up. And if you change your mind or get tired of that piece of decor, you can easily swap it out for something else.
​Lighting:​ Similar to furniture, lighting is another easy way to add color. Invest in a fun desk lamp or colorful pendants to add just a hint of your favorite hue.
​Area Rug:​ With so much attention on the walls and furniture it can be easy to forget about the floor in a home office. But that would be a mistake. Topping off your design with an area rug will define your workstation while adding warmth, color, and texture.
​Artwork:​ Even though your office is a place dedicated to work, that doesn't mean it has to be void of home decor. Inspire creativity and add color by incorporating one or two pieces of artwork or a potted plant. Your eyes will thank you for providing something else to look at besides the computer screen.