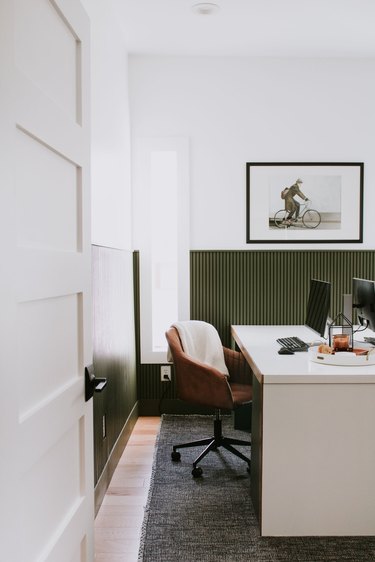 No longer thought of as a luxury for those with ample square footage, now, home offices are becoming more of a necessity for everyone. So naturally, people are looking for inspiration to help them create functional and stylish workspaces. As with any other room in the house, it's important to make your WFH setup feel like your own — displaying your unique tastes and favorite hues — regardless of how big or small (or if it's located in a room of its own or in a corner of the living room).
That's where the color green comes into play. Not only is it trending in the world of interiors — but if it's your preferred hue, it should definitely live in your office. Go top-to-bottom with green walls, bring in lots of greenery, paint a bookcase, or incorporate a variety of similar shades to create a tone-on-tone aesthetic. Craving a little inspo? Scroll on for eight green home office ideas that are brimming with verdant charm.
1. Embrace green shelving.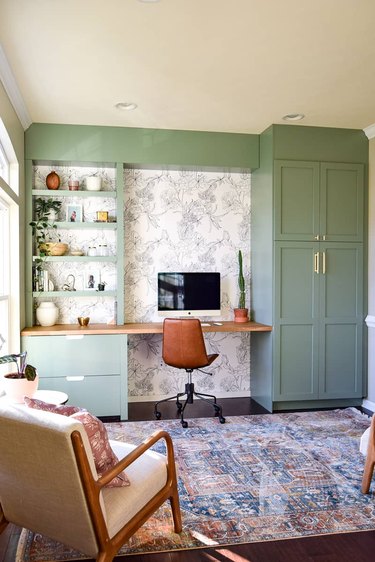 Whether it's a single bookcase or a wall full of built-ins, we think green is an impeccable color choice for a home office design. The verdant shade adds just the right amount of pop without overwhelming, as proven by the cabinets and bookshelves in this office belonging to Sarah of Making Joy and Pretty Things.
Since certain shades of green can act as a neutral, the color choice can be an opportunity for you to play with patterns freely. For example, in this glam office styled by Alisa of A Glass of Bovino, the green walls pair flawlessly with animal print touches and detailed wallpaper.
3. Opt for green wallpaper.
Even with all of the green paint colors out there, it's possible that none of them will strike your fancy. In that case, we'll direct you to wallpaper, since there are literally a million patterns to choose from. It'll add unique and eye-catching interest in your home office, as seen in this Chris Loves Julia space.
4. Create an accent wall.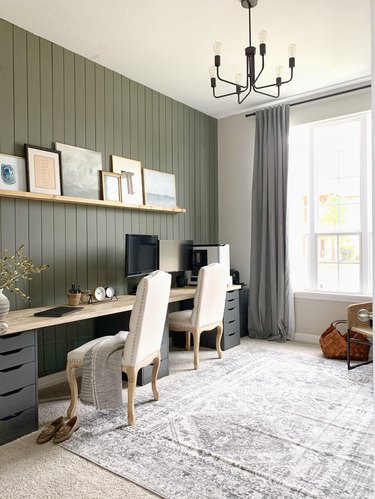 If you don't want to commit to full-on green, simply paint an accent wall in your office. Add a bit of flair by going the shiplap route like Fariha of Pennies for a Fortune did in her workspace. And if you're feeling ambitious, take another page from her book and add a gallery wall as well. The natural light flooding in through the window keeps this design scheme feeling light and airy.
5. Be choosy with your color palette.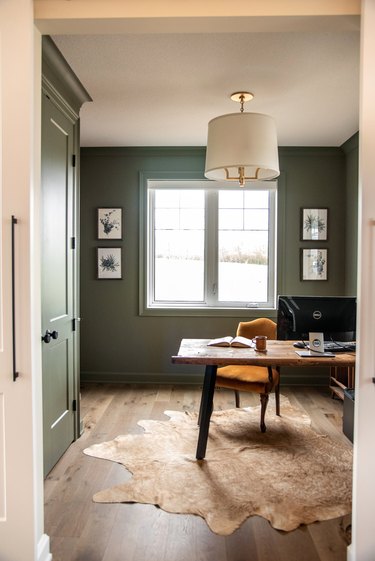 Although most anything goes with the color green, keeping a tight palette can level up the curation of your office. For instance, Jesse & Sam of Scout & Nimble carefully selected accent colors (like a tan hide rug, rust-hued velvet chair, and warm wood desk) to complement the dark shade of green on the walls.
6. Weave in vintage pieces.
The color green has been used in studies and dens for many, many years, so needless to say, the shade goes quite well with storied accents. Dark green especially pairs well with vintage office decor brimming with patina, as evidenced by this office from Nicole of vestige HOME, showcasing a traditional hutch and cane back desk chair.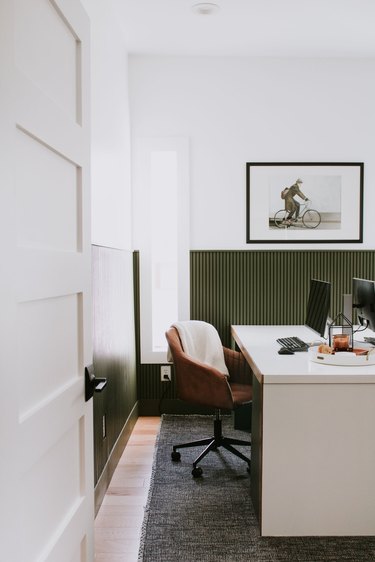 So, you're not ready to go from the floor to the ceiling yet with green walls. That's perfectly alright — you can install green wainscoting to achieve the look. Paired with white, the green beadboard in this home office belonging to Danica of Nadine Stay is understated and all kinds of chic.
8. Amp up the drama with hunter green.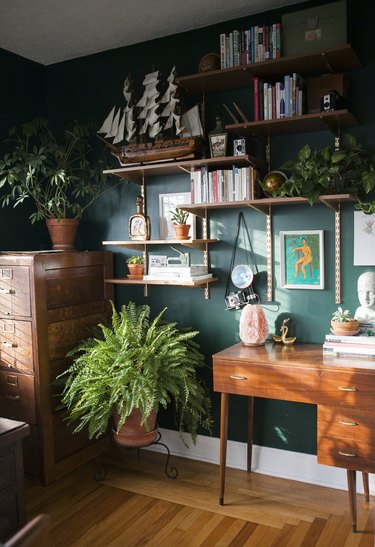 Hunter green is one of those colors that work well with a variety of decor styles, even in home office designs. While it looks perfect in a traditional workspace, it can also look spot-on in a bohemian setup, like this one belonging to Jessica Brigham.