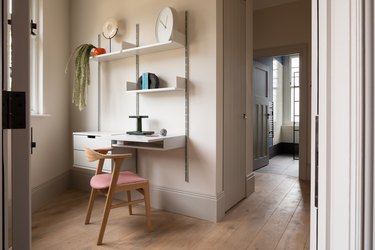 These days, carving out a workspace at home has become as important as ever. And while working on the sofa certainly has its merits (hello, comfort!), designating a dedicated area — whether that be in the living room, bedroom, or guest room — that can be outfitted with a proper desk, office chair, and a light fixture or two can be a gamechanger for productivity. In that vein, when designing a home office, there are a handful of elements to consider on the decor front — an open and streamlined zone being top of mind. Cue modern design.
Modern style's hallmark characteristics have remained steadfast throughout the years — think a touch of streamlined minimalism, punchy details (such as lustrous metals or chic leather accents), and refined textures. Beyond that, there is a whole host of influences that can make the aesthetic feel fresh and unique to your workspace. Curious about how that plays out? Read on for ten modern home office ideas that are currently inspiring us.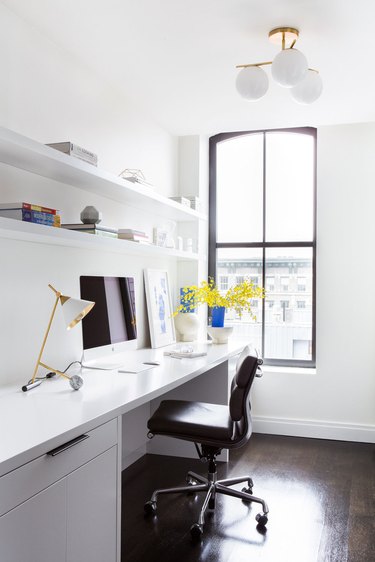 When it comes to picking out a color palette for a modern home office, keep it simple and reserved. Saturated accents are always welcome — think a colorful vase or even live greens — but the overall scheme should feel pared-down. The office space in this Tribeca loft, designed by Chango & Co., is a prime example of making it work, thanks to a black-and-white palette peppered with rich blues and a hint of brass.
While the color scheme typically seen in modern design revolves around neutrals, a patterned accent piece (or wall) is always encouraged. Cue this dreamy Melbourne home office, by Robson Rak, which shows just how impactful an intricate wallpaper can be. The minimalist built-in desk and shelving temper the intensity of the graphic print, lending a refined detail to the playful backdrop.
3. Squeeze in where you can.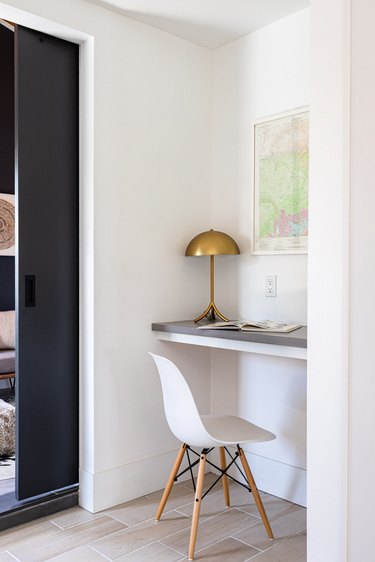 Consider this proof that carving out a workstation in a small space can be as easy as installing a desk in an empty nook. This small home office requires little more than a wall-mounted writing surface (or shelf!), an office chair, and a table lamp in the corner. The brass light fixture, gray desktop, and black door add a dash of visual interest in the midst of white walls.
4. Double down on function.
Create & Cultivate founder Jaclyn Johnson's home office is a scene out of a dream. The modern built-in desk functions as a two-in-one, bringing with it a wealth of storage opportunities. Perfectly positioned where the natural light is best, the custom build is polished yet statement-worthy, elevated by pops of black — from the hardware to the window frames.
Not all modern home office ideas entail a completely monochrome or neutral-rich scheme. In fact, Zoe Feldman's approach here showcases how impactful blending hues and textures can be. The designer's contemporary take on classic modern style incorporates a polished chrome and glass coffee table paired with a rust-colored velvet sofa, which is then complemented by the warmth of the wooden desk and the sleek details of the built-in cabinets behind.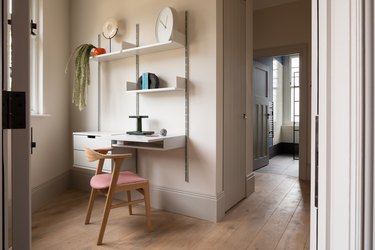 Modern style is all about simplicity and doing more with less so when it comes to the home office, few interior design ideas can encapsulate that sentiment like built-ins. In this South London dwelling, a minimalist wall unit makes use of an otherwise awkward corner, offering a spacious work area with chic storage to boot.
7. Bring on the greenery.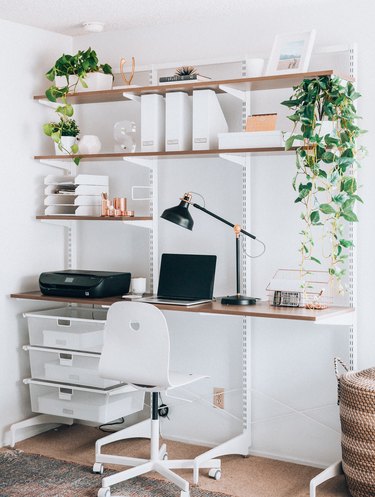 Home office design ideas that include plants are always a win in our book and we're here to set the record straight: Modern design can, in fact, feature an abundance of greens. Think of it as a way to introduce an organic splash of warmth to the otherwise minimalist and streamlined elements the style is known for. In this charming setup from The Girl in the Yellow Dress, a sprinkling of greens distract from the modular wall-mount system, lending a sense of movement to the linear shelves. A black printer and desk lamp add a hint of welcome contrast.
Keeping in line with the topic of simplicity in modern design, an easy way to maximize the impact of the furnishings in a home office is to think bigger. Larger scale items, such as a double-sized desk and an oversize piece of art (much like the duo in this scene from McGee & Co.) can beautifully fill out a room without the need for much else.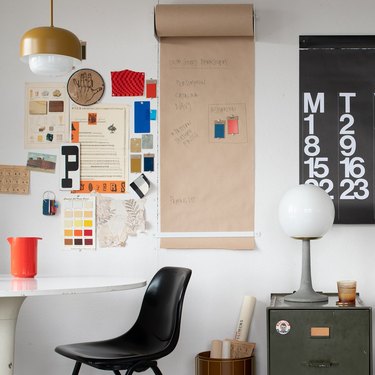 For the creative at heart, a workspace isn't complete without a little art on the walls and a personal mood board works just as well. Spotted on Schoolhouse, this modern home office (with midcentury flair) makes good use of the classics — an Eames desk chair, a Saarinen table, and a pendant — and livens them up with a Pinterest-worthy wall of inspo above.
10. Maximize square footage.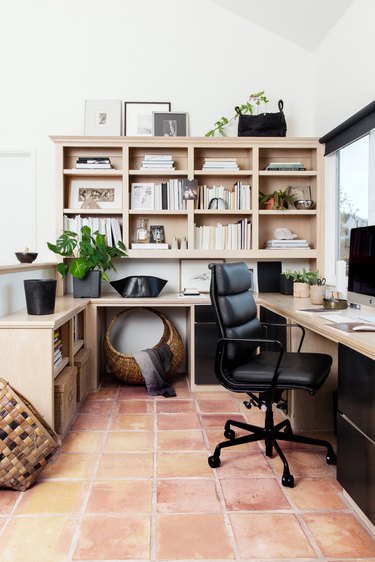 A home office space isn't complete without a bookcase and if you have the square footage for it, we highly recommend making a moment out of it. Here, the built-in unit extends through the three corners of the room, encompassing ample rows of shelving and enough surface area to comfortably accommodate at least two at the desktop. The light wood finish of the bookshelves and the desk bring on a cohesive element that fits right in with the rest of the nook.