Many people enjoy working from home. But sharing close quarters with family or roomies can be a challenge when both parties need to be productive. Consequently, available space, function, and varying schedules are essential things to consider when you're creating a home office for two. And whether you have a whole room, or just a corner, there are tons of workspace ideas to make things more comfortable.
Here's how to do it no matter what your living situation is.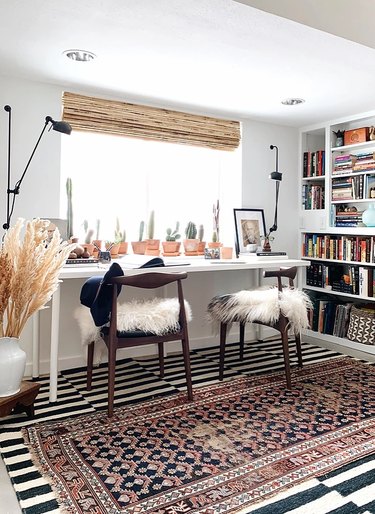 Close quarters might mean that your home office for two consists of only one desk and a pair of chairs. But that's okay. If you have a window, point the desk towards it, add some plants, and you've got a cheery view to appreciate. We love this eclectic, desert vibe office from Undecorated Home. The cacti-filled windowsill makes co-working feel creative.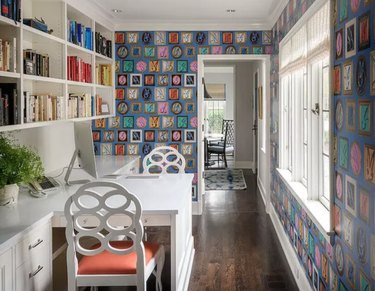 Sure, you might spend a ton of time in your sweats and on Slack while working from home, but that doesn't mean your home office has to slack on style. Keep the mood fun with some chic wallpaper and color-coded bookshelves like Massucco Warner did in this room. And if your desks face one another, make sure there's enough room to comfortably fit two monitors. It may even spark a little collaboration.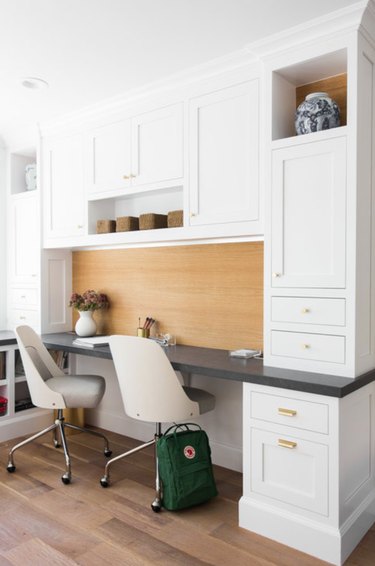 Find a wall in a living room or bedroom, and create a work nook by installing cabinets. Everyone, and we do mean everyone, needs more storage whether it be for business, files, or bedding. We like how Studio McGee added a little light wood paneling to the space for some warmth. You could even hang a corkboard for a similar look.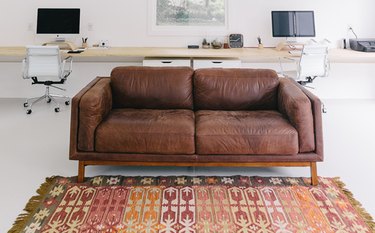 5. Create a new kind of cubicle.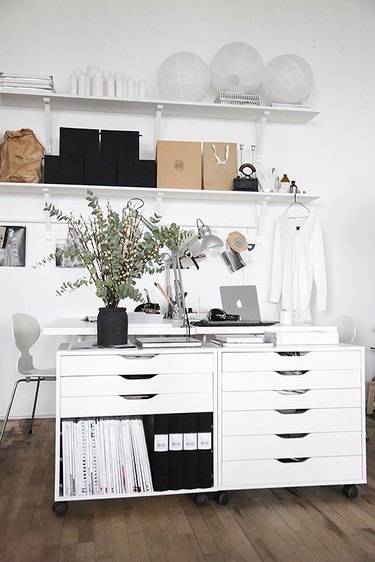 6. Make twinning your task.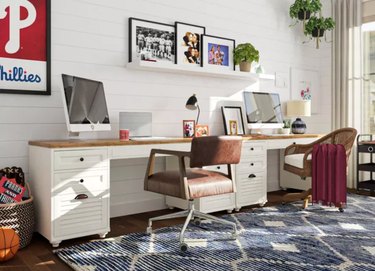 Side-by-side traditional desks are always smart, and they can take up less room if they're on the shallow side. We like how this classic space still feels like fun with shiplap walls and eclectic art.
Whether you're in an attic, basement, or a little spot in your bedroom, be open to mixing and matching to make things work. A vintage desk combined with a modern drafting table, for example, could create the perfect spot that won't feel too serious or office like.