Achieving the right balance in a home office is no easy feat — you want a space that feels like it fits in with the rest of your home, yet you also want that corner to feel like it has a specific purpose. It should feel serious, but not too serious. Professional, but not without personality.
How to do it? Work a moody color palette and work in a variety of textures — think leather, brass, wood, plants. Then, incorporate decor that keeps the vibe fun and light — a print that makes you smile, or a rug that offers a subtle pattern. Don't be afraid to borrow from different decor styles: A midcentury-inspired desk works well with boho rugs and industrial touches.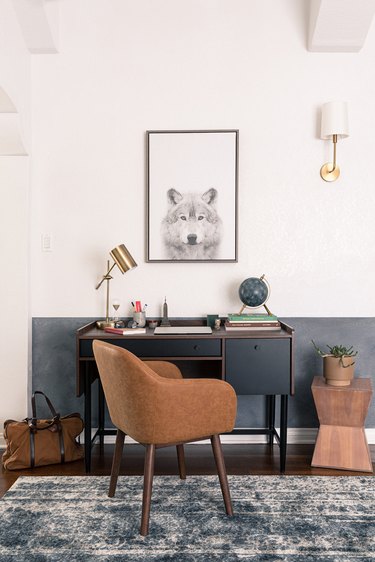 ---
Leonora Epstein is Hunker's Senior Director of Content. She has previously served as Executive Editor at HelloGiggles and as BuzzFeed's Deputy Editorial Director. She is the co-author of "X vs. Y: A Culture War, a Love Story" (Abrams, 2014). Feel free to reach out at leonora@hunker.com.