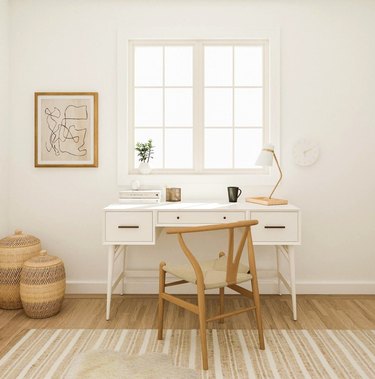 Whether you're a seasoned work-from-home professional or you're new to this whole Zoom meetings thing, optimizing your home office aesthetic can make it that much easier to get through the day. And while there are endless ways to outfit your WFH space, it seems there's one interior style that people are turning to more than any other.
According to a recent survey by online interior design service, Modsy, it turns out midcentury modern is the most-requested style for home office designs. Given the timeless aesthetic's emphasis on function and simplicity, it's easy to see why so many are choosing it. Modsy reports that home office design requests in general have increased by 40% from April 2019 to April 2020.
The airy silhouettes and inherent minimalism of midcentury modern style make it particularly well-suited to multifunctional spaces, like the living room/home office hybrid many of us are working with. The aesthetic never fails to enhance any space it graces, from the teeniest of corners to the most expansive of offices.
And because it's tough to have a productive workspace without a comfortable place to sit, it's no surprise that the survey found new office chairs are the most popular home office purchases of late. 75% of the users surveyed said they "made a purchase to improve their home office space."
Here's our suggestion: Combine a chic midcentury chair with a sleek writing desk, and you'll be well on your way to enjoying the modernist home office of your dreams. Here are some picks to get you started: