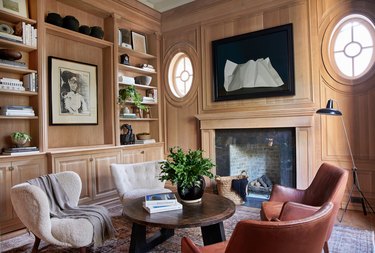 If you're lucky enough to have a home office, chances are you spend a lot of time in it. So you may as well make it an inspiring space to pass eight hours a day. And our favorite area to style is the much-coveted home office library. Sorry desk, chair, and lighting — we love you, too. But being surrounded by books instantly puts you in an academic, get-work-done mode. Plus, who doesn't love a shelfie?
Even if you don't have a dedicated room for remote work, these home office library ideas can be translated into spaces of all sizes. From built-ins to bookcases to barely-there floating shelves, there's a storage solution that you'll love below.
1. Add a floating library to save space.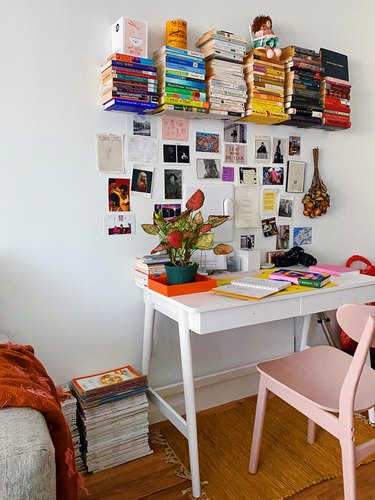 Yaminah Mayo, the blogger behind Spicy Mayo, created an office library without the bulk of bookshelves or built-ins. Instead, she added floating shelves above her desk for a sleek, barely-there look. By color-coding her tomes, Mayo created both a rainbow effect and a practical way to find her favorite reads. If you recreate this look, make sure to find studs in the wall before mounting so everything's super sturdy.
2. Dabble in traditional.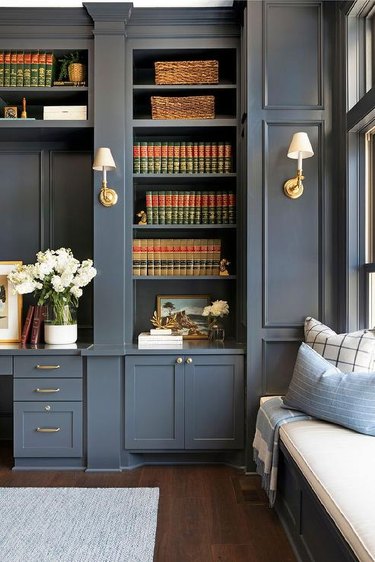 3. Hang shelves on wallpaper for a pop of pattern.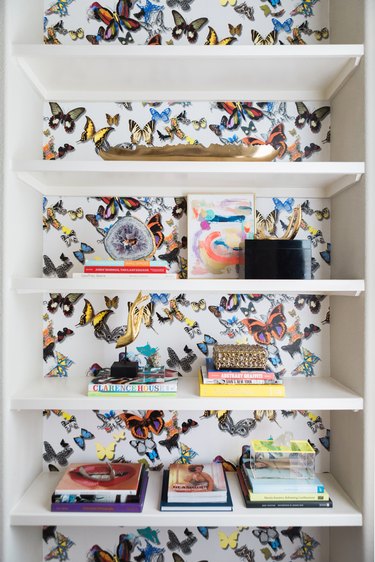 Designer Abbe Fenimore of Studio Ten 25 proves that we don't need to be afraid of wallpaper, as this wildly colorful butterfly design adds whimsy and energy to a home office library. There are two ways to get this look: Either hang floating shelves on top of wallpaper or add a patterned option to the back of a bookcase. Only catch? You'll love the backdrop so much you won't want to fill your library with too many books, so an artful display of select, stylish favorites is the way to go.
4. Don't get too serious.
If working from home is your new normal, you may want to lighten the mood in your office space. Take note from this Zoe Feldman design, but it's not for the faint of heart when it comes to color or patterns. Graphic pillows, cheeky wallpaper, a sculptural side table, and a color-coded library (with art hung over the shelves!) prove that offices can be just as fun as any other room.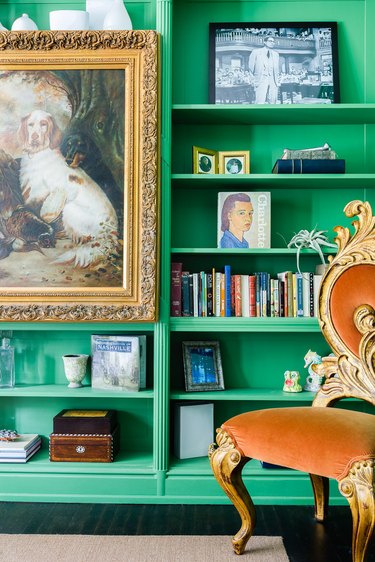 Jessica Davis of JL Design gave new life to this home's original millwork and molding with a layer of Sherwin-Williams Grasshopper green paint. The items on the shelves have just as much personality, from family heirlooms to antiques, children's art, and books. Ornate details, like the Victorian chair and large-scale painting hung on the bookcase, bring an old school charm to the modern color scheme.
6. Mix minimalism and maximalism.
For this Hollywood Hills home, Caitlin Murray of Black Lacquer Design created a sleek and upscale office with glamorous hints of black and gold. Two free-standing bookshelves make for a classy library with the flexibility to rearrange. (Can't say the same for built-ins, unfortunately.) The bare white walls emphasize the glossy gold details.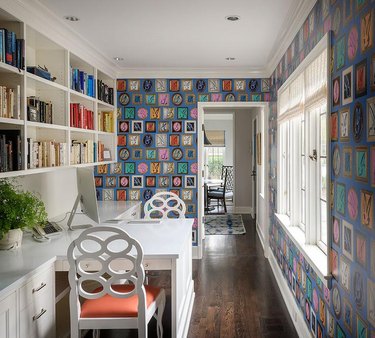 If you want to display your books without taking up valuable floor real estate, install built-ins as close to the ceiling as possible. Massucco Warner designed this home office with crisp white furniture and bursts of color. The stand-out design feature, though, is the Hunt Slonem Bunny Wallpaper, which coordinates with the vibrant tomes.
8. Sharpen your shelfie skills.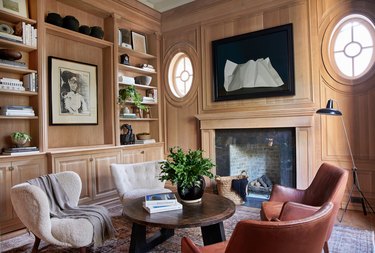 An office library is even better with some serious shelfie styling. This Amber Interiors design anchors the refined feature wall with a piece of art, while the surrounding shelves showcase books, plants, and accessories in complementary tones.