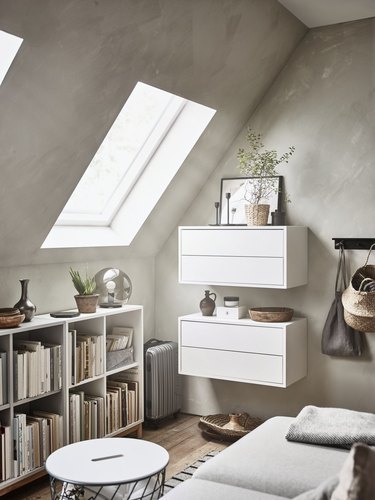 Attics can be fickle. More often than not, they're dark and narrow, barely qualifying as a crawl space, never mind a functional room. But every once in a while, we come across a gem that has just enough square footage to double as a livable area — and with that, the opportunity to transform it into a design-forward room. Picture this: A light-filled nook where you can escape for a little R&R, book in hand, surrounded by your favorite tomes. Sounds dreamy, right?
Now, before you pick up your tools and head upstairs with a small attic library in mind, there are a few things to consider — safety being top of mind. Enlist the help of a contractor or professional, who can assess if the attic is up to code and if the flooring can support your plans. Books can get heavy, quickly, and the last thing you want is the ceiling to cave in.
Once you're sure that you have a solid foundation, think about insulation (both under the flooring as well as above) and installing proper lighting. Making it all as comfortable as possible is key. If your attic is already equipped with the essentials, you can skip to the fun part — the decor.
Ahead, eight perfectly charming, small attic library ideas for the bookworm at heart.
1. Embrace the architecture.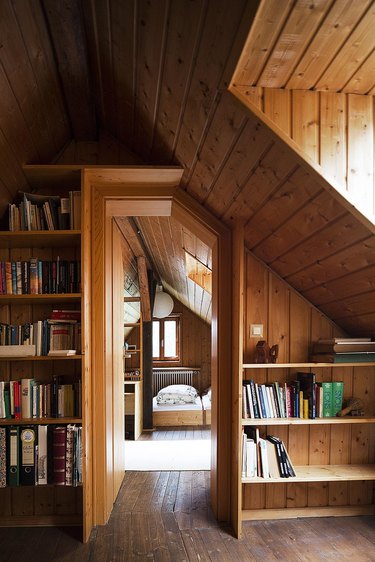 This charming rustic estate spotted on Fantastic Frank is a lesson in making the most of a small attic library. The cedar-clad walls are a masterful backdrop, beautifully highlighting the angled architecture. And thanks to the cohesive finish and easy-to-install shelves, it appears as if every nook and cranny is part of a bigger bookcase.
2. Add storage where needed.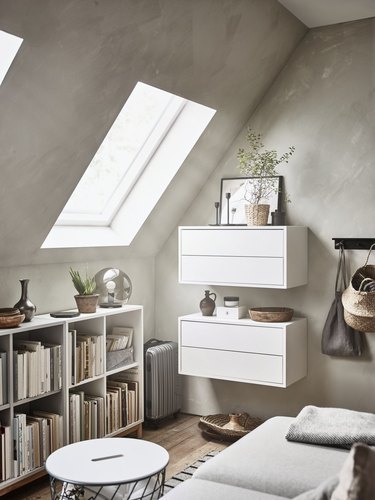 3. Think beyond a reading room.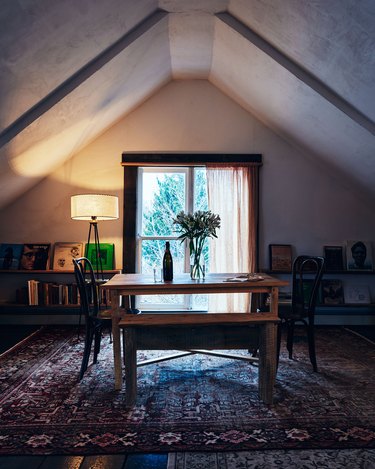 If you have a generous amount of floor space to work with, allow the area to pull double-duty as a small attic library and a dining area. In this bucolic Airbnb, a set of floating bookcases flank the lone window, giving the reserved amount of wall space a sense of depth. The rustic table in front makes for the perfect spot to enjoy breakfast, with a great book in hand.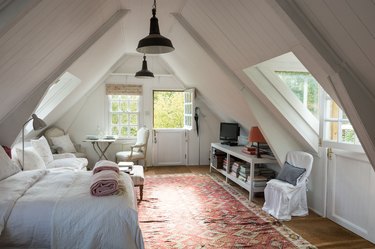 Cabbages & Roses creative director and founder, Christina Strutt's picturesque loft features all the comforts of home, along with stunning country views, but her curated small attic library doesn't go unnoticed. Given the spacing constraints, Strutt decided to forgo a traditional bookcase in favor of a tiered table that would allow her to stack books below and use the top for a TV, lamp, and carefully selected pieces of decor.
5. Carve out space with a divider.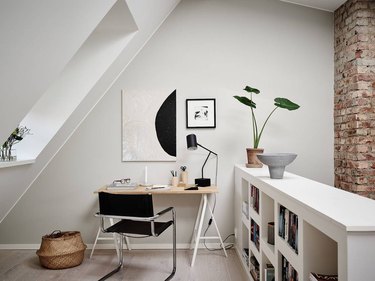 Part home office, part library, this Scandinavian spot by Stadshem is a shining example of what happens when form and function collide. The built-in shelving unit not only doubles as a room divider, but the streamlined composition also acts as an effortlessly cool storage solution to house your impressive book collection, too.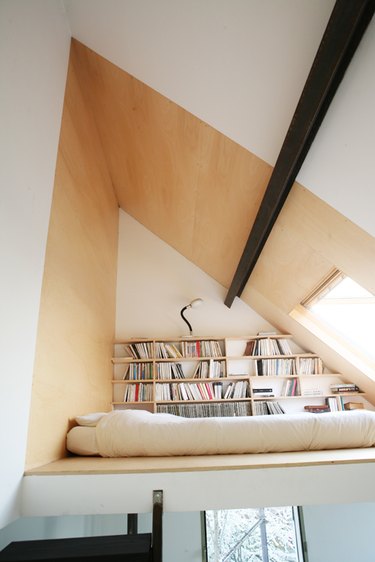 If your idea of perfection looks a little something like this, consider converting your attic into a reading haven, complete with a bed and wall of books, to boot. Belgium-based Vanden Eeckhoudt-Creyf Architects did just that when it came to their Mini-Maison project, transforming the triangular wall space with custom shelving that fits right into the angular architecture.
7. Make the walls work harder.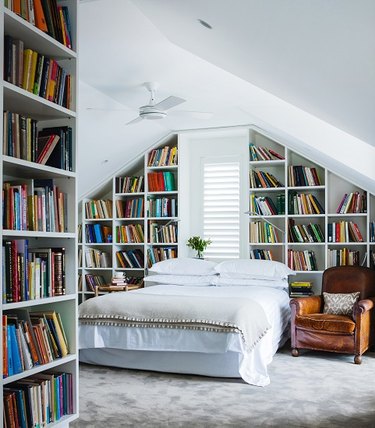 As is the case with most attics, slanted ceilings and stunted walls will leave little room for you to work with. Instead of filling the blank space with art, install wall-to-wall shelving and turn the area into a small attic library (and bedroom), just as Mr. Waller did in this quaint abode.
8. Create a comfy landing pad.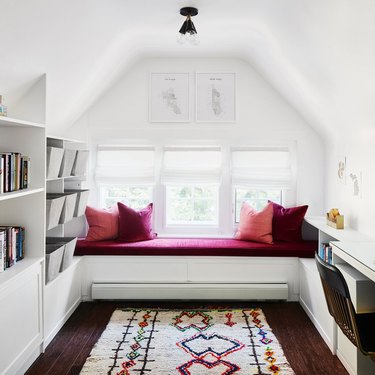 A small attic library like this one, captured by Dustin Halleck, practically requires a cozy window bench. While the majority of the walls are reserved for built-in bookcases, the wall flaunting a trio of windows proves to be an ideal perch for reading and lounging. And to complete the look, vibrant jewel-tone fabrics add a welcome pop of color.