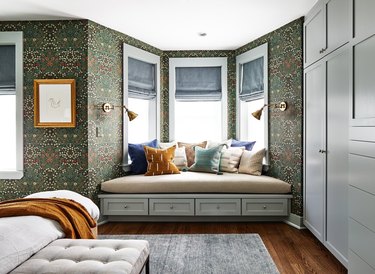 If we had to conjure up our idea of the perfect landing spot at home, it would involve a cushioned seat in a nook saturated with natural light. Cue the ever so dreamy window bench. The good news is, even if you don't have one built-in, you can easily create a makeshift version with, you guessed it, a bench.
Benches are an ideal way to establish seating in a room where you would otherwise not have the square footage to accommodate, say, a sofa. In the kitchen, they provide a bucolic alternative to the classic dining table and chair set, while in an empty hallway, they invite a design-forward element with the decorative prowess to reinvent the space.
When seeking out a window bench — be it custom-built or freestanding — you ideally want one that can sit comfortably underneath the windowsill, without covering up the glass, especially if it's a window you access frequently. Window benches are best when they look and feel as if they're an existing extension of the room itself. If you're purchasing a bench to sit below a window, take a look at the decor that surrounds it and allow that to dictate the size and style.
Ready to take the plunge? Allow these clever window bench ideas to serve as the ultimate guide.
1. Use one in lieu of a formal eating setup.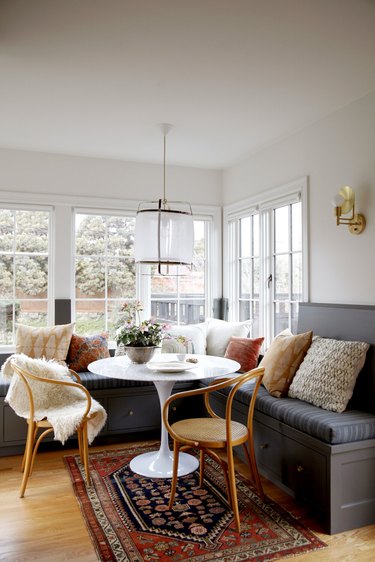 File this under the best use of an empty kitchen corner. The banquette-meets-window bench situation designed by Katie Hackworth marries form and function with a twist. The drawers below offer ample storage for linens and dinnerware, while the eclectic array of pillows and textiles up top lend a colorfully cozy touch.
2. Turn it into a bedroom hangout.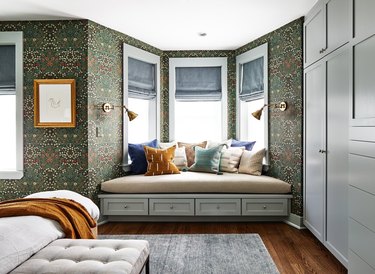 While a window bench may not be the most common occurrence in a bedroom, we're all for this creative alternative to placing one at the foot of the bed. Maximizing the square footage of the room's bay window, designer Zoe Feldman created a cushy landing pad with built-in drawers that are a seamless extension of the existing storage. The complementary linen window treatments simply seal the deal.
3. Create an extension of the outdoors.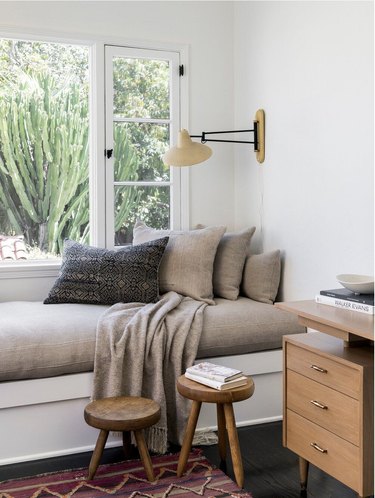 If this isn't the most idyllic reading spot, we don't know what is. The perfectly positioned window bench in this vintage-meets-modern home from Katie Hodges Design makes proper use of the spacious nook with a built-in seating area that doubles as a branch of the outdoors. Its pared-down palette of stone gray linens and pops of charcoal black beautifully contrasts the stark white interior without overshadowing the stunning landscape outside.
4. Put your window treatments to work.
Be mindful of the window treatments surrounding the bench, as they are the perfect opportunity to make a statement. Just take designer Cortney Bishop's lead, she channeled the storied bones of this revival by decking out the space with vintage textiles, art, and cafe curtains for a grounding effect.
5. Give an awkward nook purpose.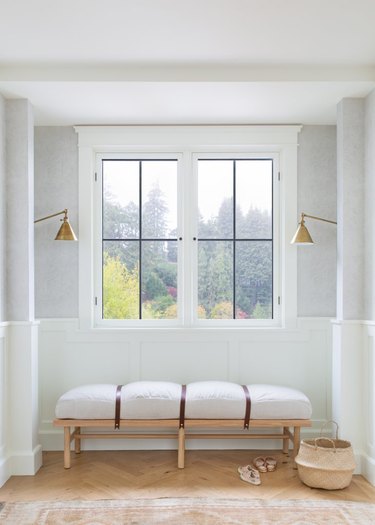 Not all window benches need to be grand, custom built-ins and this minimalist scene by Katie Martinez Design is proof. Anchored in neutrals, save for the contrasting black-framed panes and brass sconces, the lack of window treatments coupled with a streamlined seat is a lesson in mastering the art of simplicity.
6. Establish drama in the kitchen.
The best way to take advantage of an adjoining set of extra-large windows? A banquette-style window bench, like the one in this stunning home by Sans-Arc Studio. The streamlined shape of the seat, elevated but not overshadowed by its soft green upholstery, makes for a dynamic element that complements the curvaceous theme of the contemporary kitchen.
7. Devise your perfect reading spot.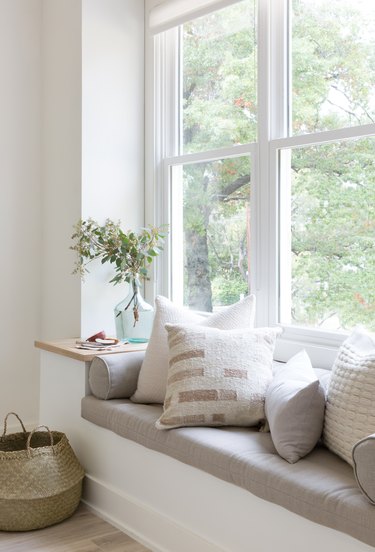 If you're strapped for space and can't afford the square footage necessary for a sofa or bulky armchairs, a window bench may be the next best thing. In this dreamy Austin home, an otherwise empty nook in the kitchen was transformed with custom seating, which not only resulted in a functional feature but also provided a design-forward detail.
8. Extend the kitchen's storage offering.
Furniture with multiple points of functionality is a given for small spaces and a major plus in open-layout homes. Take, for example, the built-in window bench in this Haifa apartment — it's a seamless extension of the kitchen cabinetry, added surface area for decorative objects, and extra seating for the casual dining table setup.
9. Forge a sunroom staple.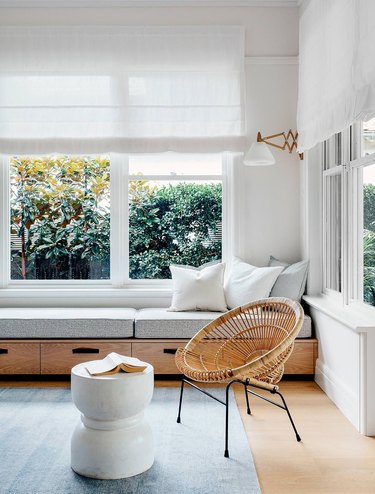 Soaking up all of the light in a sunroom wouldn't be made possible without a spacious seating arrangement that maximizes your exposure. Channel the effortless cool of Scandinavian style with a wall-to-wall window bench that feels like a natural component of the space. If you're going for a minimalist look, follow the decorative lead of this chic spot with billowing window treatments to offset the linear design of a contemporary scheme.