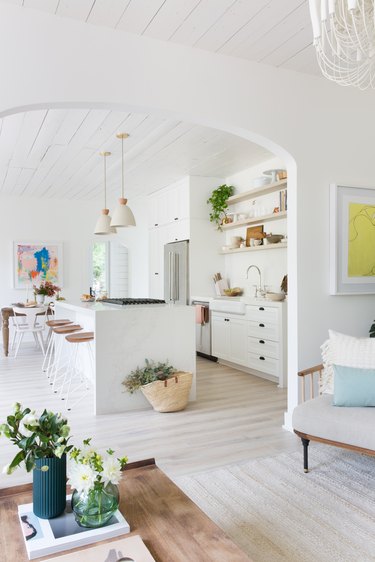 Rolling out of your cozy bed and coming into a fluorescently lit office every morning leaves much to be desired. But the employees at women-run beauty, health, and lifestyle company Camille Styles can't relate — sorry. That's because the "office" where they work is a residential home that's been designed to the nines.
Camille Styles, who runs the company, is the author of a book on entertaining — so she knows a thing or two about aesthetics. For years she searched for the perfect work space, before coming across this century-old bungalow with a ton of potential in Austin, Texas. Austin-based architectural firm Low Design Office (LOWDO) was hired to give the home a complete makeover while preserving its historic charm.
The team at LOWDO removed and relocated just a few walls to create an open, light-filled space. Before the renovation, the 1,100-square-foot house, located downtown, was in terrible shape, with paint peeling off the walls, facilities that no longer worked, and aging yellow floors. After, the white-on-white space is cheerful and airy.