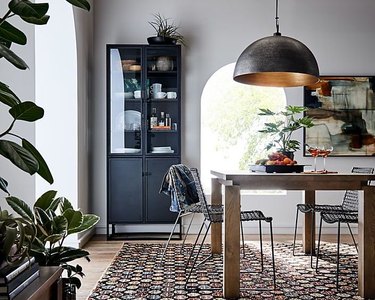 One of the perks of adulting is creating a real entertaining space: a dining room stocked with tableware like beautiful floral-patterned china sets or vintage crystal wine goblets, or even your grandmother's entire teacup collection. But figuring out how to store your precious items can be difficult, especially if your norm is just to throw everything into the cabinets and hope for the best.
Following a few simple guidelines is key to keeping your precious items safe. And as a bonus, displaying your beautiful finds makes your dining space even more stunning. Who needs artwork when you have vintage plates? These dining room storage ideas will keep your most valuable belongings beautiful and unbroken for years to come.
1. Try quilted dishware packs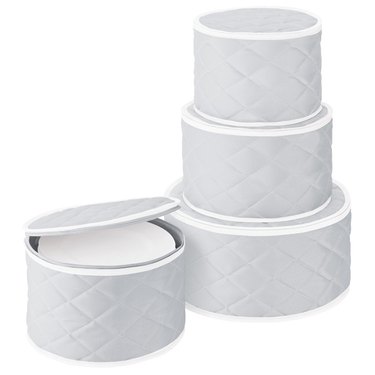 If your dining room isn't large enough to accommodate a hutch, or you don't have room to display your pretty dishes, the best solution is probably quilted storage cases, which you can find for about $30 at The Container Store. If you don't want to buy specialty storage, use a standard plastic bin. (Cardboard may let in moisture — the bane of fine china!) Make sure to use plenty of cushioning or packing material to keep your plates protected.
2. Opt for a glass display case
Your fanciest dishes and glasses may be used only during the holidays, but they're beautiful 365 days per year. One of the best dining room storage ideas (provided you have the space) is showing off your family heirlooms in a glass-fronted display case, which fends off dust while keeping your treasures on display. Elect for a shorter sideboard for small spaces or choose a tall cabinet, like this moody black model from Crate and Barrel.
3. Store plates on their sides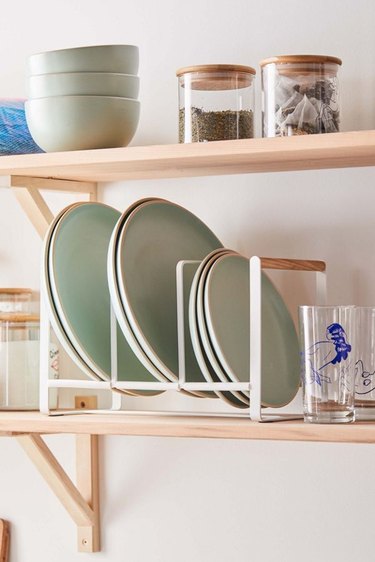 Whether you're putting your plates on display inside a cabinet or tucking them away in a box for safekeeping, consider storing plates and bowls on their sides. This might be a godsend if you're rushing to set up Thanksgiving dinner and drop your box of precious china — plates actually resist damage better when stored on their sides. (One point of clarification: Plate-specific storage totes are often designed specifically to keep plates safe when stored on their bases.)
If you're storing plates in a cabinet, do it vertically and in a plate rack for two benefits. First, it keeps their gorgeous patterns on display. And second, you're less likely to break a plate while setting the table. A rack like this minimalist find from Urban Outfitters will keep your plates corralled.
4. Keep silver in low humidity and low heat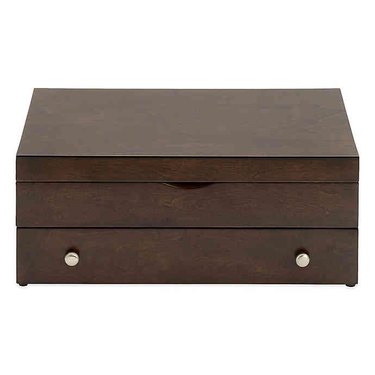 If you have a set of bona fide silverware, you'll need to follow specific instructions, otherwise you risk tarnishing that beautiful sheen. First off: Silver is super, super soft. Don't throw it in your cutlery drawer and hope for the best — buy a dedicated flatware storage box, like this wooden option from Bed Bath & Beyond. The soft interior keeps your forks and knives from scratching.
To keep the humidity and temperature low and fend off tarnish, skip the garage or damp basement. A banquette drawer is the perfect place to keep your silver safe.
5. Store linens in a fabric bag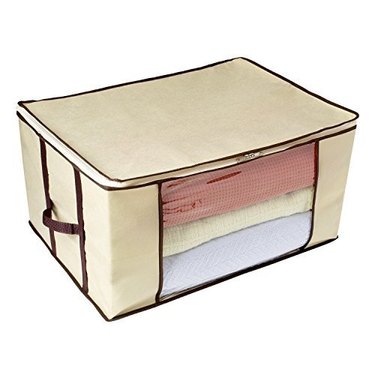 You've figured out how to store your fine china, silver cutlery, teacups, and crystal glasses — but what about Grandma's hand-me-down linen napkins and tablecloths? You're aiming for air circulation, here, so don't stuff them in a cardboard box. Consider storing them inside a breathable fabric bag (here's one inexpensive option from Amazon), or go the ultra-DIY route and stuff them in a pillowcase. Airflow keeps your precious fabrics from getting musty and moldy.