If there's any spot in the home where a constant state of tranquility is necessary, it's the bathroom. Considering the amount of time the average person spends in this space for primping, prepping, and winding down, the ideal washroom design should include elements that guarantee comfort and convenience. And that extends to the windows.
They may not be high on the decorative priority list, but bathroom windows definitely shouldn't be cast aside as inconsequential. Depending on how you decorate and accentuate them — with shades, a plant-filled window sill, or slightly frosted glass for privacy — these apertures can help to transform the area, making the view from the inside that much more appealing.
And these bathroom window ideas illustrate how the seemingly subtle feature can instantly take your space from humdrum to downright heavenly.
1. Use a sheer shade to let light in and maintain privacy.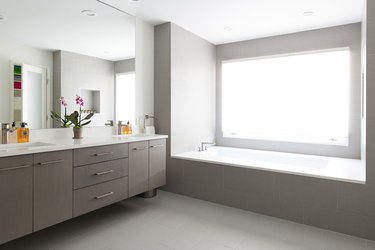 2. Emphasize those angles.
Even though the pedestal sink is simple, architectural is the name of the game with this bathroom window design. It works seamlessly with the home's angular structure. The built-in shelf pulls double duty by housing the mirror and accessories while continuing the triangular pattern. And with windows this striking, go for film instead of traditional drapes.
3. Experiment with unique window shapes.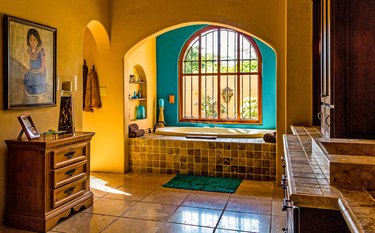 These arches are stunning. While the bathroom typically doesn't see the most foot traffic, it doesn't have to be mundane. In this space, the bright yellow walls highlight the unique bathroom window and alcove tub. And the built-in wall shelf serves as a perfect architectural match for the arched window. It also functions as creative storage for toiletries or a neat display area for candles, knickknacks, and other bathroom decor.
4. Go with sliding windows.
This light and airy bathroom makes great use of sliding windows with wooden frames. With one placed just above the tub and an additional frame next to the small vanity, the room gets plenty of light and probably has the most comforting breeze on nice spring days.
5. Use art to frame the window.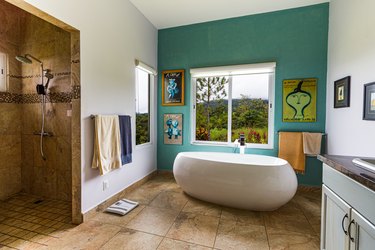 If there was any question as to whether art belongs in the bathroom, this vibrant space dispels all doubts. The layout demonstrates a creative way to accentuate a large sliding window: Add a shade for privacy, a brightly colored accent wall, and fun artwork. Towel racks will be great for functionality and decorative balance.
6. Use the windows as a wall border.
In areas with high ceilings, like this master bath, transom windows can be installed above a set of mounted lights and the bathroom mirror to further elongate the wall and create the illusion of space. Additionally, these strategically-positioned windows offer a discreet view of the outdoors with no concern of exposure.
7. Add shades.