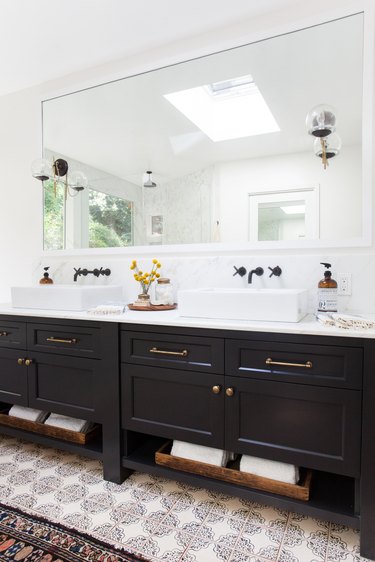 Bathroom mirror lighting ideas are tricky, in part, because they're so important. You need an effective light source, especially around the mirror, to help you prepare for the day. Moreover, so many bathrooms seriously lack square footage. And in small spaces, the lighting choices really matter.
Too often, renovators pop in a ceiling light and leave it at that. But there are plenty of bathroom mirror lighting ideas that not only provide a flattering glow but also level up the style and functionality of the space.
Here are eight different ways to approach bathroom mirror lighting. And trust us, each one really shines in its own way.
1. Go for a classic gold pair.
2. Install directly on the glass.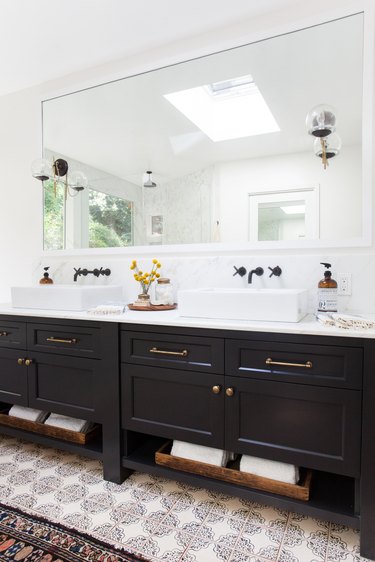 When you're lucky enough to have an expansive bathroom mirror that stretches across a double vanity, finding bathroom mirror lighting ideas that work isn't always easy. In this home, though, Amber Lewis solved the problem by installing modern wall sconces directly onto the glass.
3. Try a classic black and gold combo.
4. Edge it up with an industrial bathroom mirror lighting idea.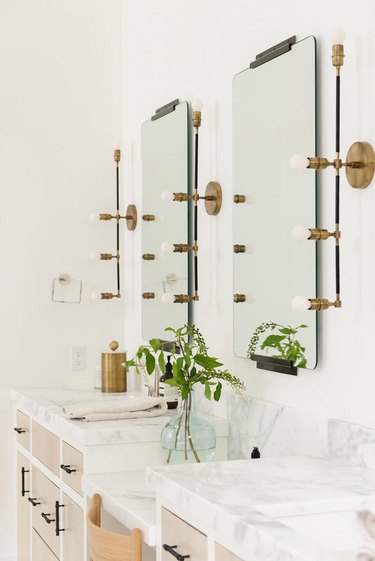 The industrial lighting in this bathroom by Studio McGee presents a striking contrast to the marble countertops and natural wood cabinets. But the petite bulbs add the perfect amount of softness. You could even DIY a similar industrial look in your own space.
5. Add a pop of kid-friendly color.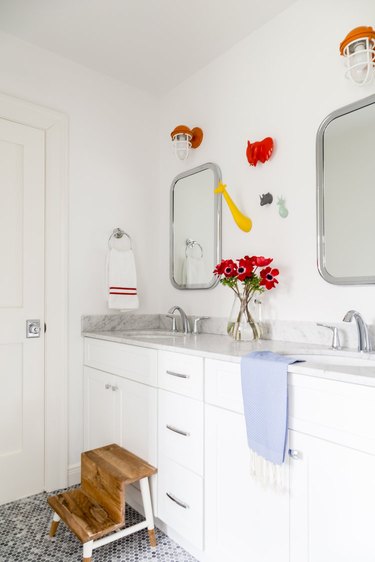 In this fun, family home, there is personality galore. And the children's bath has its own dose of character. Get a similar nautical look with a single red sconce above each mirror. A few florals will make things even more lively.
6. Don't be afraid to go asymmetrical.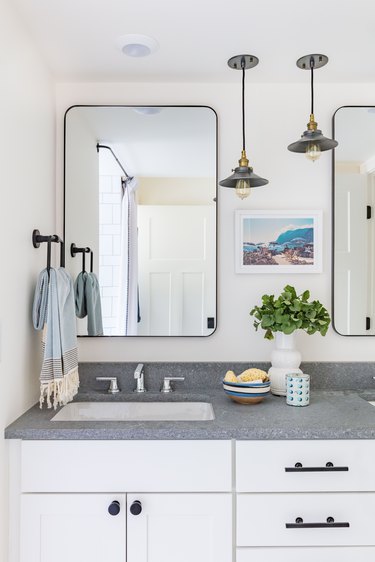 7. Simplify it.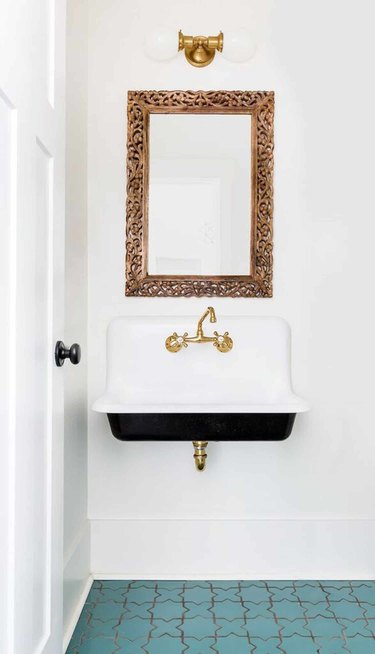 Bathroom mirror lighting matters a lot, even in the smallest of powder rooms. Sometimes, though, you should tone down your mirror fixture. This miniature space, for example, has stunning ceramic floor tile and a vintage sink. But the simple overhead sconce doesn't overshadow the floating basin or statement floor.
8. Combine everything.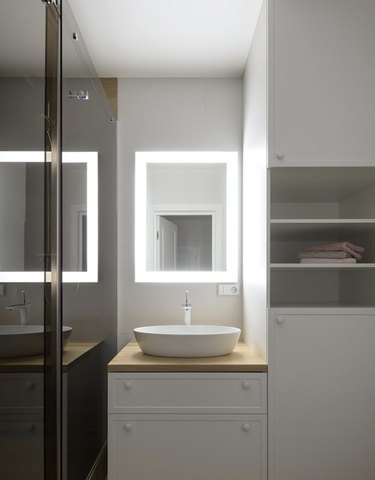 In sleek, minimalist bathrooms, lighting can be a design challenge. You don't typically need ornate fixtures. But you probably want something more than just ceiling cans. This integrated mirror light option from the Davidovich Design team, however, is perfect. And it's great for a makeup vanity, too.