Putting on makeup. Checking your outfit. Zhuzhing your hair. These are just a handful of the everyday situations that make it crucial to have good lighting in the bathroom. It needs to provide quality illumination — from bright, focused task lighting to soft, diffused ambient lighting — for a wide variety of daily activities. Additionally, the fixtures themselves need to look good and bring something special to the overall design. Ceiling lights are particularly practical in the bath: They save space, provide ample overhead lighting, and work in any space whether big or small.
Need some help getting started? We've got you. Scroll on to see different bathroom ceiling lighting ideas that'll help you decide what type of fixture would work best for your WC.
1. Amp up the drama with a chandelier.
2. Less is more with a mini pendant (or two).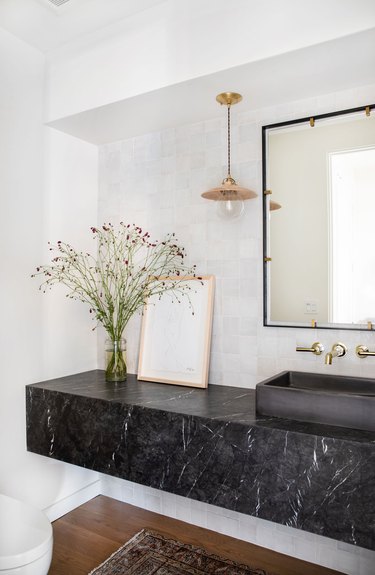 Keep things simple à la this bathroom by Amber Interiors with a single slender pendant light hung asymmetrically over the vanity. It'll cast light on the countertop and mirror when turned on and look beautiful even when off, especially if you opt for the same fixture from Lostine ... swoon!
3. Create an uninterrupted line of sight with recessed lights.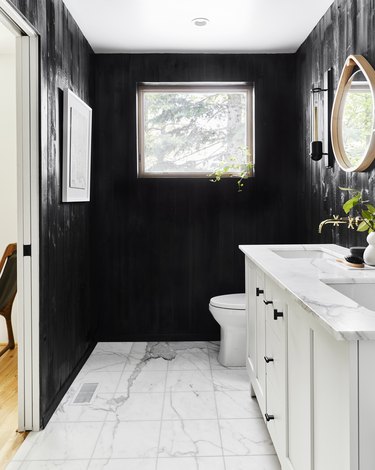 In addition to more decorative, targeted lighting (like The Urban Electric Co. sconces flanking the mirror in this bathroom by Emily Henderson Design), good old recessed cans are an important bathroom ceiling lighting idea. Just be sure to wire them to a separate switch, that way, you can turn them on and off only when you need all-over brightness, while still being able to keep your other light sources on.
4. Keep it classy with an elegant semi flush mount.
A practical but design-forward bathroom lighting idea? A semi flush mount fixture that hangs just slightly below the ceiling but still packs a sculptural, playful punch. Designer Katie Hackworth chose a light and airy fixture that wouldn't weigh down this dreamy nook, yet still adds a dash of whimsy.
5. Dress it up with a glitzy flush mount.
6. Install a shaded pendant.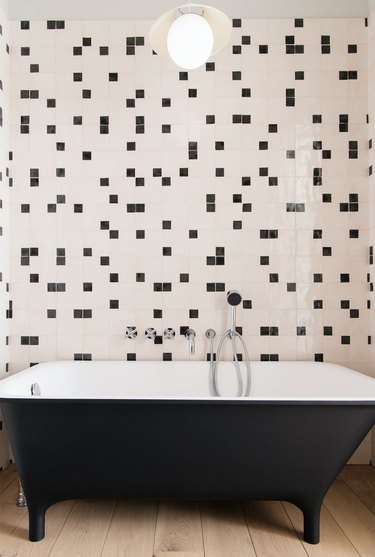 Don't want to go with a full-blown chandelier over the bath? Following the lead of Elizabeth Roberts and opt for an oversize, well-designed pendant which is a simpler alternative that adds glowy light while drawing attention to the bath below. (P.S. They come in a wide variety of styles, too.)
7. You can't go wrong with a recessed shower light.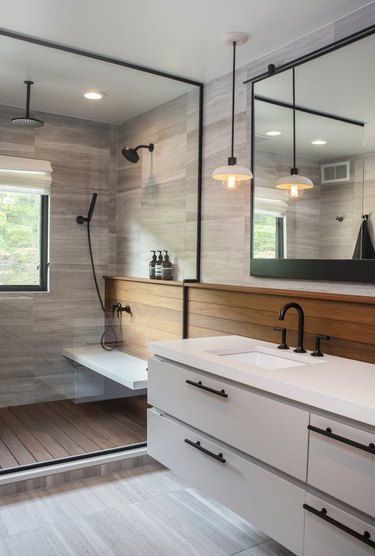 Ever tried to shower in the dark? A recessed ceiling light is the perfect solution: It provides targeted, bright light without the need for an obtrusive (and potentially dangerous) hanging fixture in the shower. Let Dichotomy Interiors show you how it's done. Complete the look with mini pendants from Cedar & Moss at the vanity.
8. Try modern glam on for size.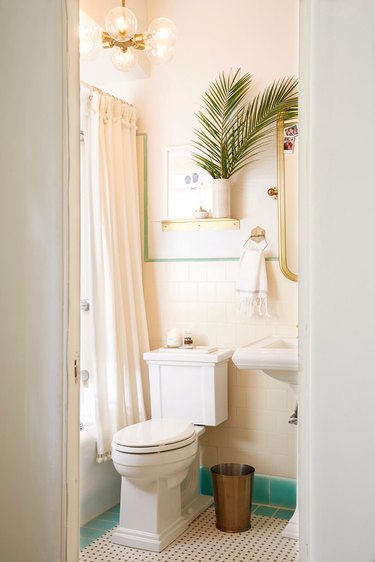 A chandelier needn't be dripping with crystals: It can be decidedly modern, too. And it doesn't have to be relegated to massive, luxurious bathrooms, either. Try a clean-lined or geometric chandelier in a small bath like Brady Tolbert did for a bit of glamour.
9. Embrace a long single pendant.
Hanging pendants above the vanity are a space-saving bathroom ceiling lighting idea that you can try instead of the usual wall sconces. Since nothing needs to be mounted on the wall, there's more room above the vanity for an uninterrupted frameless mirror (like this contemporary space by Nest Architects), tile, or even a gallery wall.
10. Opt for a traditional chandelier.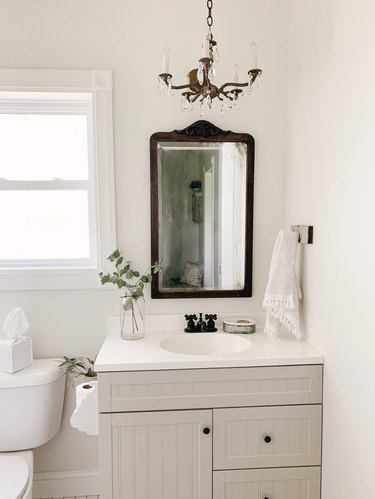 One thing to remember when it comes to bathroom ceiling lighting ideas: You can never go wrong with vintage, as proven by the crystal candelabra chandelier that Sarah Jane chose for her bathroom. This storied fixture adds an unexpected twist to even the most neutral of spaces — crystals and all. Pro tip: If your fixture is actually an antique, make sure an electrician checks out the wiring before attempting to install.