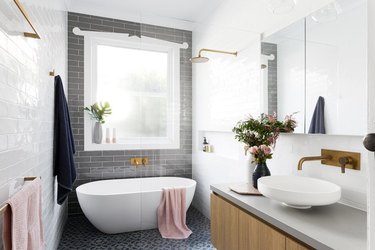 When it comes to the shower design in your bathroom, there are the obvious things to consider: tile, finishes, hardware, shower curtain, flooring, etc. Yet, there's another (often overlooked) detail that can make a huge impact on the look and feel of your space. If you're reading this story, there's a good chance that you've figured out which unsung hero we're talking about: the shower window.
Shower windows are often essential to providing much needed natural light in a masterful bathroom, but they can also add visual interest by bringing the outdoors in. And who doesn't want to shower next to a great view? As good as that sounds, there is the obvious challenge to consider: a little thing called privacy. How do you ensure privacy in a room where it's of the utmost importance? Good news! There are a few foolproof solutions for this dilemma. Ahead, we're sharing seven shower window ideas that make the most of this forgotten bathroom feature.
1. Create privacy with shutters.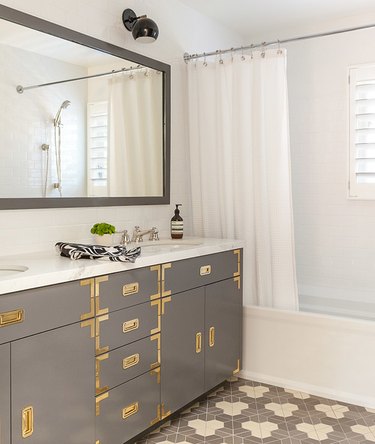 Now here's a genius shower window idea: faux wood shutters. They will provide the privacy you need while still allowing natural light to flow in. To recreate this design by Grant K. Gibson, keep the tile and accessories white for a clean and seamless look.
2. Place them near the ceiling.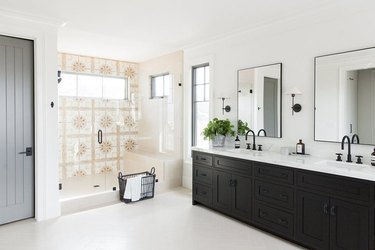 Take a note out of Studio McGee's book and add windows closer to the ceiling to bring in plenty of natural light without the concern of exposure. For even more light, and a seamless design, separate the shower from the rest of your bathroom with a glass enclosure instead of a curtain.
3. Add balance with an off-center design.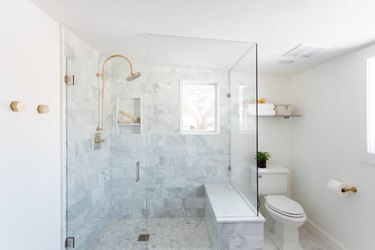 This marble and brass bathroom designed by Shea from Studio McGee showcases an off-center shower window idea located opposite the showerhead. Carve out a shower niche to the right in a similar shape (but smaller scale) to create some symmetry while also adding functional storage.
4. Make a grand statement.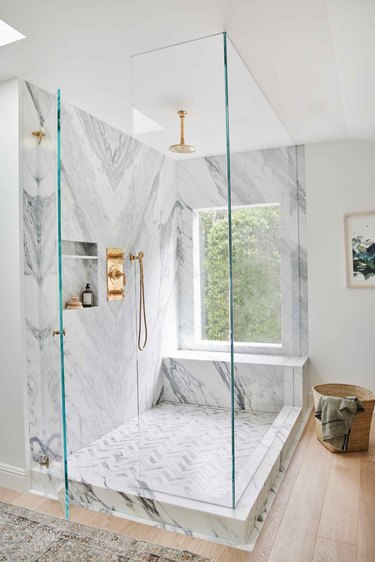 If you're lucky enough to live on a larger lot surrounded by nature, a strategically placed shower window idea facing a deserted area is a great way to bring the outdoors in, without having to worry about privacy. Opt for an oversize window that really lets the greenery from the trees come through — almost like you're showering outside — as seen in this jaw-dropping design by Amber Interiors.
5. Opt for a skylight.
If you just don't have the space to incorporate a traditional shower window idea, recreate this look from Emily Henderson's Portland bathroom and opt for a skylight instead. Not only does this remove the privacy concern, but you'll also get the added bonus of a unique architectural element.
6. Incorporate a deep window sill for essentials.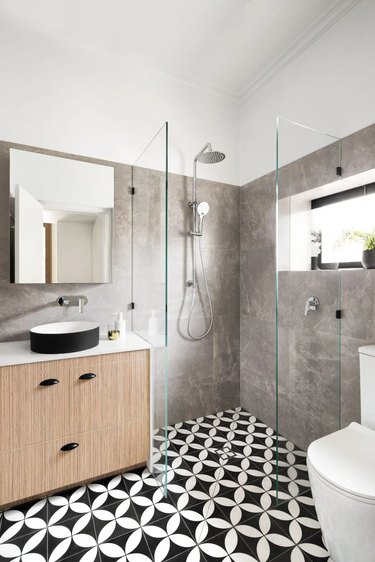 Who says a shower window idea is only decorative? In this modern bath designed by Gia Renovations, a substantial window sill doubles as storage, perfectly suited for shampoo bottles, body wash, or even a few indoor plants for added texture and color. And the window is high enough that you can enjoy the view without the worry.
7. Add window film to an oversize window.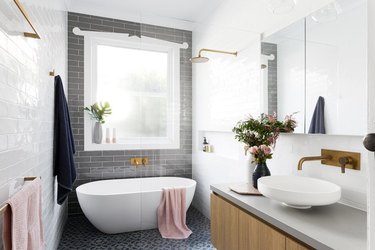 The shower window idea in this bathroom design by Gia Renovations makes a statement thanks to the grand size and decorative trim. Simply add window film to maintain privacy without distracting from the striking visual element and natural light.