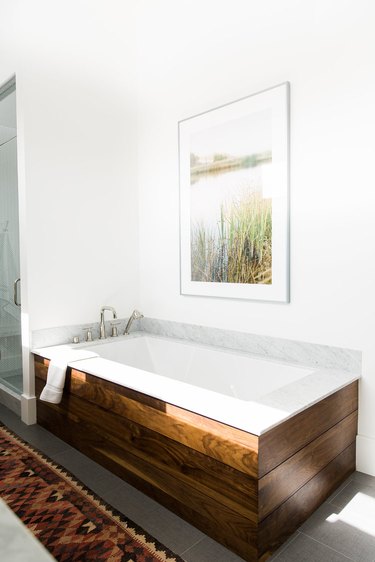 When you begin to brainstorm ways to renovate your bathroom, many scenes may come to mind. Self-care afternoons spent applying your favorite masks and lotions. Evenings primping for a fancy night out. And last, but certainly not least, long, luxurious soaking sessions in a bubble bath. But in order to turn that dream into a reality, you have to consider which bathtub works best for your space. Surprisingly, setting out to purchase a tub can be somewhat daunting.
First, you'll need to consider the various materials of today's tubs. For example, you could go with fiberglass, one of the most common bathtub materials. It's certainly cost-effective, and since it's lightweight, it's fairly easy to install. But you should also be aware that since it's plastic, it can be prone to brittleness and wear over time. Acrylic is more expensive than fiberglass, but it's not as porous, which means it will be more durable and resist stains better.
Cast iron is a material that's been used to make bathtubs for decades upon decades, and for good reason. It's pretty much the most hard-wearing of all the tub materials, but be forewarned that it's incredibly heavy. That means you'll need some extra hands to install it. And that's just scratching the surface, no pun intended. There's also ceramic, cultured marble, or even wood or stone to ponder. The bottom line is that the material of your bathtub will be determined by your budget and your personal taste.
Secondly, you'll need to think about what tub style you prefer. Here, we've laid out the basic options so you can begin imagining your new and improved washroom. Once you've made a decision, read on for a few shopping destinations.
1. Easy Freestanding Bathtubs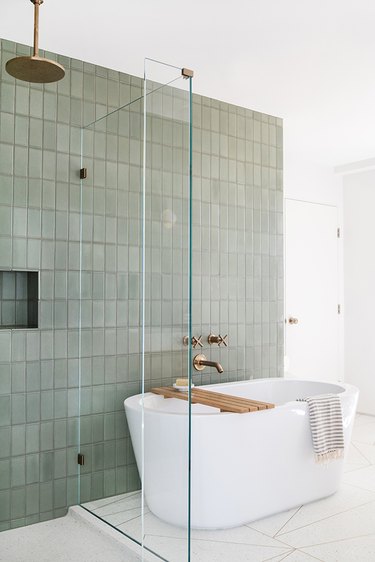 A freestanding bathtub is exactly what it sounds like — a tub that stands on its own and is finished on all sides. It's free from any surround or any built-in features, so if you have the space, you can choose to place it anywhere. For instance, in this bathroom designed by Sarah Sherman Samuel, an oval standalone bathtub fits in seamlessly tucked beside the walk-in shower.
2. Charming Clawfoot Bathtubs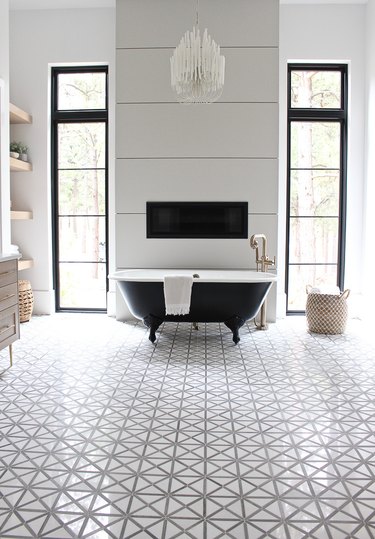 The clawfoot bathtub made its first appearance during the 1700's and became especially popular during the 1800's. Currently, they are still a tried-and-true option for modern bathrooms, bringing in a hint of vintage appeal. If you want to incorporate a throwback touch to your sanctuary, look to this clawfoot beauty showcased in this space styled by Shauna of The House of Silver Lining.
3. Simple Drop-In Bathtubs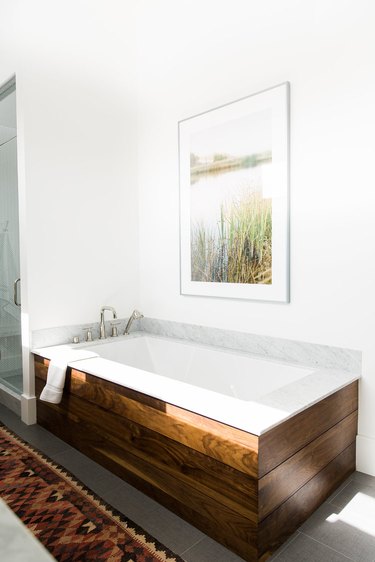 If you're carefully considering a budget for your bathroom refresh, a drop-in bathtub is a good choice. They tend to be less expensive than freestanding tubs and can quite literally be dropped into a surround and tucked against a wall, saving space. In a bathroom designed by Shea of Studio McGee, a drop-in tub has been neatly installed in a corner. And can we talk about the wood surround, too?
4. Classic Alcove Bathtubs
Similar to an alcove shower an alcove bathtub is ideal if you wish to have a tub and a shower. Installed in an alcove (which means it'll be surrounded by three sides), the combo can be incorporated without much hassle. Sarah of Room for Tuesday kept things easy peasy in her bathroom remodel when she installed a dreamy white shower-meets-bathtub situ.
5. Space-Saving Corner Bathtubs
Need to create some additional space in your bathroom? And do something with that pesky corner? Look no further than a corner-shaped bathtub, an amazing space-saver in a small space. It can also be a chic choice, as shown in this bright oasis belonging to Rachel of Maison de Paix.
Where to Shop for Different Types of Bathtubs:
It's always recommended to go into a showroom to check out bathtubs in person. But if you'd prefer to look and then shop online (where you'll have lots more possibilities), begin your quest with these sites.
For bathtubs dripping with style, look no further than Signature Hardware, which specializes in gorgeous, luxe tubs. If you're in the market for a clawfoot tub with gold feet, you're in luck with this shopping destination.
Kohler is one of our fave spots for — you guessed it — all things bathroom. It carries lots of current styles, from freestanding to alcove and everything in between.
To save a buck (or two, or three), look no further than trusty Home Depot. The prices are right, and the choices are extensive to say the least.