Cast iron and stainless steel are both metals, but as sink materials, they couldn't be more different. Or could they? The most obvious disparity is weight, which can be a limiting factor when it comes to mounting style, but other characteristics, such as color, maintenance requirements and durability, aren't as dissimilar as you might think. The fact that more people choose stainless steel sinks than any other suggests that this material would come out on top in a head-to-head matchup with cast iron, but that isn't necessarily so. As with any other home fixture or appliance, it depends on what you're looking for.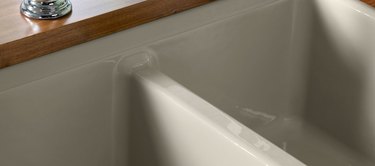 Durability and Stain Resistance
When it comes to impact resistance and sheer longevity, you can't find a better sink material than cast iron. However, virtually all cast iron sinks are coated with porcelain enamel, and this coating can chip. One careless moment with a heavy pot can leave your sink with an unsightly blemish that requires professional repair. No to mention that cast iron is so hard that dropped dishes are almost sure to break. This can be problematic in a busy kitchen.
Stainless steel, for its part, doesn't chip, and heavier-gauge sinks are nearly impossible to dent yet flexible enough to spare your dishes. Despite its name, however, stainless steel does stain, and some of the stains can be permanent. Stainless steel is vulnerable to chlorine bleach and chloride solutions, of which salty water is an example. They cause a type of corrosion known as pitting, which leaves the shiny metal looking permanently dull.
Porcelain-coated cast iron isn't vulnerable to chloride stains, but hard water stains can discolor it, just as they do with any other material, including stainless steel. Stains on porcelain enamel tend to stand out more than they do on stainless steel, especially brownish iron stains. You can remove hard water and iron stains from porcelain enamel and stainless steel by using vinegar or an oxalic acid-based cleaning powder.
Tip
An important thing to keep in mind is that light-gauge stainless steel sinks (22- to 20-gauge) are noisy. They can sound like a rainstorm on a metal roof. Avoid the noise by limiting your options to sinks made of heavier 19- to 16-gauge metal. (Remember that a lower gauge number signifies a heavier, thicker metal.) Of course, you'll never have such noise problems with a cast iron sink.
Weight and Mounting Styles
A typical cast iron sink weighs many times more than a stainless steel sink of the same size, and that may place a limit on the type your cabinet can support. Both cast iron and stainless steel are used for drop-in, undermount and farmhouse sinks, but drop-in styles are the most practical and easiest to install for DIYers. Drop-in sinks have a rim that rests on the countertop, which allows the countertop to support the weight. Undermount sinks receive their support from posts or brackets fastened to the underside of the countertop. You might think that cast iron is too heavy for such a mounting option, but cast iron undermounts are actually fairly common. If you're considering a cast iron undermount sinkn, check the specifications to make sure your countertop can accommodate the posts that come with it.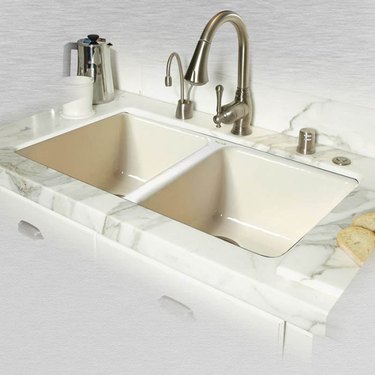 Farmhouse sinks are readily available in both stainless steel and cast iron models. Farmhouse sinks feature a front apron that extends past the front of the counter, and they are often deeper than other types of sinks. They rely on a support structure built into the cabinet. This structure obviously has to be beefier to support a cast iron sink than it does to support a stainless steel one, so it's often wise to design and build the sink cabinet specifically for the sink it has to support.
The extra weight of a cast iron sink poses challenges during installation. A large cast iron kitchen sink is often too heavy for a single person to lift, so if you're planning to install one, count on having helper to lift the sink into place. A stainless steel sink, on the other hand, is so lightweight that almost anyone can lift even a large one.
Tip
You can also buy stainless steel integrated sinks, which consist of a countertop and sink fused into a single piece. Cast iron integrated sinks are almost never seen.
Color
Because cast iron sinks are coated with enamel, you have a choice of colors. White is the most common, but others are available, depending on the manufacturer. Kohler, for example, features cast iron sinks in black, indigo, and off-white. CECO also offers black, along with several shades of beige.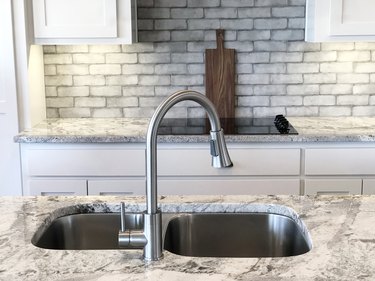 When it comes to stainless steel, an old adage says it best: You can have any color, as long as it's metallic silver. It's a neutral color that goes with almost everything, and a freshly polished stainless steel sink enhances almost any decor, but no variations are possible. If silver just won't work, you can't stain or colorize your stainless steel sink, but you can paint it. You'll need spray equipment and a two-part urethane laden with VOCs to apply a lasting finish, so this isn't a DIY task to approach lightly.
Care and Maintenance
Both porcelain-coated cast iron and stainless steel have smooth, shiny finishes that can be dulled by the use of abrasives during cleaning. Nylon sponges, microfiber cloths and plastic scrubbing brushes are generally safe, but you should avoid rubbing them down with steel wool or metallic pot cleaners, which can scratch the surface. In particular, using steel wool to clean stainless steel can damage the protective layer of chromium oxide on the surface and cause rust stains.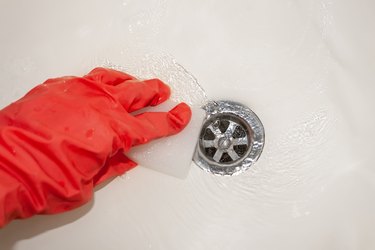 If you expect to be using strong acids or chlorine solutions in activities around your sink, you're better off with a cast-iron sink. Acidic solutions with a pH of less than 1.0 that can cause permanent stainless steel stains probably won't harm the porcelain finish on a cast-iron sink. Moreover, porcelain isn't vulnerable to chloride pitting.
The recommended cleaning method for a stainless steel sink is to rub along the polish lines with a moist rag and some baking soda. This cleaner also works with porcelain-coated cast iron, although there's no need to pay attention to stroke direction.
Stainless Steel Sinks Generally Cost Less
The average cost of a stainless steel kitchen sink is around $200, with bargain models available for less than $100 and top-quality models costing in excess of $400. Of course, premium models can cost much more than this. Prices for cast iron sinks start at around $200. On average, you should expect to pay about $600 for a drop-in or undermount model and $1,000 or more for a farmhouse model.