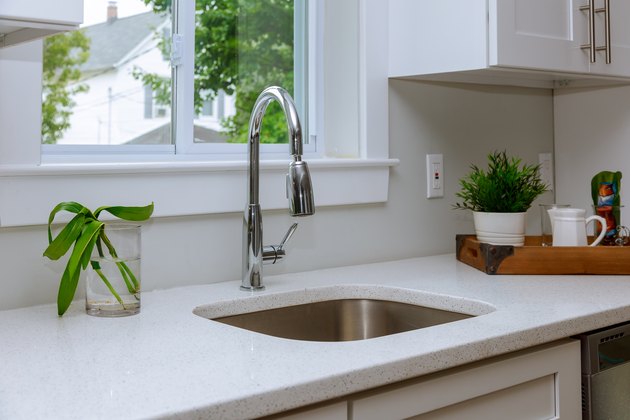 Kitchen sinks take a lot of abuse, from hot pans and liquids to foods that can stain. You want a kitchen sink that looks beautiful, and you want that beauty to last for years. Comparing the options helps you choose the most durable sink material that also fits your personal style. Many different options hold up well and offer resistance to different types of potential kitchen damage.
Stainless Steel Sink
Stainless steel ranks as the top pick for kitchen sinks and for good reason. It's one of the most affordable materials, making it a fit for all budgets. The versatile look fits into almost any style of kitchen, and the metal is durable. Stainless steel offers good resistance to heat, which protects the sink from hot pans or liquids.
For stainless steel sinks, gauge describes the thickness of the material and is represented as a number that usually ranges between 16 and 22. A lower number means the metal is actually thicker than a higher number. So a 16-gauge stainless steel sink is thicker than a 22-gauge stainless steel sink, with lower gauge sinks usually costing more than higher gauge sinks. Most stainless steel sinks are durable and lasting, even with a higher gauge, but a thicker sink with a lower gauge may be less likely to dent.
Stainless steel is one of the best kitchen sink material choices because it rarely stains, especially if you clean it regularly, but hard water can leave spots. You can also scratch the surface if you clean it with harsh, abrasive cleaners or tools. Stainless steel tends to be one of the noisiest options, although a thicker sink and noise-dampening pads on the bottom can make this option quieter.
Fireclay Kitchen Sink
Fireclay sinks consist of a mix of clay and minerals fired at high temperatures and coated in a special glaze to form a strong, durable sink with an appearance similar to enameled cast iron. You'll often see fireclay sinks as a single basin in the farmhouse style with an exposed apron. While you can find fireclay sinks in various colors, you'll most often see them in white or off-white.
Fireclay resists stains and scratches better than an enameled cast iron sink. They also resist acids in the kitchen. It won't rust, but it can crack due to vibrations, so it's not ideal if you have a garbage disposal. These sinks are very heavy and need reinforcements to support the weight.
Granite or Quartz Sink
Solid stone sinks come in at the high end of the price range, but they make a beautiful impression in your kitchen. Choosing the same type of stone as your countertops creates a continuous, seamless look. While the stone material is durable, it requires regular sealing since it's a porous material. When sealed, these sinks hold up well against scratches, stains and similar damage.
A granite, marble, slate or quartz sink is heavy because of the natural stone material. That means you'll likely need to reinforce your cabinetry and countertops for proper installation. Darker colors of stone may show scratches or other damage more prominently than lighter color options.
Composite Material Sink
If a solid stone kitchen sink is out of your price range, consider a composite option. These sinks mix stone dust with resin to create the look of the stone at a lower price point. Crusted granite and crusted quartz are the two most common materials mixed with the resin. Unlike natural stone, which often has a variegated look due to natural patterns and pigmentation, composite sinks have a consistent look with a variety of color and style options.
Composite sinks hold up well with regular and heavy use, making them ideal for busy kitchens. They resist scratching and staining, withstand household acids and don't show water spots. You don't have to seal them as you do with natural stone. Composite material can crack or get damaged when exposed to extreme heat, such as a hot pan placed on the surface.
Solid Surface Sink
Solid surface sinks use acrylic resin as a primary material to create a nonporous surface. This durable sink material option looks similar to an enameled sink, but it's much lighter, which makes it easier to install.
If damage does happen, you may be able to repair it. You can sand and polish away many scratches and chips.
While solid surface sinks are cheaper than many other materials, it's a good idea to avoid the cheapest options. They sometimes use calcium powder as a filler material, which can cause the sink to yellow quickly. Higher quality acrylic materials retain their true color and glossiness.
Copper Kitchen Sink
Copper is on the high end of the kitchen sink price range, but it offers a distinct look and is a material that lasts. It gains a patina naturally over time, which is difficult to avoid, so be sure you like that look. Copper is antimicrobial, which comes in handy for food prep and dishwashing. The material also doesn't rust, which makes it suitable for use in a sink since it's constantly exposed to moisture.
Like stainless steel sinks, copper sinks come in different gauges, with 14- to 18-gauge sinks offering the best durability but also the highest prices. Thicker sinks with a lower gauge are often more resistant to denting. Cheap copper sinks are often thinner and lower quality, which makes them more likely to show damage and wear. Look for a sink that's at least 99 percent pure copper. Some sinks include zinc to improve the strength.
Copper can react to acids and cleaners. Those chemicals can damage the patina you've developed on the copper sink.
Enameled Cast Iron Sink
Cast iron is a strong material, but it rusts when exposed to moisture. To use it as a sink, the cast iron gets a coating of porcelain enamel. The enamel gives the sink a smooth, glossy finish and often comes in a variety of colors to customize your kitchen sink look. Enameled cast iron sinks are heavy, so you may need to reinforce your countertops and cabinets to support the weight safely.
The enamel coating resists staining and is easy to clean. It also resists fading to maintain a consistent look over time.
Even though the enamel is durable, it's also susceptible to chipping or scratching. Chipping usually happens if you drop something heavy into the sink. You can etch or scratch the surface if you use abrasive or acidic cleaners. If a chip is deep enough to expose the cast iron, your sink can rust. You can refinish the sink with DIY kits or hire a professional to do the restoration for you.
---
Shelley Frost combines her love of DIY and writing in her freelance career. She has first-hand experience with tiling, painting, refinishing hardwood floors, installing lighting, roofing and many other home improvement projects. She keeps her DIY skills fresh with regular projects around the house and extensive writing work on the topic.
View Work