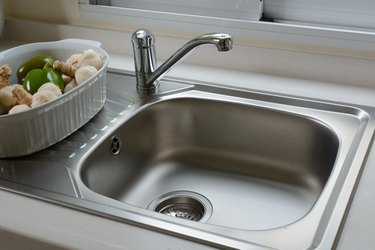 When doing dishes by hand, you likely pull out your drainboard and set it on the counter next to your kitchen sink. Unfortunately, doing so takes up quite a bit of counter space. When it's time to put the drainboard away, you may discover that the water it captured ran under the board rather than into the sink, leaving you with a mess to clean. If this scenario sounds all too familiar, it may be time to consider a drainboard kitchen sink.
Tip
A drainboard kitchen sink is simply a sink with a drainboard built into it. Drainboard sinks are made from the same materials as other sinks and are installed in the same ways.
Drainboard Kitchen Sink Basics
A drainboard kitchen sink is exactly what it sounds like — a sink with a drainboard built into it. Although the name itself isn't glamorous, the sink can be. According to Networx, drainboard sinks come in the same variety of materials as their traditional counterparts. This includes stainless steel, granite composite, fireclay and Corian. As such, you can choose a utilitarian approach or opt for a more luxurious look depending on your kitchen decor.
Like other sinks, you'll find both drop-in (self-rimming) and undermount drainboard sinks. Most, however, are drop-in. They're also available as farmhouse sinks. You'll also find that your drainboard sink can have multiple basins, so you won't need to give up your two-bowl sink if you like having a sink for washing and another for rinsing. You can also keep your single-bowl style if you wash a lot of large pots and pans.
The drainboard is the only difference you'll find between drainboard and traditional sinks, so you need not worry about installation headaches. Any licensed plumber or plumbing-proficient DIYer can install the sink and the necessary plumbing the same as any other sink.
Drainboard Sink Pros and Cons
There are many advantages to having a drainboard built right into your sink. The first is that it saves counter space. You won't need to waste room on your counter for a freestanding drainboard, and when you need extra room, you can simply place a cutting board over your drainboard to create a work surface. When you do hand wash your dishes, a built-in drainboard will channel the water into your sink every time rather than making a mess.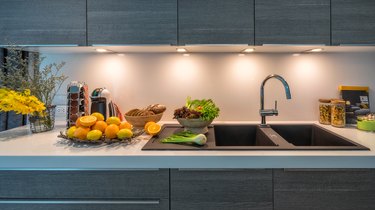 If you do place a cutting board over the drainboard and use it to chop vegetables or other foods, it's easy to scrape any waste right into the sink and into the garbage disposal. If you choose a sink made of stainless steel or another material that tolerates heat, the drainboard also provides a place to set hot pans when draining pasta or pulling a cake out of the oven.
Although the news for drainboard kitchen sinks is mostly good, there are a few drawbacks to consider. Many of the drainboards built into sinks have ridges or grooves where dirt can gather. You may find you need a toothbrush to help you keep the drainboard clean. According to Fairfax Kitchen Bath, drainboard sinks may also provide a smaller basin than a traditional single- or double-bowl sink.
Drainboard Sink Installation
Drop-in, or self-rimming, drainboard sinks are the most readily available and the easiest to install. A hole is cut into the countertop where the sink will go, and the sink is literally lowered into place from above. On a self-rimming sink, the lip around the edge is wide enough and strong enough to support the weight of the sink and simply sits on top of the counter. When the sink is in place, you hook up the necessary plumbing and caulk around the rim to form a watertight seal.
You may also choose an undermount drainboard kitchen sink. Undermount sinks get attached to the bottom of your countertop using sink clips and strong construction epoxy. Because they fit under rather than over the counter, you can wipe crumbs, dirt and water puddles directly into your sink without having to go over any trim at the edge of the sink. Note that because of their weight, undermount sinks don't work with every countertop material. They do well with stones like granite and quartz but aren't recommended for concrete or laminate countertops.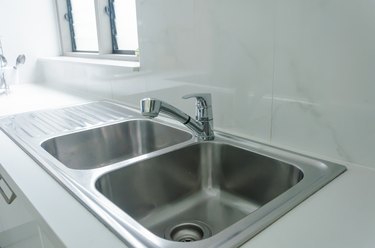 Remember that undermount sinks get heavy, especially when filled with water. It's usually best to leave undermount installation to the professionals. The same is true for apron-front and farmhouse sinks. Farmhouse sinks often require custom or modified cabinetry and sometimes leave little room for fixtures. In addition to modifying your cabinets, you'll likely need to build a frame to support the sink, which should generally be undermounted. It's a job best left to the pros.
---
Home is where the heart is, and Michelle frequently pens articles about ways to keep yours looking great and feeling cozy. Whether you want help organizing your closet, picking a paint color or finishing drywall, Michelle has you covered. If she's not puttering in the house, you'll find her in the garden playing in the dirt. Her garden articles provide tips and insight that anyone can use to turn a brown thumb green. You'll find her work on Modern Mom, The Nest and eHow as well as sprinkled throughout your other online home decor and improvement favorites.
View Work