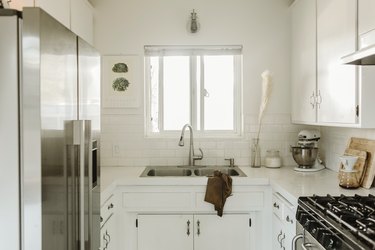 Whether you are buying a home, building a home or remodeling your kitchen, selecting a kitchen sink involves considering a number of variables. Perhaps none is more important than choosing between a single-bowl and a double-bowl kitchen sink.
Similarities and Differences
The one basin in a single-bowl kitchen sink ranges in size from about 22 inches to 30 inches in length (the measurement across the front of the countertop). Most sinks are as wide as the countertop is deep with a few inches to spare. They have one drain, and on most sinks it is right in the center, but sinks with offset drains are also available.
Two-bowl sinks start at about 30 or 33 inches in length. Each basin has its own drain. Again, the drains can be in the center of each bowl or offset. The basins of the majority of double-bowl kitchen sinks are the same size, but they don't have to be the same. Some sinks have a 60/40 or 70/30 split. The depth of the basins can also vary.
Although they differ from one another in many respects, the two types have some things in common. You can find both types of sinks in any of the most common sink materials, such as enameled cast iron, stainless steel, solid-surface material, granite composites and even copper.
While the plumbing hookups are different, both types can be installed in the same manner. Drop-in sinks are placed in a hole cut into the countertop with the rim of the sink resting on the counter. Undermount sinks are supported from below. The cut edge of the countertop material is visible, providing a clean, seamless look. Most apron-front sinks are single-bowl units, though you can find two-basin sinks as well.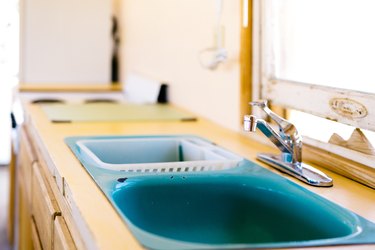 The advantages and disadvantages of single-bowl sinks include:
The unobstructed area lets you easily handle filling and washing large pots and pans.


They are good fits for small kitchens.


They are generally less expensive to buy and install than double-bowl sinks.


Most faucets can cover a single-bowl unit easily.


They are easy to clean.


You can't multitask, such as wash dishes and prep food at the same time.


You can't use the garbage disposer if the sink is being used for something else.


A single bowl is not convenient if two cooks are working at the same time.
Although they are usually larger and more functional than single-bowl sinks, double-bowl sinks do have disadvantages as well as advantages.
You can wash dishes on one side and use the other side for rinsing, although the popularity of automatic dishwashers makes this less important than it once was.


It's possible to have interesting configurations, such as different-size bowls and depths.


Two bowls lets you put off one task, such as soaking dishes, while the other is free for something else.


You can designate bowls for specific tasks, such as one for rinsing or washing dishes and the other for cleaning and preparing produce.


Two bowls means you can plan to keep the garbage disposer side free for when you want to use it.


You can separate fragile items like wine glasses or fine china from heavy pots and pans.


Accessories like colanders and cutting boards that fit over one bowl increase the possible uses for the sink.


A drying rack placed in one bowl frees up counter space.


The divider between bowls can support large pots while you fill them.

They generally cost more than single-basin sinks, but the difference may not be that great when comparing sinks of like quality and materials.


Most double sinks don't work in small kitchens.


They cost more to install. Each drain has a pipe that must run to the main waste line.


The basins are usually not large enough for cleaning large pots easily. Many are not large enough to let them soak. Large pans often don't fit easily into a basin.


The water spread from the faucets has to be able to cover both basins. If it doesn't, it becomes inconvenient to use and clean the sink.
If you were working with a professional kitchen designer, he would hone in on the sink that is best for you by asking a series of questions to help you arrive at a conclusion. You can do the same thing yourself by considering your kitchen design and how you use your sink.
If counter space is at a premium, a properly sized single bowl is your best option. They can be found in sizes down to 22-inches long. If you have a long expanse of open countertop, a large double-bowl sink will fit right in.
The corner installation, where the sink is installed where the countertop makes a turn, is ideal for specially designed two-bowl sinks, usually in stainless steel. Each bowl straddles the corner of the countertop. It is not the most comfortable location for a sink from a usage standpoint, but sometimes it is the only option available.
If you empty the dishwasher first thing in the morning and then fill it as you dirty dishes and glasses throughout the day, either type will work fine. If you let items accumulate before putting them in the dishwasher, a double-bowl sink may be best because you can keep one side free for other uses. A single-bowl sink is better if you are stacking up large pots and pans. A single-bowl sink is better if you adhere to the clean-as-you-go philosophy and use and wash large pots and oversize bowls as you cook.
Some people like to defrost meat and other items in the sink because there is no chance of contaminating the countertop. In those cases, a double-bowl sink lets you use one side for defrosting and the other side for something else.
Two basins are more convenient if two people are working at the same time. They can't stand side by side at the same time because no sink is that big, but they can each claim a bowl for their tasks. Another option for multiple cooks is to install a small prep sink away from the main sink.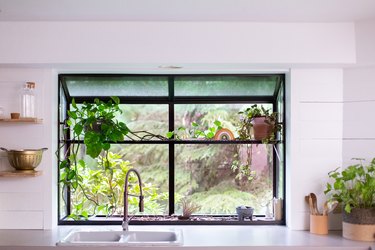 Are You Going to Install the Sink Yourself?
The actual installation of the sinks is about the same for both, but the drainline hookups are different. Single-bowl sinks are easier to install. Each bowl of a double-bowl sink has a drain, and each drain must be connected to the main waste pipe.
It's not difficult, but a pro plumber will charge slightly more to install a double-bowl sink. For an amateur, it could be difficult to deal with all the pipes and their connections. Add in hoses from the dishwasher and garbage disposer, and there is a lot happening in the cramped area under the sink.
If your installation includes a garbage disposer, consider a double-bowl sink because you can usually keep the disposer side free for when you need it.
Finally, don't discount what appeals to the eye or what looks best in your kitchen. For visual interest, a double-bowl sink, especially one with different-size basins, works best for some people. However, if you lean more toward the traditional look, a large farmhouse-style or apron-front single-bowl sink is a better choice.