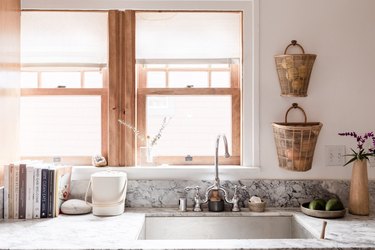 There comes a point in every homeowner's life — whether you are designing a new cook space or remodeling an old one — when you need to shop around for a new kitchen sink. The first, and arguably most important, choice is between an undermount or drop-in sink. This decision is both a utilitarian and stylistic one. Drop-in sinks have been around since plumbing was a thing, whereas undermount basins were designed when solid synthetic countertop materials and engineered quartz became popular. While an undermount kitchen sink tends to be viewed as higher-end and decidedly more elegant, it isn't suitable for every type of countertop. Plus, it's more expensive ​and​ more difficult to install than a drop-in sink.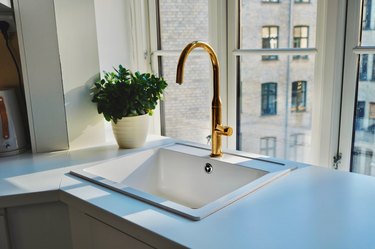 Another name for a drop-in sink is ​top-mount​ or ​self-rimming —​ the names pretty much give away the main difference between the two types of sinks. The drop-in variety is installed from the top of the sink cabinet by lowering it into an opening cut out of the countertop. Whereas an undermount sink is attached to the underside of the countertop from inside the cabinet. Additionally, a drop-in sink has a rim that rests on top of the counter to support it, but an undermount relies entirely on support anchor posts that must be installed prior to mounting the sink.
This difference affects the appearance of the entire countertop. The rim of a drop-in sink punctuates and highlights the area around the sink, while the undermount's absence of a rim is visually seamless and promotes the natural beauty of the countertop.
Pros and Cons of Drop-In Sinks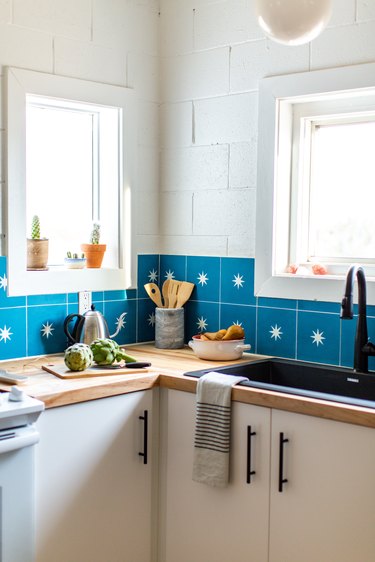 The drop-in sink was once the only type available, so it comes in all sizes and shapes and can be made from virtually any traditional sink material, including stainless steel, enameled cast iron, ceramic, porcelain, stone, and engineered stone. Here are some of the reasons you might want to choose a drop-in sink over an undermount or apron front basin.
It's the least expensive option. A drop-in sink costs, on average, about 50% less than an undermount of the same size and material.
It's easy to install. You simply cut a hole in the countertop (if there isn't one there already), drop in the sink, and fasten it in place with special clips.
It works with all countertop materials. The rim hides the edge of the hole you cut in the countertop, so you can install it on stone, engineered stone, laminates with a plywood core, and even metal.
The rim collects dirt. When installing the sink, you fill the gap between the rim and countertop with caulk, but this caulk doesn't last forever, and even before it fails, it can turn black with sediment and mold.
The countertop is harder to clean. The rim forms a barrier around the sink opening, preventing you from wiping water and debris from the countertop directly into the sink.
You lose counter space. The rim takes up valuable real estate on the countertop.
Pros and Cons of Undermount Sinks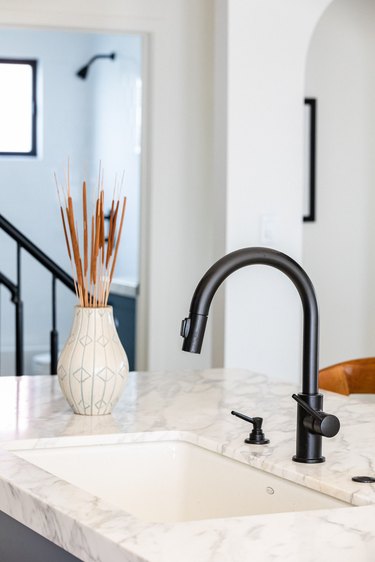 People are attracted to undermount sinks for more than stylistic reasons. They come in most of the same materials as drop-ins, except for the heavier ones that are difficult to support. An undermount also has utilitarian advantages over a drop-in, provided the countertop is a good candidate.
It's more sanitary. The sink edge is below the countertop, so there's no rim to collect debris and prevent you from wiping crumbs and liquids directly into the sink.
It looks better. Undermounts were invented to capitalize on the aesthetic appeal of polished stone countertops, and they look great with most other countertop materials, as well. An undermount sink can add to the resale value of your house.
It increases countertop space. The absence of a rim creates a small but valuable amount of extra working space on the countertop.
It doesn't always work. Because the edge of the countertop overhangs the sink and is left exposed, you can't use an undermount sink on a countertop with a plywood or MDF core, which includes laminates and tile. Moreover, you can't install a heavy undermount on a countertop made from a material that can't support it.
It can sag. An undermount depends on the support posts and brackets that hold it, and if they should fail for some reason, can cause the sink to sag or even fall.
It can leak. The rim is sealed against the countertop with caulk, and if the caulk fails, water can seep through the gap. This is particularly an issue with positive-reveal sinks for which a small portion of the rim is visible.
What's Involved With Installation?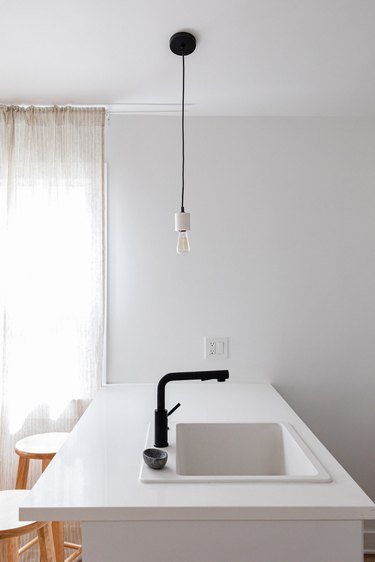 Before you can install any type of sink, you have to cut a hole in the countertop, and because undermount sinks work only with solid materials, cutting the hole can be challenging. Many countertops, especially those made of stone, are fabricated with the specified cutout. Before mounting a kitchen sink, the installer has to set the anchor posts to hold it. You can often screw these anchors into wood or synthetic stone, but if the countertop is real stone, the best option is epoxy glue. Once the posts are set, the installer positions the sink and fastens it to the posts with special clips. Once that's done, drain and garbage disposal installation complete the job.
Tip
Before the sink is fastened down and connected, install the faucet. There will be more room in the sink cabinet to perform the necessary work.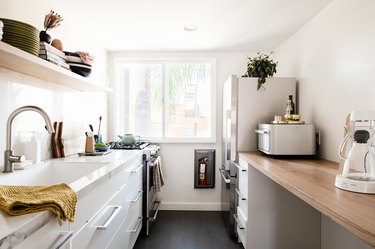 If you find yourself toggling between the two kitchen sink options, there are a number of details to think about. Cost is an easy way to steer yourself in one direction or another. If you're on a budget, a drop-in sink is definitely an economical choice, especially since it's something that you can install yourself. And if you decide to go the DIY route, you won't have to worry about the visibility of the cut edges of the countertop, as they will be covered by the lip of the sink.
The material makeup of your existing or new countertops is yet another factor to consider. If you're working with plywood or MDF (this includes laminate and tile), the counters won't be able to support the weight of a heavy undermount sink.
Lastly, consider the amount of space you have to work with. In a tiny kitchen, every square inch matters. Sacrificing a few inches with a drop-in sink may not seem like a big deal but it can have a major impact on how you function in that area, so it might be worth splurging on an undermount.
Replacing Your Sink? Keep This in Mind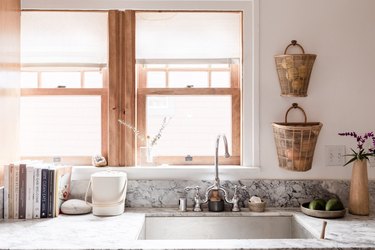 If you're replacing an existing sink, your choice might be limited by the dimensions of the existing cutout in your countertop. Assuming you can find both a drop-in and undermount sink that fit, keep in mind that it's more difficult to install an undermount sink, which means you may want to hire a pro, adding to the already high cost. Also remember that the undermount won't look good if the existing hole doesn't have smooth, straight edges. If the hole that held the drop-in sink was cut roughly, you'll be wasting your money installing an undermount unless you're prepared to invest extra time and money into fixing the hole.
If you're determined to use a particular undermount sink, it is possible to replace just the portion of the countertop that has the cutout. This allows you to cut a new hole instead of trying to modify an existing one. You can even make the hole smaller than the original to accommodate a more compact sink. Using this option, you could install an undermount in a laminate counter — which normally isn't an option — by replacing the central part of the counter with a butcher block drainboard and installing the sink in the butcher block.
What to Consider When Choosing a Sink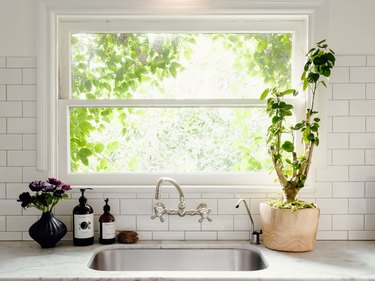 There are a number of factors that can influence the type of sink you purchase. The desired material of the sink is always worth considering. Drop-in sinks can be manufactured from materials including ceramic, stainless steel, and even cast iron. With undermount sinks, you may find your options to be a little more limited. Look to your space and decide on which material will best suit it before making a final decision.
Functionality is another important factor to keep top of mind. Are you a multitasker who regularly washes dishes while rinsing veggies? Then perhaps a double bowl arrangement would work best for you. Or maybe you enjoy hosting dinner parties that result in lots of dirty dishes? This might call for a large single bowl design, instead.
Aesthetics can be important, too. At their core, undermount sinks were more or less invented to emphasize the beauty of the surrounding countertops. If your work surface is less than ideal, a drop-in sink will immediately stand out and distract the eye. On the other hand, it can harshly contrast when paired with a visually delicate stone like marble or granite. In this case, the seamless design of an undermount sink would be more inconspicuous, allowing the counters to be the star of the show.