Squeaky is all about the borderline genius hacks and ideas that keep literally every inch of your space pristine.
There are tons of cleaning products on market that claim to be miracle cleaners, but the truth is, most of them are full of chemicals and don't really perform as well as advertised. The great news is that you only need two household ingredients to create this new homemade miracle cleaner — and it is a real game changer!
This DIY cleaning solution works as a stain remover, getting rid of scuff marks and food stains from sinks — even those beautiful white farmhouse sinks that are all the rage right now. It will also remove burned-on food from ceramic and glass stovetops, pots, pans, sheet pans, and more. You can even use it to deep clean your bathtub, or try it as a shower cleaner to remove soap scum and buildup from shower doors and grout too. It truly is so versatile!
Homemade Miracle Cleaning Scrub
Mix the baking soda and orange essential oil in a glass mason jar or other airtight container. Stir together really well until the essential oil is mixed with the baking soda evenly. Store in a dry area.
Tutorials on How to Use the Scrub
To Clean Your Kitchen Sink
Sprinkle your sink liberally with the scrub, then use a scouring pad or scrub sponge to work the cleaning solution into your sink. Clean in a circular motion. It will gently remove any stuck-on gunk, stains, and scuff marks, too. Rinse well with warm water.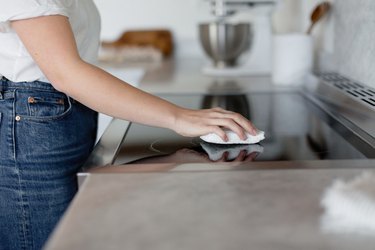 Sprinkle your stovetop with the scrub. Dampen a scouring pad or scrub sponge and work around in a circular motion, removing any burned on bits of food, grease, and water marks. Use a damp, clean cloth to remove any residue left behind.
To Clean Burned Pots and Pans
Sprinkle the scrub on the inside of your pot or pan, especially where any burned-on food residue may be. Dampen a scouring pad or scrub sponge and wring out really well. Use the scouring pad to work the scrub into the burned area until the burned food starts to lift. Reapply the scrub and repeat until all of the burned food is removed. Rinse well with warm water.
Sprinkle the scrub all over your sheet pan. Use a dampened scouring pad or scrub sponge to work the scrub into the baking sheet using a circular motion. Be sure to get into the corners and around the edges of the sheet pan, too. Rinse well with warm water.
To Clean Your Bathtub and Shower
Dampen the entire area to be cleaned with water. Sprinkle the miracle scrub all over the area. Use a scrub brush or scrub sponge to work the scrub into the areas, especially where there is soap scum buildup. Rinse well with warm water.
For more cleaning tips, visit Hunker's Squeaky page for some helpful DIY cleaner content. Break out the spray bottle, hydrogen peroxide, bleach, dish soap, white vinegar, lemons, and baking soda. One good thing you're going to discover: All of our homemade cleaners are so easy to make with everyday ingredients. You'll find new ways to clean stainless steel, oven racks, washing machines, toilet bowls, floors, glass doors, grime ... you name it, Hunker's got it. You just bring the elbow grease.