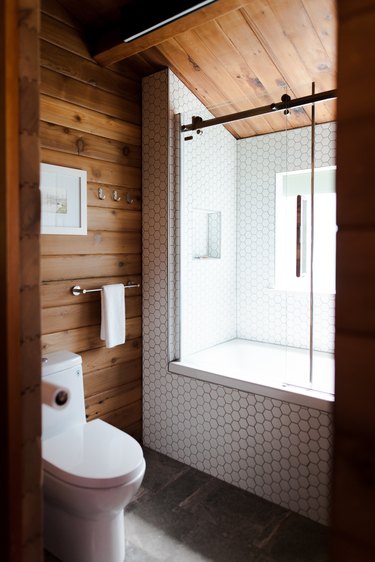 We may all be aware of the impact a design-forward shower curtain can have on a bathroom, but there's something to be said of the refined elegance of a glass shower door. What it lacks in texture and eye-catching prints, it more than makes up for in stature and effect, bringing with it an element of cool minimalism. Clear glass has a host of pros. In a small bathroom, it creates an open and airy environment, allowing light to seamlessly travel through, and it offers a streamlined alternative to the typical partition. And bonus: Unlike solid curtains, it won't conceal the statement-worthy tilework that you splurged on.
From a functional standpoint, the type of shower enclosure you choose should complement the layout of your space while on the aesthetic front, there are countless ways that you can get creative. Black iron frames lend an industrial vibe while a semi-frameless design can achieve a modern-minimalist look. Cost-wise, glass shower doors are certainly an investment with most averaging close to $1,000, and depending on the type (frameless, frosted, walk-in) and size, the price can easily triple (especially once you add on the cost of fancy hardware). On the other hand, maintaining them is easy enough — no more washing moldy curtains — often requiring little more than window cleaner and a good ole squeegee. Some brands even treat their glass with coatings that are able to resist soap scum.
If you're ready to take the plunge, read on for the many ways you can work a glass shower door in your bathroom.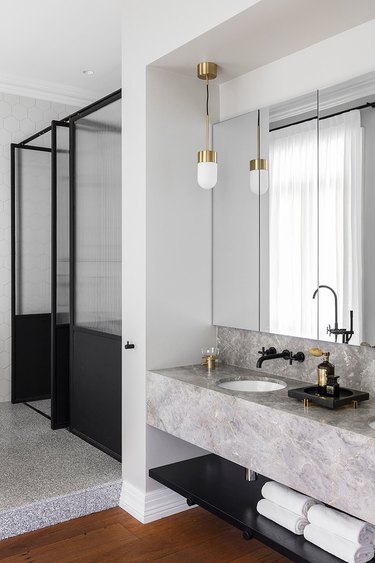 The designers of Arent & Pyke give contemporary glass shower doors a welcome refresh with a folding, screen-inspired set that doubles as a room divider. The two-toned effect, made up of glass and powder-coated steel, establishes plenty of privacy while inviting a bold dose of style to the bath.
2. Think outside the box.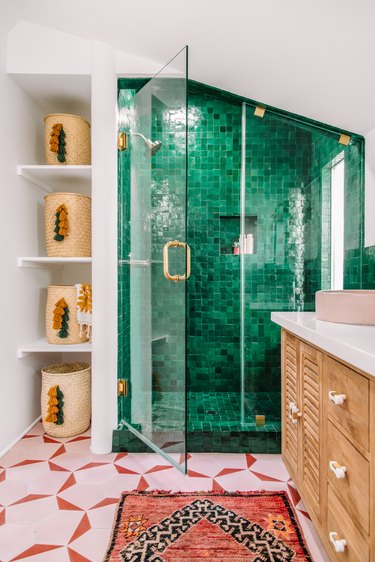 Invite a fresh detail to your bath by pairing a walk-in shower with a framed door that either takes on an unexpected shape or conforms to the unique architectural structure of your home. This dreamy scene, designed by Studio DIY features a glass shower door paired with a trapezoidal side panel. If that wasn't enough, the look is elevated with brass hardware and a showstopping green mosaic tile.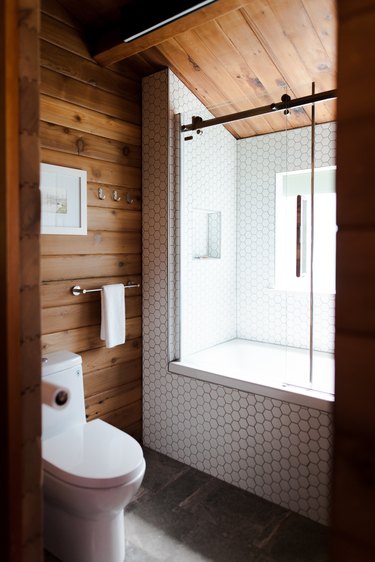 A sliding shower door is an ideal solution in small bathrooms where swinging doors, typically, aren't all that feasible. On top of that, they also tend to run on the more affordable side due to their size. This semi-frameless glass shower door contributes a modern touch to a rustic bath. And to take it one step further, it's complemented by sleek, polished chrome detailing and paired with a streamlined design.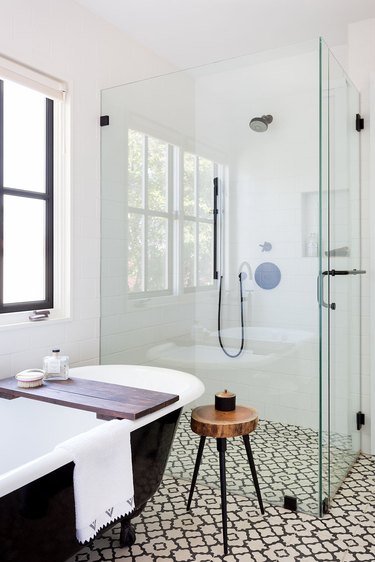 When selecting a frameless shower door, ensure that whatever design you choose is made from tempered glass. As an industry standard, it's constructed in a way that if the glass breaks, it would do so in small, granular pieces rather than in large, pointed shards — which could be exponentially more dangerous.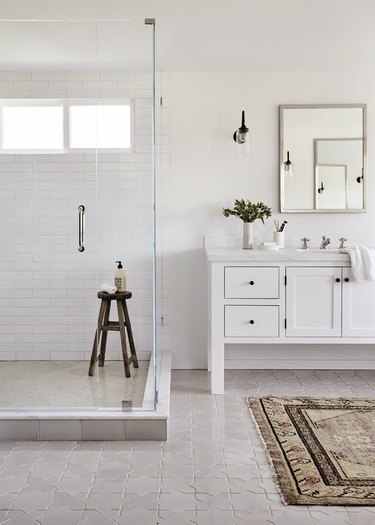 If you're going for an entirely modern and streamlined look, a frameless glass shower door is the way to do it. More often than not, you'll find this in the form of a partition (which doesn't require a handle or a surplus of hinges on the side) that separates the shower area from the rest of the bath. A freestanding shower situation with a door and glass walls, like this dream setup from Katie Hodges Design, is yet another prime example of how to pull off the look.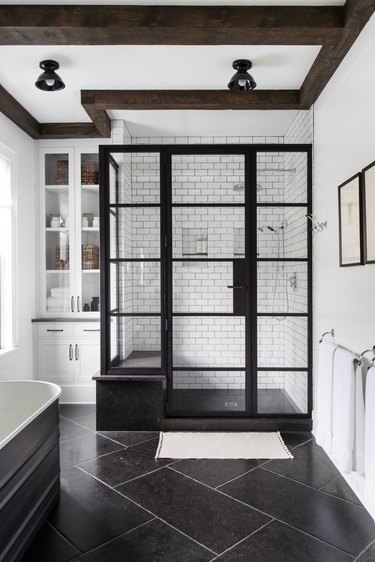 Steel-framed glass shower doors paired with subway tile are a match made in Pinterest heaven. In addition, the combo is a hallmark of modern farmhouse design, thanks to its contemporary-meets-industrial good looks. The creatives behind Chango & Co. prove just how impactful the black detailing can be in a nearly all-white space, coupled with a bold floor tile and rustic accents for warmth.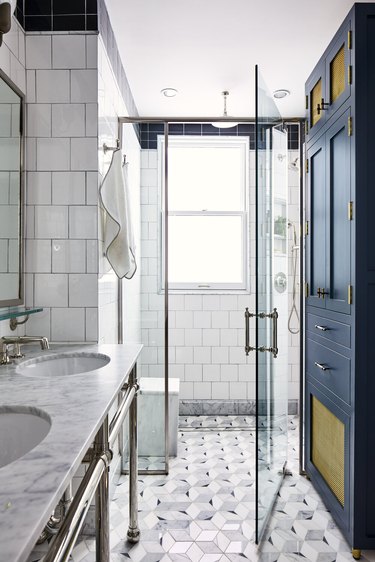 Semi-frameless shower doors combine the best of both worlds. While the definition can vary from brand to brand, in essence, it refers to a glass door that's not completely encased in a frame. Take, for example, this glam bathroom from Zoe Feldman, where the door is not surrounded by the same polished chrome frame that supports the rest of the glass.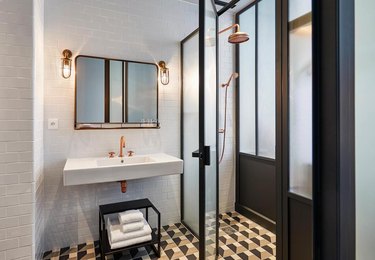 Glass shower doors don't offer much on the privacy front so if you're keen on the style, consider frosted or opaque glass — the bathrooms in The Hoxton Paris do it right. It can serve the same purpose, allowing light to funnel through the room while defeating the need for a curtain, yet it still maintains a subtle element of privacy.