From styles to maintenance to cost, there's a few things to consider. No matter the direction, if you're sticking with a frameless shower door design, we've got some of the pros and cons for you as you weigh the decision while decorating your dream bathroom.
Pro: A More Open and Stylish Space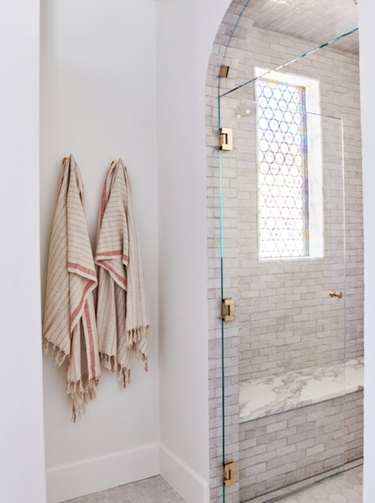 Without a bulky frame to interrupt the flow of your bathroom, the transparent effect of a frameless shower door allows for a more open feel. Plus, the simplicity of the design allows you to showcase your tile or stone surface inside your shower. This look from Amber Interiors accentuates the alcove design while showcasing the beautiful marble subway tile within.
Pro: Customization Is Limitless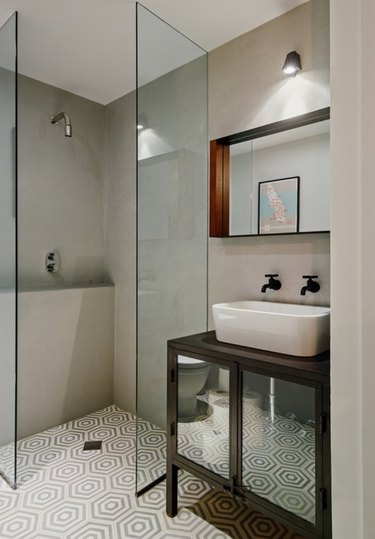 From big to small spaces, you can literally get glass cut to fit the style and dimension you need. For this shower from General Assembly, the actual door was left open while glass panels literally create a shower space in an otherwise tight fit bath with dramatic results.
Pro: Less Mold and Corrosion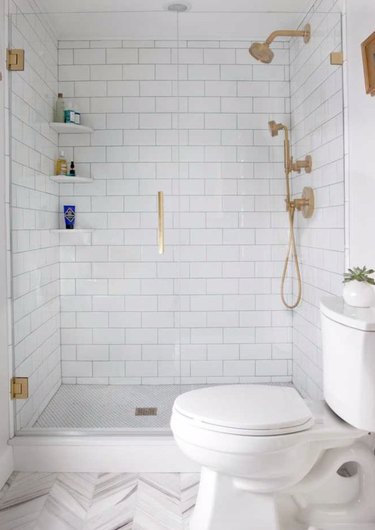 With shower door frames comes the potential for nooks and crannies where moisture loves to get in and set up camp. Going frameless ensures this problem isn't a problem at all. Just keep your handy squeegee on hand to keep a door like this lovely look from Elements of Style picture perfect.
Con: Can Mean Big Bucks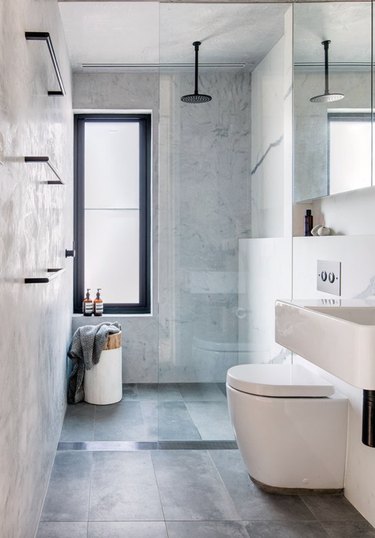 Let's face it, something that looks this good will cost you. But do your research. A step-in shower door like the one here from Anderson Design Group can actually be more cost-effective, plus you save dollars on hardware.
Con: Potential Leaks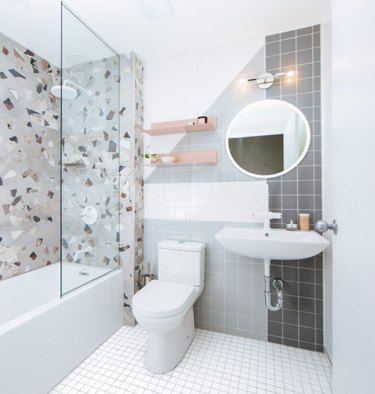 Like anything you install in your bathroom, the biggest foe is water. Make sure you use a well-recommended installer that seals your glass door to perfection. This shower tub combo look from Design Bar Detroit blocks water from the toilet and sink area and still has us starry-eyed over the fab stone design inside.
Con: Shatters Can Happen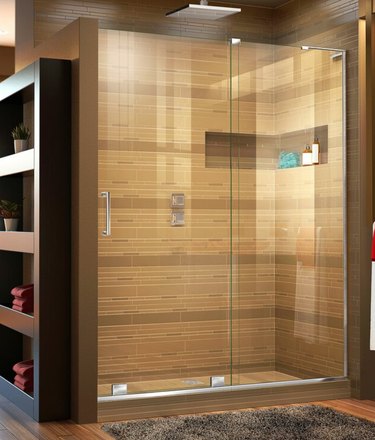 While super rare, breaks in glass that's unframed can happen. Make sure to check the hardware and fasteners regularly, examine the glass from time to time, and be sure not to use the door to help yourself in and out of the shower. Step into a space like this one from Perigold and you'll be instantly sold on a frameless door.