While your master bedroom is that much needed place to retreat from the hectic world -- it's where you catch some zzzs, read, meditate, and, let's face it, indulge in some serious binging on that series that everyone's been talking about -- what about your bathroom?
It's all this and more. (Well, maybe you don't want to sleep in there, but who's judging?) And when it comes to showers, we all want something special, right?
First off, we want our master shower to be roomy and functional. Second, we want it to be inviting and well-designed. There are so many directions to take, but stick with us, because we've got eight really gorgeous shower ideas for your master bathroom to share below that will have you ready to exfoliate your body and deep condition your locks for days. And maybe, just maybe, you'll never want to get out.
1. The Gray Way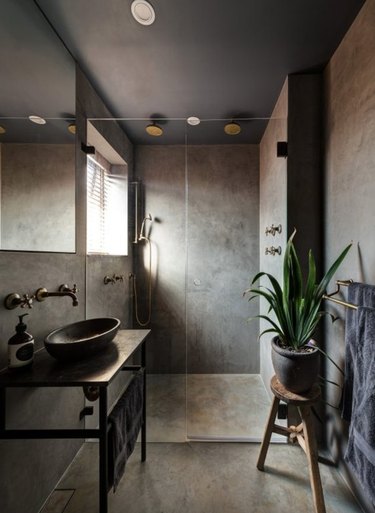 This minimalist shower from Alexander Design has us ready to get warmed up and super chilled out. Matching concrete floors and walls, matte finish bronze fixtures, and multiple shower heads are a striking combo. It just goes to show you that gray bathrooms can be gorgeous. We're ready to put the phone on do not disturb and spend some time in here instead.
2. Spa Days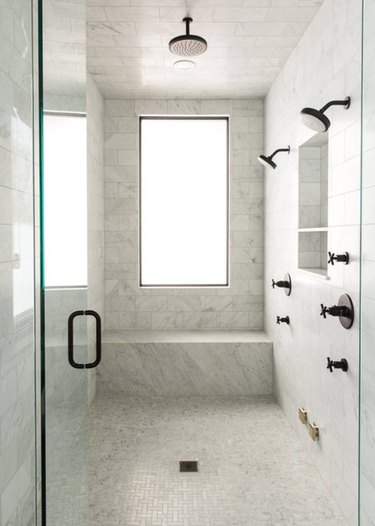 Another stunning minimalist look comes from Studio McGee, but this time with maximum marble and a built-in bench, giving us serious modern Roman bath vibes. Most importantly, why have one shower head when you can have three to fit your moods?
3. Island Fever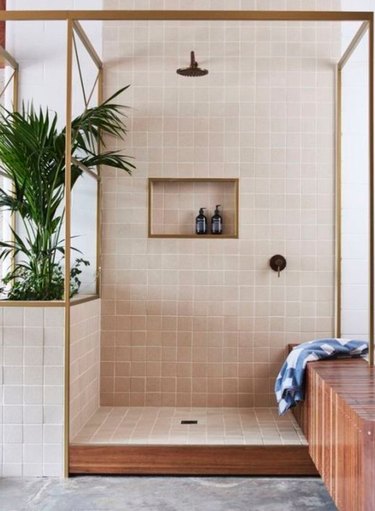 Sometimes you need to get away to somewhere warmer, which is why this tropical-inspired shower exists. It contains soft tones and natural wood accents. Was that the sound of waves crashing? It really brings the outdoors indoors, or vice versa.
4. Classically Bold
A lot of us cannot let go of a soaker tub. But space can be an issue. This look from GIA Renovations conquers both beautifully, taking classic lines and making them modern and chic. Check out the brass fixtures, notably the rain shower head.
5. Back to Black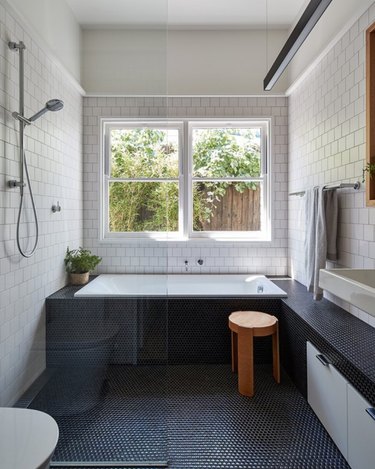 We're serving up another tub and shower combo with this beautiful shower area from Studio Bright. We're loving the use of black hexagonal tile for the tub frame, bench, and floor. A simple and smart hand-held shower head finishes it off.
6. Modern Moroccan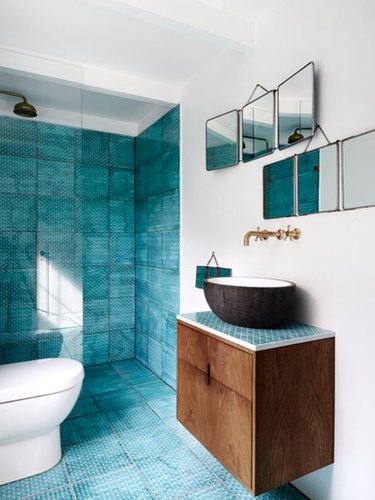 This step-in shower takes space into consideration, but still packs a lot of self-care punch. The gorgeous Moroccan style blue tile flows from wall to floor seamlessly, as if you're underwater. Antiqued brass fittings give it both an exotic and modern feel from The Design Chaser. We like it. We like it a lot.
7. I'm in the Shower!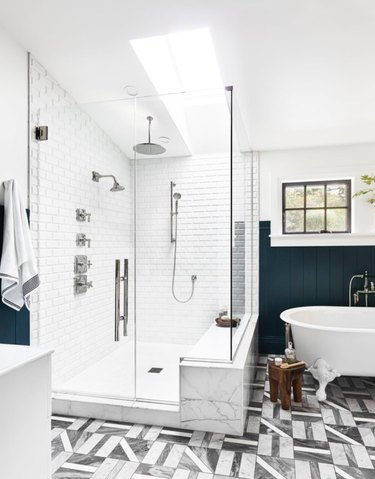 If you want a shower, then this one from Emily Henderson is the shower. It's got the giant rainfall head, the wall mount power head, and the hand-held. It's got a built-in bench. It's got a door to steam things up. Our guess is it has everything a shower head (get it?) would want or need. Plus, it's just so pretty.
8. Head to Toe Harmony
Lastly, another smart use of space and design comes from Andrea West Design with this shower tub combo. What's nice here is you have the three options on how you want your shower, but in a space with seriously stunning concrete tile design. It's your own little chic sanctuary of clean.