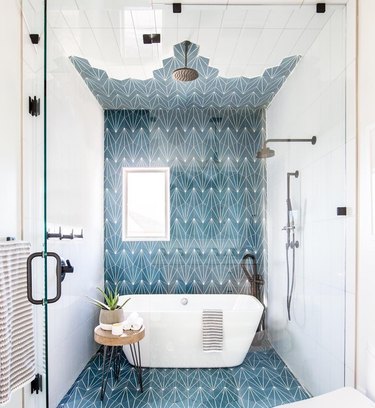 When you wake up in the morning, or after you come home at the end of a long day, a warm, soothing shower is always an instant stress reliever — even if your shower is teeny-tiny. But if you've ever been to the spa, you know what a sumptuous experience it is to wash off the day in a wide, open space complete with a spot to sit, multiple shelves for your essentials, and maybe even a rain feature that makes you feel as if you're showering in a gentle rainstorm.
Yes, all of those things sound pretty darn lovely, but unfortunately, not all of us have ginormous bathrooms that allow for a spacious shower. If you catch yourself daydreaming about having a someday washroom that will make you feel like you're at the spa instead of in your cramped studio apartment, be sure to tuck these sizable bathroom shower ideas away in your aspirational design file.
1. The shower with a gorgeous tile accent wall.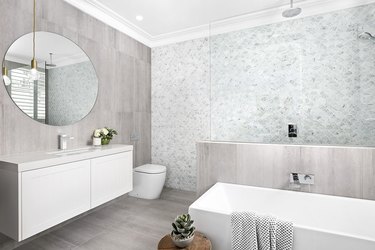 A large shower is an ideal excuse to track down the most beautiful tile you've ever seen and display it from floor-to-ceiling. In this breezy bathroom, dreamed up by Bonnie, Lana, and Erin of Three Birds Renovations, sea-green fish scale tile fills an entire wall in this expansive walk-in.
2. The shower with its very own window.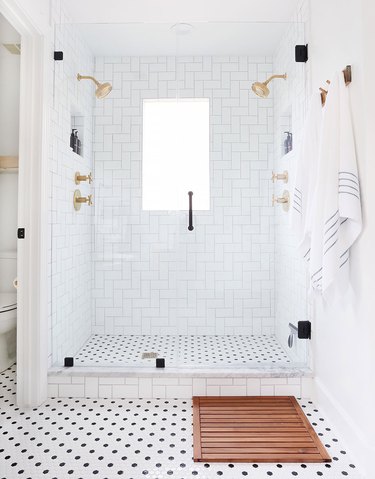 It's a huge bonus if you're able to install a window when realizing your dream bathroom shower idea. It lets in lots of energizing, natural light, and if your house has plenty of privacy, you can enjoy the view while you lather up. This stunning shower, belonging to Erin of Sunny Circle Studio, has enough room for a window that lets in loads of sunlight.
3. The shower with a place to sit.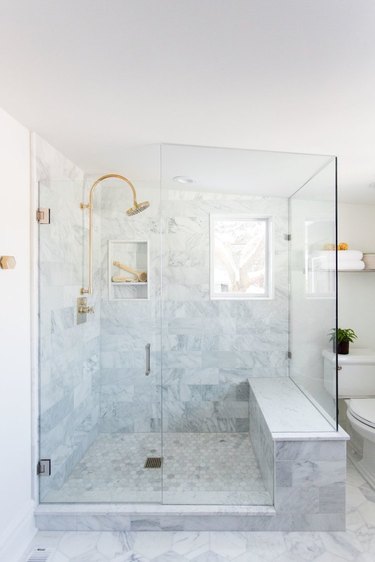 There's something really pleasant about being able to take a seat mid-shower. You can perch while you wait for your deep conditioner to work its magic, put on a face mask, shave your legs, or breathe in some aromatherapy — but your shower has to be big enough to accommodate a bench. This shower designed by Shea of Studio McGee certainly has space for a seat, rendered in oh-so-luxurious marble.
4. The shower that takes up half the bathroom.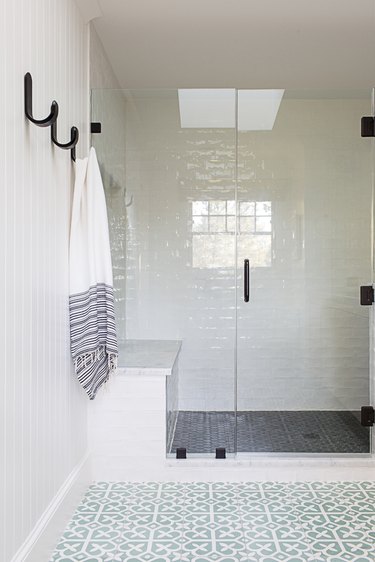 Have room to spare in your bathroom (or maybe you're still fantasizing about your spacious bath)? You can definitely apply the "go big or go home" philosophy to your shower. Feel free to design a shower that literally takes up half your bathroom, like this beauty designed by Elizabeth of Elizabeth Lawson Design.
5. The shower with tons of cool features.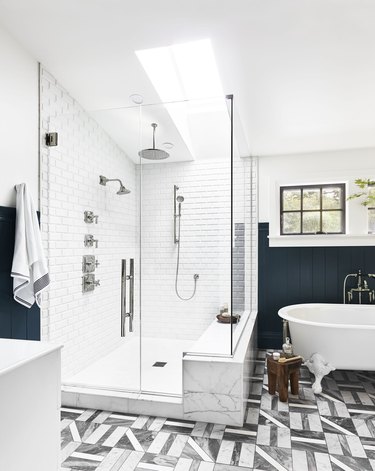 Emily Henderson is definitely a fan of gleaming, metallic hardware, and this enormous bathroom shower idea is no exception. There's more than enough space to install a variety of shower features, like a rain showerhead in addition to two other heads. With a built-in bench, skylight, and brick detailing, we're thinking this is pretty much the perfect way to wash away your day.
6. The all-in-one shower and bathtub.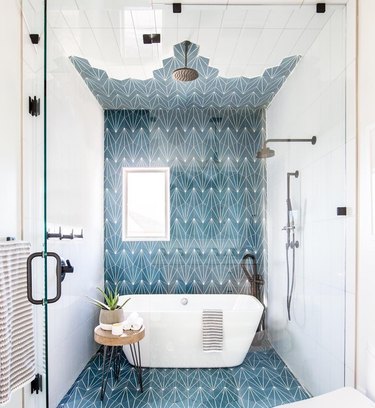 If you tend to have trouble deciding between a bath and a shower, you can have the best of both worlds if you have the square footage. This bathroom shower idea created by Andrea of Andrea West Design is roomy enough for a generous soaking tub and rain shower. Plus, that tile is everything.