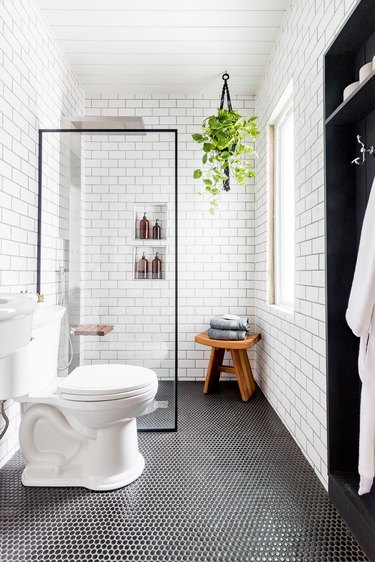 A compact bathroom can be a problem in even the biggest of homes — seriously, how are you supposed to fit everything in such a small space? We get it .... the struggle is real. But, we're here to tell you that miracles do happen. In fact, you can even fit a luxurious shower in your tiny washroom. Interested? With a little out-of-the-box thinking and efficient space planning, you'll be able to create a cozy, spa-worthy oasis perfect for washing the day away. Scroll on for seven small shower ideas that are positively genius.
1. Combine it with your tub.
The idea of a shower/tub combo doesn't have to scream rental bathroom. In fact, this small shower idea by Strutt Studios is ticking all of the boxes on our wish list. Complete with Norwegian rose marble, brass shelving, and a fluted glass shower screen, this small space feels pretty luxe and far from basic.
2. Make use of a corner.
When renovating his bathroom, Malcolm Begg of Design Sixty Nine wasn't willing to compromise on a separate bathtub and shower, instead opting for this neat corner shower unit with a glass enclosure. The curved design takes up less floor space, so there is still plenty of room for primping and pampering.
3. (Don't) curb it.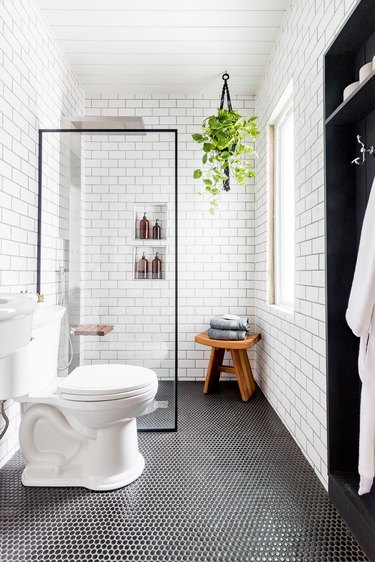 Ashley of Cherished Bliss managed to completely open her small bathroom by opting for a curbless shower. By removing the step into the shower, and therefore the dividing point on the floor, the room looks streamlined, sleek, and extremely open. The finishing touch? A large clear glass shower screen to avoid visual disruptions — besides, everyone needs to see that showerhead.
4. Use a glass divider.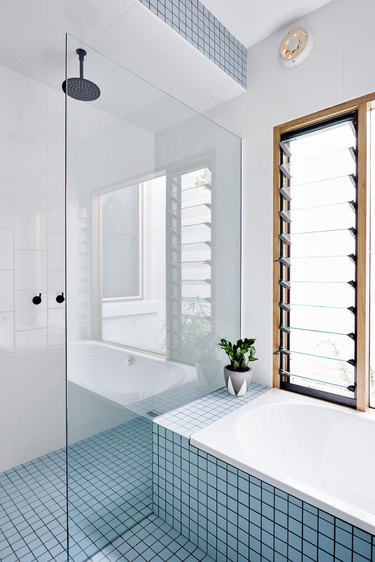 We're starting to notice a pattern here. This bathroom design by Dan Gayfer also uses a glass partition to separate the small shower from the rest of the space — giving the illusion of more space. The blue tile grounds the design while the frameless glass and white tile walls keep the tiny bathroom feeling light and airy.
5. Create a faux wall.
A glass divider isn't for everyone! If the transparent partition leaves you feeling too exposed, consider a faux wall instead. In this small shower idea, Lisa Dawson separated her toilet and shower with a dividing wall, adding in shelving and that all essential greenery for a look that feels open yet provides a little more privacy.
6. Open it up.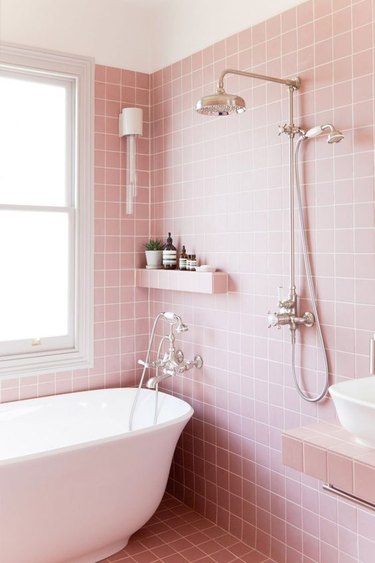 Who needs a shower curtain or divider? Follow the lead of this pink oasis by London-based 2LG Studio. Turn your tiny bathroom into one big shower by going without a partition and covering the entire space in tile. The open layout and lack of visual interruptions will make your space feel much bigger. Plus, it looks pretty darn cool, too.
7. Tackle storage issues.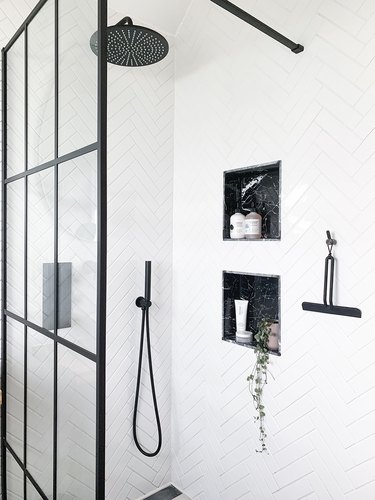 Olivia of Lust Living took this family bathroom from dull and cramped to modern and open, thanks in part to this functional yet swanky small shower idea, complete with a rain showerhead. And she even tackled the issue of storage by carving out two niches to house toiletries and a tiny plant. A shampoo hiding place clad in black marble? Yes please!