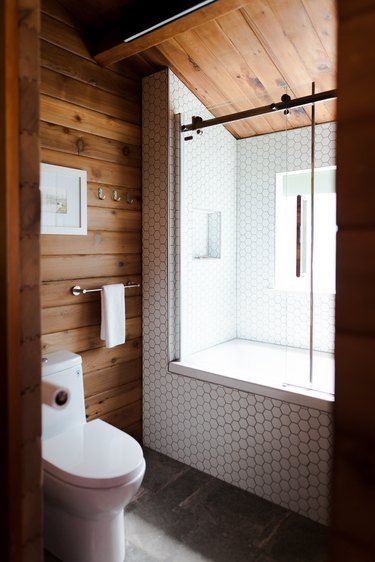 If you're remodeling your bathroom, we have no doubt that you've spent hours sifting through shower ideas in the hopes of discovering one that makes the most sense for you and your space. However, as you're searching, you might realize that a traditional design made up of current-day materials and swanky features just doesn't feel right. Maybe you're looking for an option that feels as if you're out in nature or vacationing in a cabin retreat. Either way, we're guessing that if these thoughts have crossed your mind, a rustic aesthetic is right up your alley.
Made up of natural materials like wood and stone with a few modern touches, even when placed in the backyard, here are six rustic shower ideas that are topping our wish lists.
1. Embrace well-worn visuals.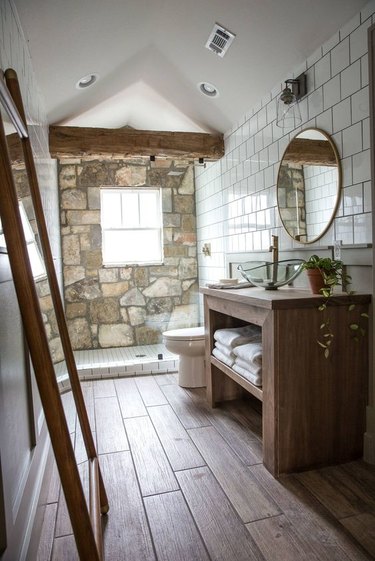 To make your shower look truly rustic, follow the lead of farmhouse queen Joanna Gaines, and look to rough-hewn wood and stone to create the desired cozy ambiance. Complete the look by bringing the outdoors in with a dash of greenery and natural light.
2. Make it modern.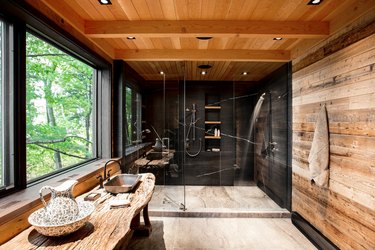 Newsflash: Rustic shower ideas can also be modern. This bath designed by the team at Architem employed black slate and natural wood finishes to create a dreamy cabin aesthetic, while the glass doors make the shower look sleek and current. The view of the outdoors adds to the nature-inspired feel.
3. Galvanized metal is always a good choice.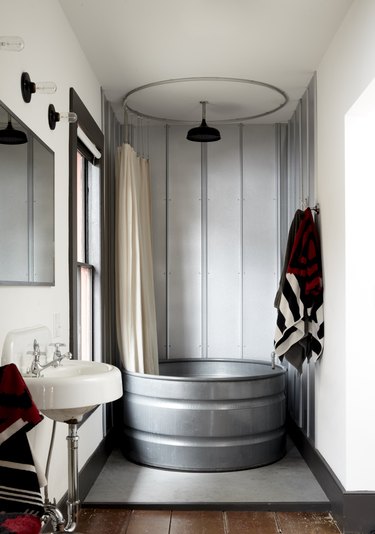 4. Balance is key.
Or, perhaps you love both wood and stone and can't decide which you prefer more? Good news: you can divide your bathroom using equal parts of both natural materials. This rustic design, captured by photographer Olivier Martin Gambier, balances the two in a sleek and sophisticated way. Round it out with a rain shower and a small window at the top to allow for direct sunlight and views of the trees.
5. Combine wood and tile for a streamlined look.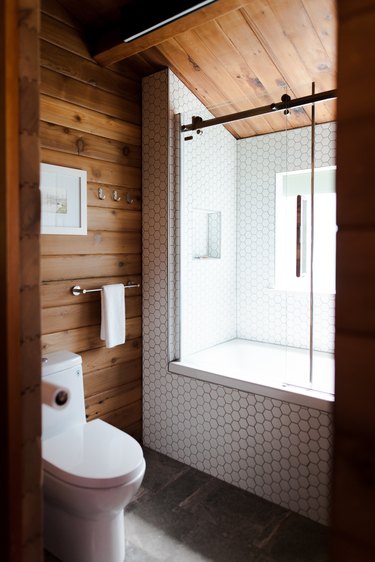 If you're drawn to shower ideas that manage to look both rustic and contemporary, look no further than this gorgeous design residing in a cabin resort. The knotty wood paneling continues into the shower and meshes beautifully with the honeycomb mosaic tile, bringing together the best of both worlds.
6. Build it outdoors … really outdoors.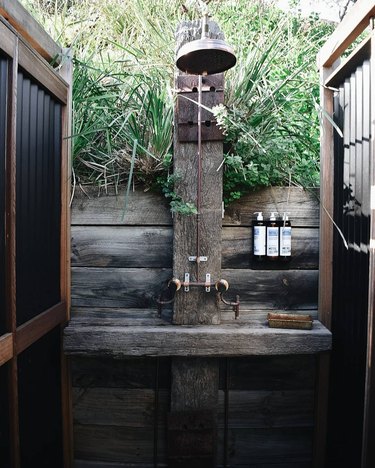 If a traditional setup just doesn't suit you, maybe an outdoor situation is more your speed. For this rustic shower idea, we recommend simple, unfinished wood planks and corrugated metal panels that can withstand the elements. Throw in a modern touch or two, like a rain shower head and your fave shampoo, conditioner, and body wash for a spa-worthy experience you won't soon forget.