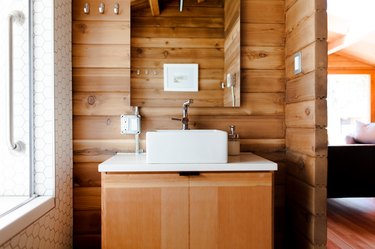 Even if you live in the middle of a busy city, you can still bring a cabin-like mood to your bathroom space. There are plenty of ways to style a chic bathroom, and we've noticed the rustic aesthetic has especially gained popularity. Once you've got the general idea of what you want the space to look like, don't forget elements like your bathroom backsplash.
A rustic bathroom backsplash can take many forms, especially when you consider it's just one part of the overall design. We've gathered some inspiration to get your creative ideas going:
1. Pair a light wood backsplash with a fun, nature-inspired wallpaper design.
Just because you want a rustic look, doesn't mean you need to resort to all-wood everything. This space pairs a light wood backsplash with wallpaper inspired by nature.
2. Choose a similar tone for your cabinets and backsplash.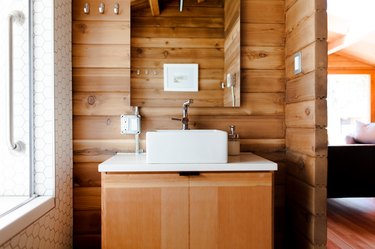 We love the way this warm wood look comes together. Choose a white sink and a minimal mirror for a relaxing, spa-like effect.
3. Use a black countertop and hardware to create contrast.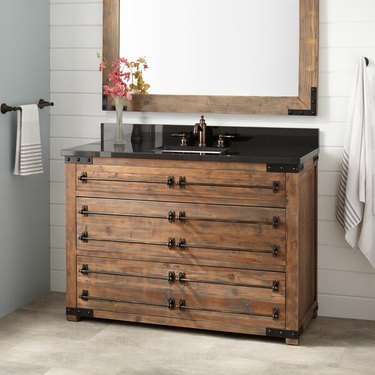 Another way to break up the wood look is to use a black bathroom countertop and backsplash to add some visual interest. We love the way this space also pairs the counter with black drawer pulls.
4. Use white cabinets and accessories for a minimal yet cozy look.
To keep your rustic space from feeling too busy, pair a wood backsplash with a white sink, white shower curtain, and other neutral accessories. Baskets in natural materials also work well with this look.
5. Use bleached wood for a minimal look.
For a twist on the style, try bleached wood as your backsplash. Pair with a stone basin sink for a chic aesthetic.