As people who spend a lot of time looking at photos of bathrooms, we know one thing is for certain: The black-and-white bathroom trend is here to stay. If you're looking for an impactful aesthetic, think high contrast. And black bathroom countertops might be just the accent to anchor your design. Using black bathroom countertops as a starting point can help you define your bathroom style (they're great for farmhouse and industrial looks), as well as help you choose surrounding elements like sinks and backsplashes.
Ahead, eight black bathroom countertop ideas to get you started.
1. Use a black bathroom countertop to increase farmhouse vibes.
2. A thick and angular black countertop is great for modern bathrooms.
If minimal modernism is more of your vibe, let black bathroom countertops do the legwork for you. This bathroom Studio McGee dreamed up has a sleek and chic flair, thanks to its angular countertop and matching shower bench.
3. For bathrooms with a lot going on, a black countertop can be just the right anchor.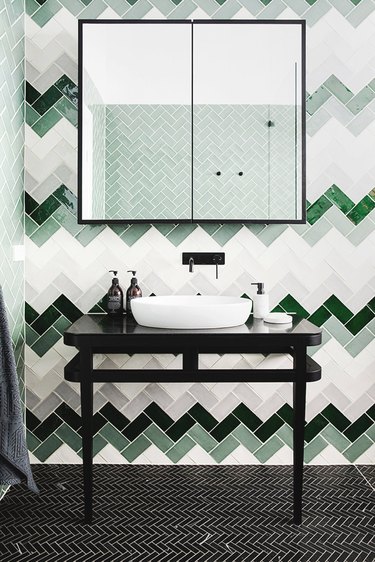 While a bold backsplash can be a bathroom's pièce de résistance, it can be challenging to figure out how to accessorize the rest of the space. Teetering between subtle and statement, the black countertop on this console vanity (design by Three Birds Renovations) fits perfectly.
4. A slim, black countertop adds contrast to an almost all-white bathroom.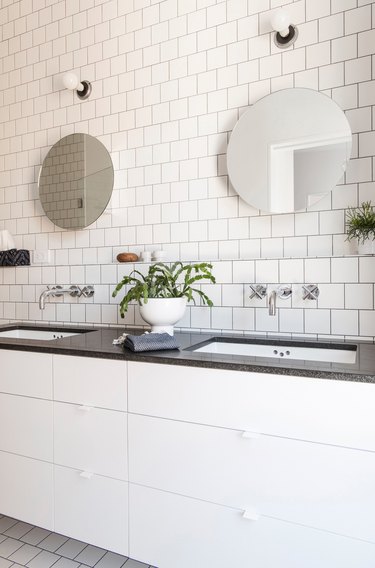 We love all-white bathrooms as much as the next design enthusiasts, but we have to admit they run the risk of looking, well, sterile. Interior designer Elizabeth Roberts punctuates this sleek bathroom with a slim black countertop, which provides just the right amount of contrast.
5. Top a wood vanity with a black slab for warmth and texture.
For years, we've associated a color palette full of whites, tans, and beiges as the best (and perhaps only) way to give a place an easy, breezy California cool vibe. But, as this space by Katie Hodges proves, a pinch of black can still achieve the same results. This slim, black countertop is offset by white walls, a printed rug, and a light wood vanity.
6. Dark-on-dark vanities also work.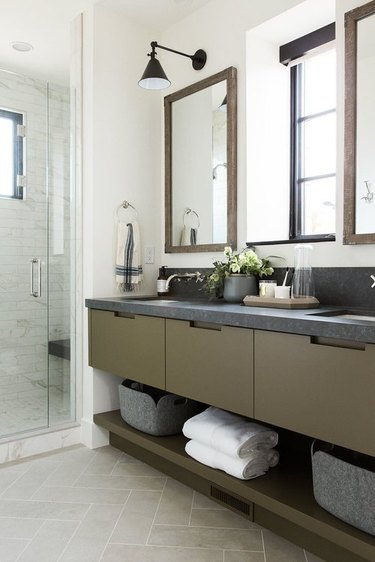 If you're still questioning the versatility of black bathroom countertops, check out this space by Studio McGee. The olive green vanity is a bold move, but it works so well with similarly dark accents surrounding it — like the wood mirror frames, industrial sconces, and, yep, black countertops.
7. Pair a black bathroom countertop with a black accent wall.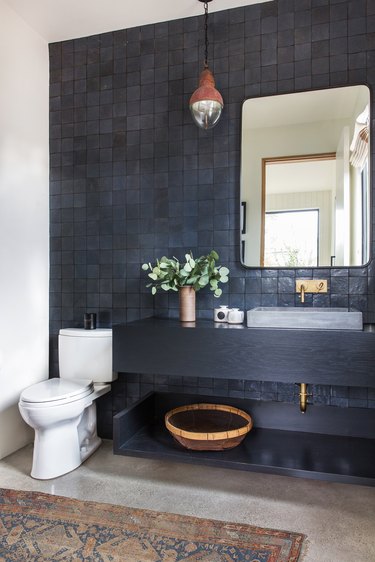 But why stop at black bathroom countertops when you can douse your space in the moody hue? In this room, interior design firm Amber Interiors embraces the dark side with a black counter, under-sink shelf, and tiled accent wall.
8. Or, fully embrace a black bathroom.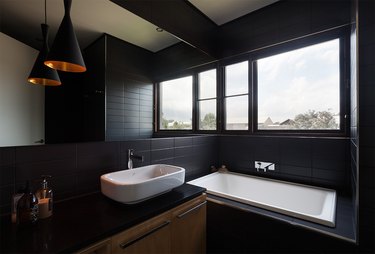 Before you commit to the dark hue, consider the space's natural light sources. With a bright, big window, Australia-based MRTN Architects is able to create a mostly black bathroom — with black countertops, black tiled walls, even a black tub surround — that's dreamy, not dreary.