So you're looking for a bathroom backsplash that makes a statement, causes visitors to go, "Ooh...," and is as unique as you — because it's not just about the size of your bathroom that matters. We get it, and are here to turn those plain walls into a stunning daily pick-me-up. To save you hours upon hours of getting sucked into the labyrinth of bathroom backsplash boards online, we did the work for you and collected some brilliant styles and tips to make your bathroom the talk of your home. Trust that these unique bathroom backsplash ideas will make every trip to your washroom an indulgence in creative living. Take a look!
1. Let's reflect with style.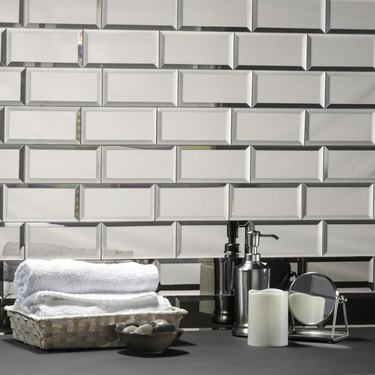 That bathroom mirror is essential. Let's take your reflection a step further with a reflective bathroom backsplash, whether it's a full wall application or selective flourish. You could go with an unconventional backsplash of galvanized steel for an industrial vibe, truly elegant with an embossed tin tile, or apply a twist on the traditional subway style and make it mirrored.
2. Faux wood is real rustic chic.
We adore how this bathroom welcomes nature in a whimsical and memorable way. Using faux-wood tile to contrast the owl-patterned wallpaper and blue cabinetry, the outdoors gets a starring role in the backsplash without risking denting, or needed sealing, with real wood. (Twin Peaks fans, this one's for you.)
3. Embrace a brass or copper inlay — or fake it.
Just as with brass or copper bathroom hardware, introducing a patterned metal inlay tile adds an extra touch of luxury, especially when paired with marble or porcelain. Of course, these days, you can find an array of affordable stick-and-peel DIY-tile options that can mimic a pricier look without having to spend a few paychecks to get it.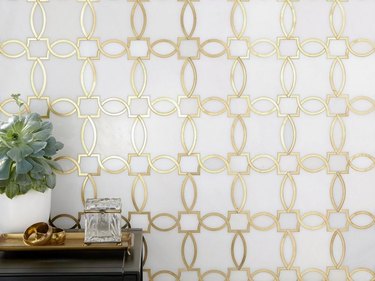 4. Vary your tile thickness for literal pops of texture.
Take a cue from this stone-tile backsplash treatment to add a nice surprise for any visitor. Why should fireplaces have all the fun? You can contact a tile designer if a custom tile is within your budget, for instance, having cement tiles made of varying thicknesses made in a shape you love — imagine select mosaic tiles protruding off your bathroom wall. Or if a temporary DIY solution is what you're looking for, vinyl tiles can also be layered to create a similar effect.
5. Embed or imprint natural elements.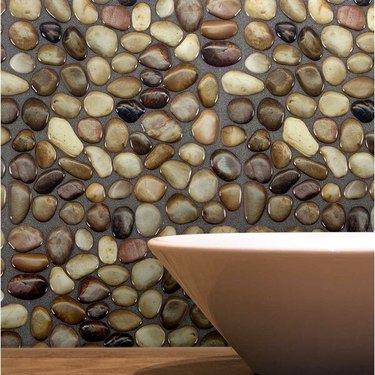 Whether you collect stones or seashells, either can create an oh-so-appealing bathroom backsplash with a variety of textures and colors that people will just want to touch. (If visitors are taking a long time in there, maybe they're taking time to admire your backsplash?) So definitely be mindful of sharp edges. For a less labor-intensive option, you can opt for mosaic vinyl and cement tiles that feature shells and pebbles. That doesn't mean you couldn't add items onto them from your own adventures.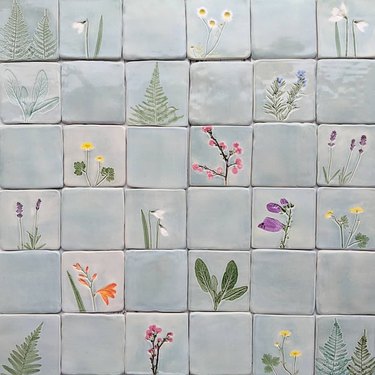 If you have a special place in your heart for pressed dried-flower pendants and rings, then you'll love these hand-pressed botanical clay tiles by artist Marieanne Cavaciuti of Damson Tree Pottery. "I make these by pressing plants and twigs into soft clay, cutting into tiles and firing in my kiln," she shares on her Etsy shop. "I then carefully paint with glaze and fire them again to bring out these lovely colours." Mix in a few with other tiles for your backsplash, or splurge and go completely botanical with her lovely designs to decorate your sink area.
6. Mix and wow!
Why limit the party to the bar area when you can have this vibrant mosaic of glass and plastic tiles greet you in the bathroom? (We know or hope some of you have already enjoyed a glass of wine on occasion while relaxing in the tub.) Use this scene to inspire for your bathroom backsplash project, or make it easy on yourself and buy a sheet of these as is.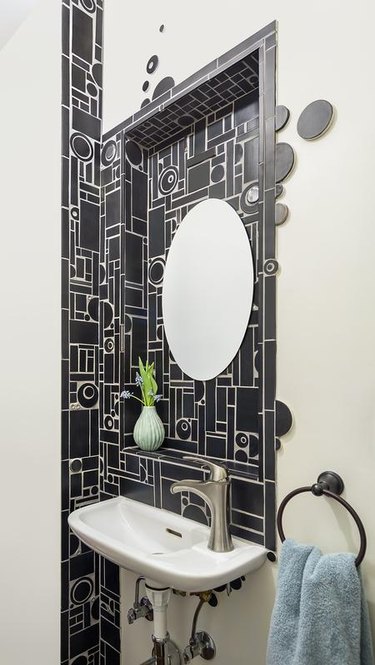 Mercury Mosaics used a mixture of their own custom tile in Satin Black to create this incredible backsplash. Who else is getting Bauhaus vibes from this intricate mosaic that is an art piece worthy of any space in the home? Experiment with a selection of your favorite shapes and also note how their tile treatment goes beyond just mixing tiles. We are obsessed with the picture the narrow-tiled strip on the left creates when it meets the framed recessed shelf in the corner, as well as the pieces of half-moon and circular tile that connect and float off onto the wall. This is a unique bathroom backsplash idea we covet in numerous ways.