You think you have your bathroom decor all figured out, right? You've picked out a striking shower curtain, invested in some quality towels (and found a smart way to store 'em), and even placed some fresh flowers on your countertop. But have you given much thought to your backsplash? Maybe not. While tiled walls are a no-brainer for your tub and shower, many people either settle for plain white subway tile by the sink or (even worse) ditch backsplash altogether.
As far as we're concerned, it's a missed design opportunity. Not only will adding a backsplash to your sink area protect your walls from water damage, but it's also a suitable way to bring some personality into your wet room. So whether you're set to embark on a new renovation or just want to revamp the look of your washroom, here are seven bathroom backsplash ideas worth copying.
Bathroom Backsplash Idea #1: Marble Marvel
All the greats were made out of marble: the Taj Mahal, Michelangelo's David, and now, your bathroom backsplash. When placed in a light and airy space — like this design by Andrea Rodman — marble feels luxurious without overpowering the rest of the room.
Bathroom Backsplash Idea #2: Double Trouble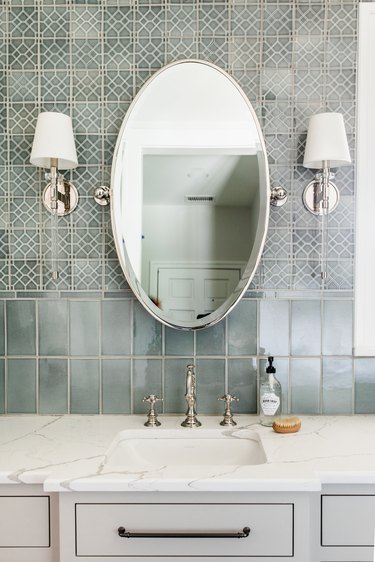 Why settle for one type of tile when you can have two? Texas-based interior designer Christine Zeiler used two different styles for this backsplash. If you want to bring the same look into your home, follow her lead and select two (or more!) styles in a similar color palette.
Bathroom Backsplash Idea #3: Shape-Shifter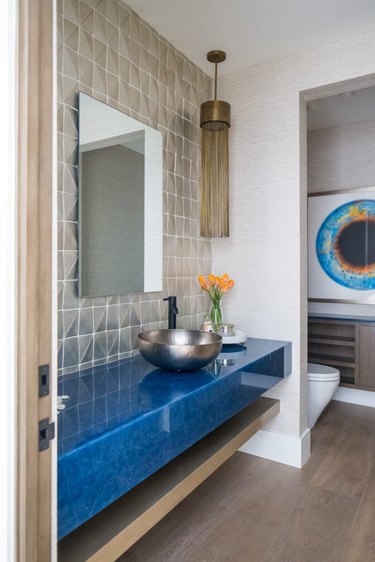 Give your glam washroom the attention it deserves with a dimensional backsplash. Angular tile will give your walls texture and bring some excitement to your space. Let the team over at Blackband Design show you how it's done.
Bathroom Backsplash Idea #4: Size Matters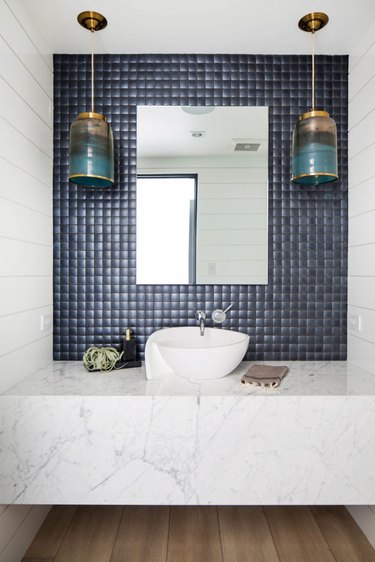 Big things often come in small packages — just look at this bathroom backsplash idea from Blackband Design. The tile used here is tiny but makes a serious statement when grouped together. Not ready to replace an entire bathroom wall? Create the illusion of a new backsplash with wall stenciling, decals, or removable wallpaper.
Bathroom Backsplash Idea #5: Be Bold
Go big or go home with a bold backsplash. While this option isn't for wallflowers, we can't help but smile whenever we see the Jungalow's iteration. Nervous your space will look too busy? Take a page out of Justina Blakeney's book and turn your backsplash into wainscoting, covering the bottom half of your wall and leave the rest blank.
Bathroom Backsplash Idea #6: Pattern Play
Or if you prefer larger, more abstract prints, feast your eyes on this bathroom backsplash idea from Nest Architects. The geometric tile deftly contrasts the dark color palette, giving this design a laidback yet oh-so-cool vibe. Consider us smitten.
Bathroom Backsplash Idea #7: Statement Subway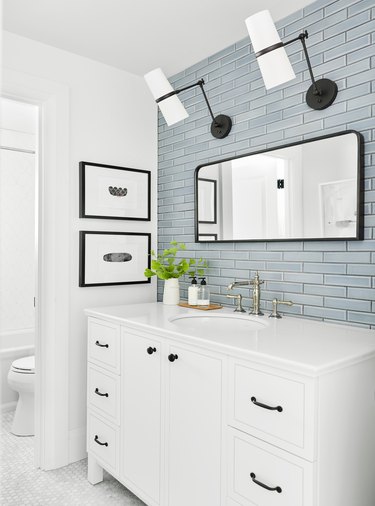 Psst ... if you're not quite ready to let go of subway tile, then this bathroom backsplash idea is perfect for you. When reimagined in a slimmer size and a light and airy hue — like the soft blue shade that Emily Henderson chose — it will give you the comfort of tradition that you crave, while imparting a whole new look in your space.