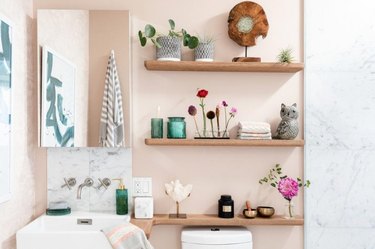 Perhaps you've just moved into your very first solo pad and are ready to dive deep into decorating. Or maybe you've been in your home for a while and are ready for an update. Budget-friendly and easy weekend project are your keywords here. So let's start with your bathroom: It's a bit ho-hum and you're yearning for some hell yes. Thankfully, there are simple inexpensive tricks to get some bathroom flex in a snap. How about installing a new bathroom backsplash?
Let's face it: Even if you own, remodeling a bathroom can be pricey. A refresh that will make the space feel stylish and is easy to install and even easier to remove when you're on the move is just a click or two away. From super cool stick-on tile to wallpaper with a wow factor, we've got some ideas that can be implemented over a weekend or even quicker.
Bathroom Backsplash Idea #1: Stick It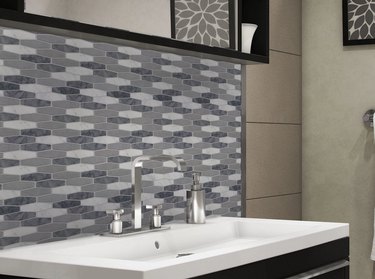 An easy and economical way to add a super cool pop of color, personality, and something unexpected to your backsplash is installing peel-and-stick tile. You can go a little wild with shapes and different hues or make a sophisticated statement with a neutral vibe. The options are endless. Measure your space, shop your style, and schedule your Saturday and Sunday around turning your bathroom from drab to way fab. The tile in this simple bathroom turns gray and white into yay and hooray.
Bathroom Backsplash Idea #2: Pretty in Paint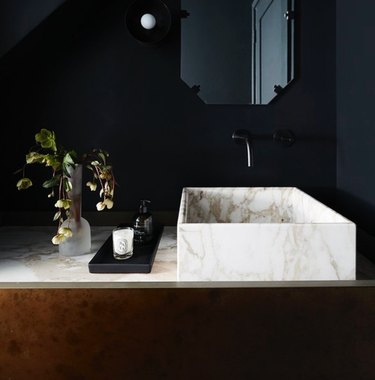 Are those white walls making your vibrations wane? If your backsplash isn't bringing you bliss, pick a dramatic color and paint the area above and around your sink something sassy and sensual to match your forever mood. This dark look from Nune makes us want to spend some serious self-care time in this space.
Bathroom Backsplash Idea #3: Wow with Wallpaper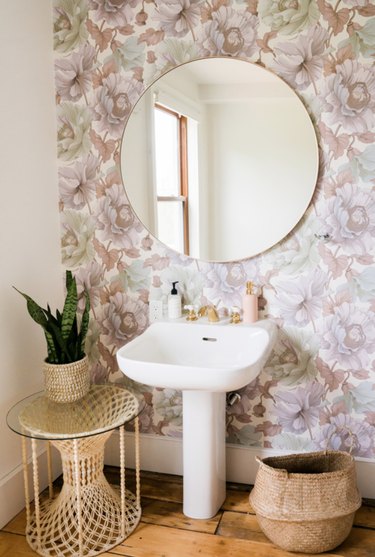 Another quick and easy trick to turn your backsplash into something fancy is adding an accent of wallpaper. You can find moisture-resistant styles that are also easy to remove when you decide to switch things up again. This floral look at The Desert Collective turns a super simple sink area into an aha moment.
Bathroom Backsplash Idea #4: Shelve It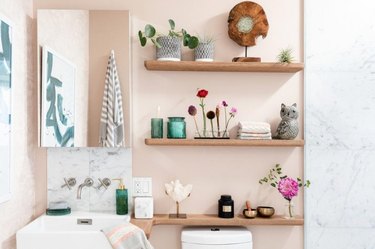 Sure, we like a medicine cabinet for the combination of storage and a mirror while we're brushing our teeth and pondering your life. But with all the beautiful lotions and potions we insist on having on hand, sometimes it's nice to give them a little PDA. Put up some shelves around your backsplash space. While not technically the backsplash, this look surrounds a sink area with lots of style. Such an easy upgrade!
Bathroom Backsplash Idea #5: Mirror in the Bathroom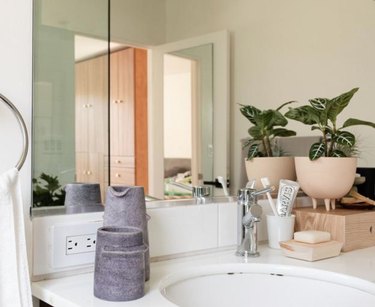 Sometimes your bathroom is the perfect place to get a little reflective. Turn your backsplash (and beyond) into a mirror. Whether they're comprised of a single sheet or stick-on tiles, mirrors are easy to put in place. It will make the room feel spacious and provide the perfect spot to up your OOTD poses and give yourself those daily affirmations. This bathroom features a mirror that covers the entire wall surface over the sink area, creating a clean and light look.
Start Here to Make a (Back)splash:
Home Depot is a great place to start your hunt for peel-and-stick tiles. They stock a variety of shapes and offer easy instructions.
Behr gives great tips on what paint is best to use in a bathroom, plus some good color inspiration.
Guild and Grace will have you going down a wormhole of easy to install wallpaper designs.
Target has cheap and chic floating wood shelves with natural or white finishes.
AllModern has peel-and-stick mirror tiles and mirrors, as well as a variety of tiles.