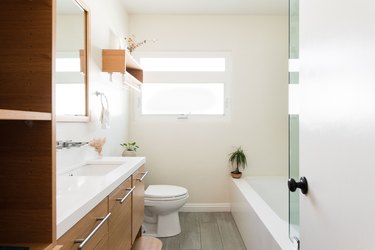 White countertops are undoubtedly a go-to when designing a bathroom, and for good reason. They instantly create a light and clean feeling, which is exactly what most of us are after. But don't be mistaken — white bathroom countertops come in just about every material you can imagine, from marble to tile to quartz to solid surface. Plus, they're versatile enough to work with just about every style you can think of. Basically, they're the perfect starting point to create your dream space, whether you're leaning toward modern, bohemian, or even a more traditional look.
Skeptical? Keep scrolling for eight white bathroom countertop ideas that will seal the deal for your next reno.
1. Pair it with brass to add a little glamour.
Shea of Studio McGee knows a thing or two about style, as seen in this classic design. The sleek white bathroom countertop and dreamy gray vanity cabinet have been paired with brass accents and swanky black fixtures to up the glam factor.
2. Go traditional with a beveled edge.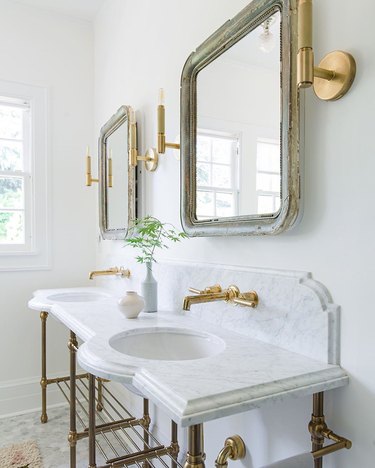 Designer Lisa Staton introduces luxurious white marble with a beveled edge for a vintage-inspired, traditional style. Copy this white bathroom countertop idea by pairing an antique style mirror with a console sink and bright white walls for a balanced look that's full of personality.
3. Warm things up with a wood vanity cabinet.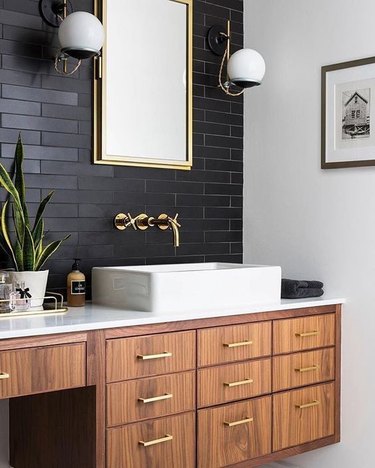 We are all fans of white bathrooms, but if you're looking for something a little warmer, follow the lead of Studio Dearborn. For this white bathroom countertop idea, they chose a striking wood vanity cabinet outfitted with brass hardware and paired it with a black tile backsplash, brass fixtures, and industrial sconces. The finished result is incredibly chic and far from cold or stark.
4. Make it midcentury modern with geometric details.
Casey Keasler calls in all the midcentury modern vibes with this striking bathroom design. A sleek, rectangular console sink with a counter complements the green geometric floor tile, which lends a slightly retro vibe. To recreate this look, pair white bathroom countertops with black hardware and a dash of green for heightened contrast.
5. Accent with a bold hue.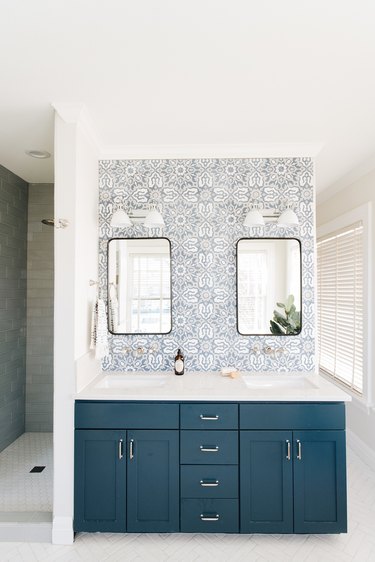 Just because a designer opts for a neutral countertop doesn't mean they don't appreciate a good dose of color. Christine Zeiler highlights a clean, bright work surface with a blue painted vanity and patterned tile backsplash. In this case, the simple white material perfectly grounds the bolder elements in the room.
6. Style with classic details.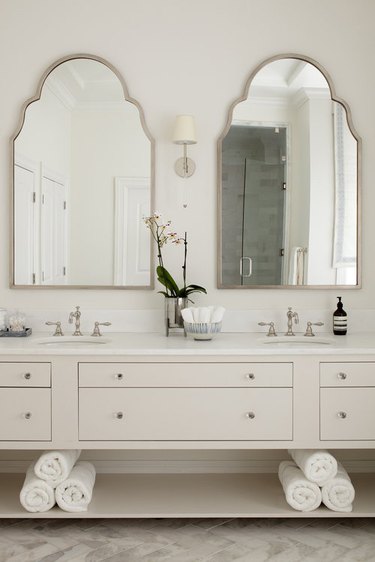 This classic bathroom designed by Stephanie Gamble pairs ivory cabinets and a white bathroom countertop for a serene feel. Style your neutral master bath with arched mirrors and polished wall sconces to recreate this design in your own space.
7. Up the drama with black.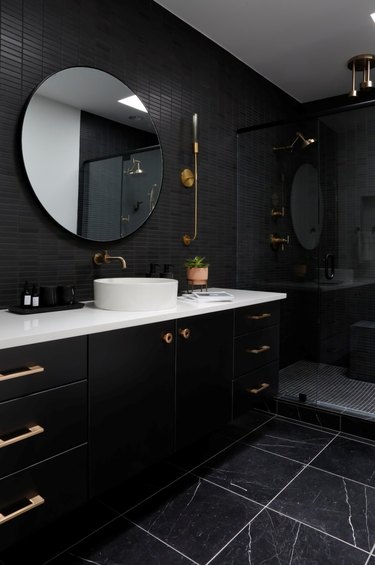 Who says white bathroom countertops can't work in a moody design? This space is the epitome of luxury, thanks to black vanities, marble floor tile, and wall tile. To bring this look into your own home, choose a white bathroom countertop, white vessel sink, and brass fixtures as a foolproof way to lighten up a dark color palette.
8. Keep it clean with a minimalist design.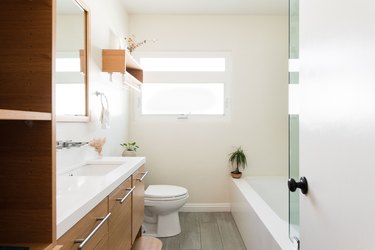 This white bathroom countertop idea keeps it light and airy with a minimalist approach, pairing white materials with warm wood. To recreate this look, opt for a wood vanity cabinet topped with a white countertop free of clutter and decor (even the sink is undermount!) and complement with a dash of greenery here and there.