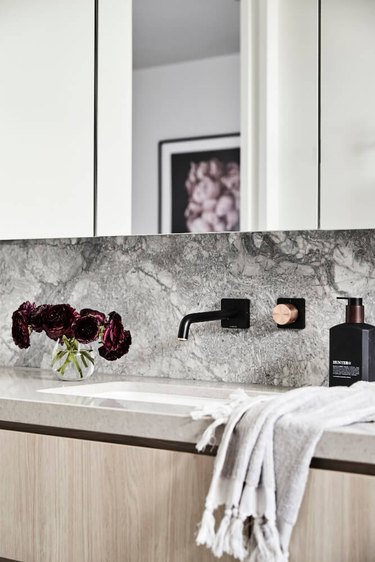 When it comes to interior design, "simple" often gets a bad rap for being lazy or lackluster. After all, no one wants to be known as basic, not even when it comes to their bathroom. However, "simple" doesn't have to be a bad thing ... sometimes less IS actually more. And as far as we're concerned, very few things can make a case for modesty quite like an undermount bathroom sink.
What Is an Undermount Bathroom Sink?
We're so glad you asked. It's the most straightforward option when it comes to bathroom sinks, defined literally by how it's installed. Unlike a self-rimming sink, an undermount is installed below the countertop instead of being inserted into a pre-cut hole. This style of washbasin results in a streamlined and clean look that has the added benefit of freeing up valuable counter space. Plus, it makes cleaning a breeze, since grime won't get trapped around the edge — all you have to do is wipe the dirt from your countertop directly into the sink.
But that doesn't mean undermounts are without their faults. In fact, they can be difficult to install, which as a result makes them more expensive. It's important to double check that your countertop material is strong enough to support the weight of the sink. Another factor to consider is condensation between the underside of your counter material and the sink, because if moisture builds up, it can cause mold. And of course, there's the misplaced concern that they can veer toward dull territory. Fortunately, that doesn't have to be the case. As the seven bathrooms below prove, undermount bathroom sinks can be far from boring.
Undermount Bathroom Sink Idea #1: Double Trouble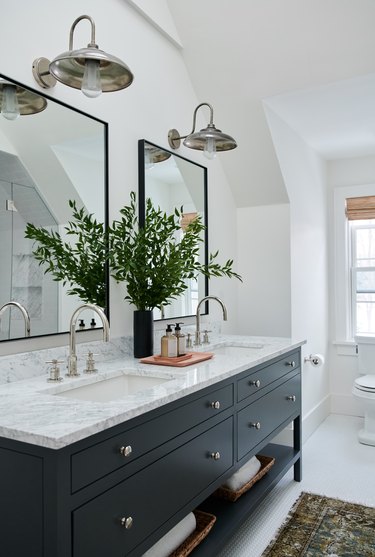 Undermount Bathroom Sink Idea #2: Go the Extra Mile
Whoever said an undermount sink has to be a perfect square has clearly never seen the rectangular beauty in this New York bathroom designed by Chango & Co. Here, the design team went the extra mile (sorry, we had to) with an ultra-long trough-inspired look. The result? A bathroom sink that oozes hotel room vibes that make you feel like you're on a permanent vacay.
Undermount Bathroom Sink Idea #3: Marble Marvel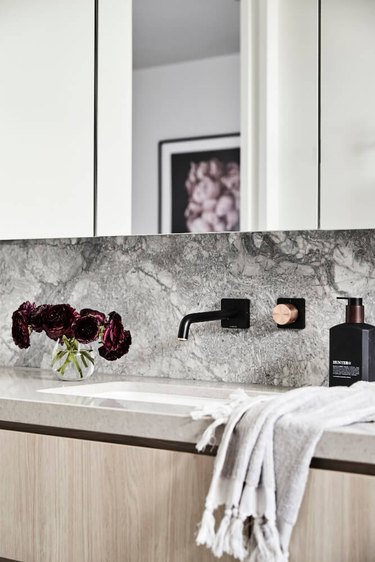 If you ask us, how you accessorize your undermount bathroom sink can make our break your design. In this contemporary bathroom by Australian-based firm Thomas Archer, a stunning marble backsplash with dramatic veining is punctuated by a chic black wall-mounted faucet. A vase full of burgundy blooms adds a bold pop of color.
Undermount Bathroom Sink Idea #4: Be Bold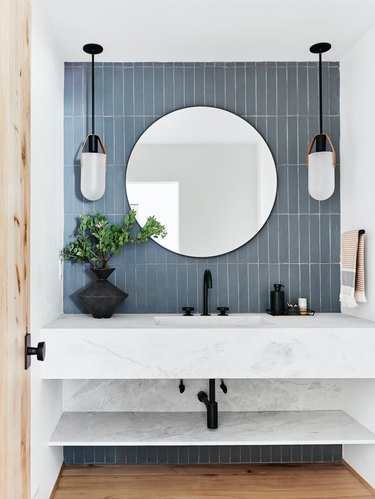 Undermount Bathroom Sink Idea #5: A Lightbulb Idea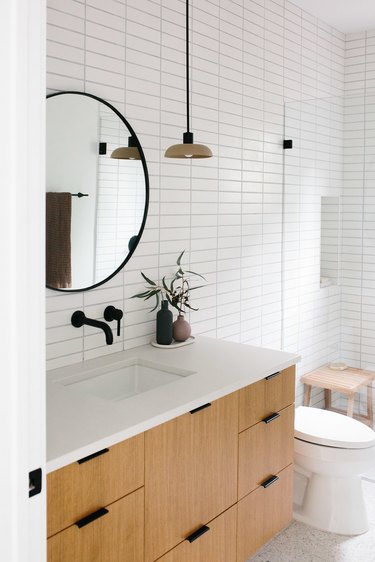 Want to take your undermount bathroom sink to the next level? Add a pair of midcentury pendant lights to the mix. Not only will this look AHH-MAZ-ING, but it will spotlight your vanity top — adding extra lighting right where you need it most. Let Jen Pinkston from The Effortless Chic show you how it's done.
Undermount Bathroom Sink Idea #6: Round it Out
If a square undermount sink feels lackluster, jump on the curved trend bandwagon and select a round washbasin. In this boho-chic space designed by the team over at Studio Life/Style, a circular bowl subtly kicks things up a notch, yet blends in nicely with the white countertop, white tile backsplash, and light wood vanity. Swoon!
Undermount Bathroom Sink Idea #7: Shades of Gray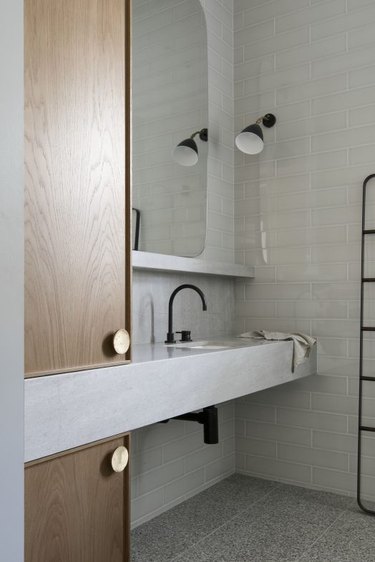 When in doubt, you can never go wrong with a dreamy gray bathroom. Take a cue from CJH Studio and deck out your sanctuary in shades of the muted hue with the help of a chunky concrete countertop, gray subway tile, and smoky flooring. Draw the eye toward your undermount with a contrasting black faucet and a black wall sconce above to light the star of the show. Complete the modern look with warm wood cabinets for storage.
Where to Buy an Undermount Bathroom Sink:
Ready to pick up your very own undermount sink? We're sharing our top three favorite places to shop.
If you love the look, but have no idea where to start, head over to Moen. From curved styles, to square, to rectangular, there are plenty of shapes and finishes that will pique your interest.
For years, Lowe's has been your one-stop-shop for all of your home improvement needs, and undermount sinks are no exception. If you're looking for a stunning option that won't completely kill your budget, you'll be pleased with their options under $300. In the world of sinks — you know, where many options can creep up into the quadruple digits — that's some great bang for your buck.
Anyone who wants to deviate away from the traditional sink finish will love The Home Depot's colorful collection. With undermount sinks from brands like Kohler, Elkay, and Kraus, the retailer has plenty of options to choose from.