A bathroom remodel isn't an easy process by any stretch of the imagination, and even more so if you're trying to stick to a budget. From faucets to floor tile, there are decisions to be made at every step of the journey. We're here to help make some of those selections a little bit easier. Today, we're talking about an often overlooked bathroom necessity: the sink. The options might seem endless — undermount, wall-mount, vessel, trough, pedestal, just to name a few — but there's one traditional choice that could make your redesign that much easier. Here's everything you need to know about a self-rimming bathroom sink, including dreamy inspo and shopping sources to get the look.
What Is a Self-Rimming Bathroom Sink?
Self-rimming sinks, also known as drop-in sinks, are one of the most common fixtures found in bathrooms, especially rentals. They and can usually be identified by the rolled edge that makes for easy installation and clean-up. The distinctive edge is used to support the sink within the countertop and is finished with a bead of caulk.
Pros of a Self-Rimming Bathroom Sink
In addition to being particularly cost-effective, self-rimming bathroom sinks are easy to install and can be mounted directly into any countertop material including laminates, tile, and solid surface. The cut-out of the surface material required for the sink is hidden from view and therefore can be finished roughly, whereas an undermount sink would require an exact hole with a finished and polished edge. Unlike undermount sinks, with self-rimming sinks there's no risk of germs getting through to the layer below the counter surface.
Cons of a Self-Rimming Bathroom Sink
We admit it. Depending on the style you select, self-rimming sinks can look dated. But that doesn't mean that it's impossible to successfully pull off the style in your own bathroom, as you'll see below. Another factor to consider is that the sink edge can take up valuable counter space. So if your surface is limited, you might want to consider an undermount instead.
1. Keep it simple.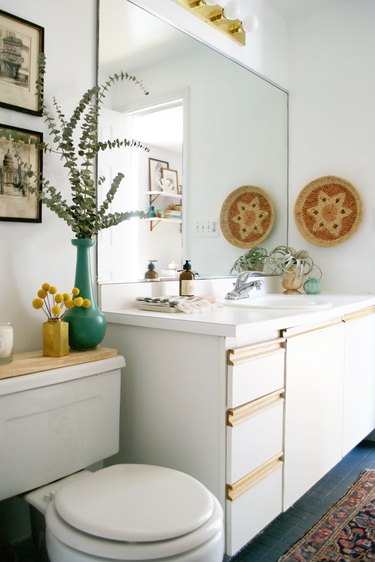 If it ain't broke, don't break it. Self-rimming sinks have retro charm, so embrace the vintage vibes and dress your bathroom to match. Diane and Emily of Rehabitat Interiors gave this rental bathroom a refresh by adding in boho accessories and painting the walls white.
2. Revive a vintage dresser.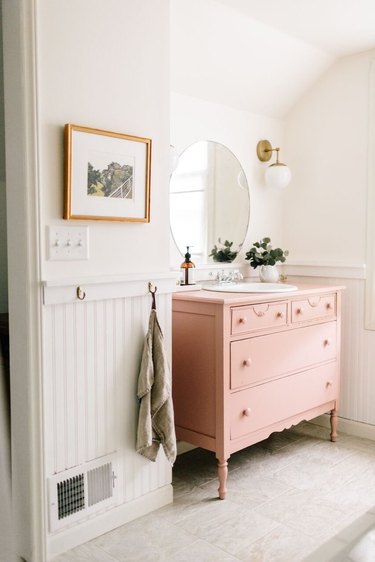 Brianna Heiligenthal turned a vintage dresser into a bathroom vanity with the help of pink paint and a self-rimming sink. The idyllic look was taken from budget to bourgeoisie with brass wall sconces, and a huge frameless mirror to boot.
3. Double up for less.
Did we mention that self-rimming bathroom sinks were affordable? Make your double vanity dreams a reality by simply popping two into your countertop. Siri Campbell Roozen completed the look of her glamorous bath with a chic, unfinished hexagonal tile backsplash and brass framed mirrors.
4. Pick a shape, any shape!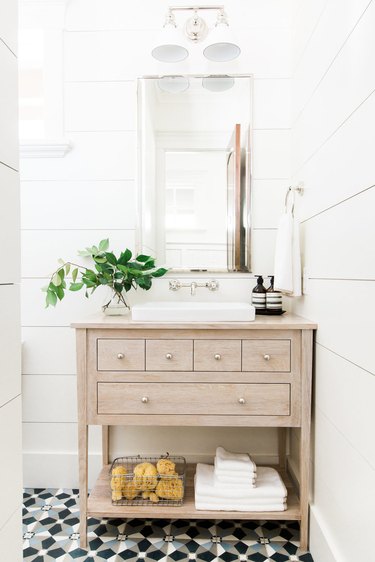 The round retro look isn't for everyone, so don't be afraid to try something a little more modern. In this bath designed by Shea from Studio McGee, an au courant, rectangular self-rimming sink partners well with farmhouse style wall sconces, a wood vanity cabinet, and wall-mounted faucet.
Shopping for Self-Rimming Bathroom Sinks:
Looking for a self-rimming sink? Shop these brands to find a little bit of retro perfection.
For the extremely design-conscious, Kohler sinks are known for their distinctive style with durability and strength. Find a drop-in sink that suits your style, from vintage designs to modern shapes.
Available at Home Depot, Glacier Bay sinks are the best of the basics. Purchase a self-rimming option and get the rest of the bathroom fixtures to match.
If you're after something different, Sinkology's copper drop-in sinks are anything but conventional. Choose from a number of elegant designs in different finishes and alternative shapes.