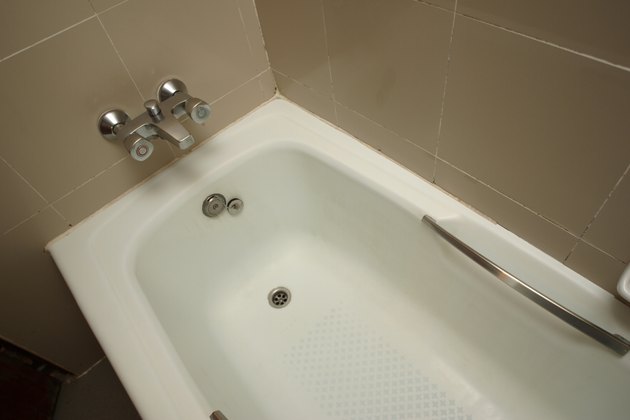 Whether you're entirely remodeling a bathroom or just replacing an old bathtub, one important decision to make is what type of bathtub to purchase. Choosing the right bathtub to fit your style and needs can be difficult. For instance, your choices include a soaking, freestanding or specialty tub. You also have the choice of purchasing a built-in tub, which is built into the bathroom. Two types of built-in bathtubs you can choose are alcove and drop-in.
Drop-In Bathtub
A drop-in bathtub is a type of tub you don't have to place against a wall. Instead, you can simply drop it into place wherever you want the tub. For example, you can place it on a platform or directly onto the floor. Regardless of whether you install it onto the floor or a platform, you don't have to worry about guests seeing the plumbing. A drop-in tub conceals the plumbing, giving a bathroom a cleaner, stylish look. Also, the drop-in tub is ideal for someone who likes sitting and soaking in the bathtub for long periods of time because of its shape. The tub offers you a deeper water level than the alcove tub.
Alcove Bathtub
The term alcove doesn't refer to the shape or size of the bathtub, but the installation. Typically, the tub is installed in an alcove section of the bathroom with three of its sides enclosed by a wall. On the front side, you can place a shower curtain or bathtub door to provide privacy. For a person needing help getting in and out of the bathtub, an alcove may be a better choice than a drop-in tub. You can install either a rail or safety grab bar to assist in entering or exiting the bathtub.
Types
Whether you choose a drop-in or alcove bathtub depends on the type of style you want. Alcove doesn't offer you a variety of styles to choose from. You can only choose the rectangle style alcove bathtub, and you have to place it against the wall. In contrast, drop-in tubs offer different styles and shapes. You can pick an oval, rectangle or square-shaped drop-in tub. For instance, you can purchase a deck mounted drop-in tub or one mounted on a pedestal like a sink.
Considerations
A drop-in tub is easier to clean than an alcove tub. The drop-in tub does have disadvantages, though. The bathtub is easy to get into, but hard to get out of. You must fully stand, then take a big step to get to the floor. The alcove bathtub allows you to protect the walls by installing wall surrounds. The wall surrounds consist of the same material that your tub is made with. Once installed, it provides a water tight barrier.
---
Demetrius Sewell is an experienced journalist who, since 2008, has been a contributing writer to such websites as Internet Brands and print publications such as "Cinci Pulse." Sewell specializes in writing news and feature articles on health, law and finance. She has a master's degree in English.