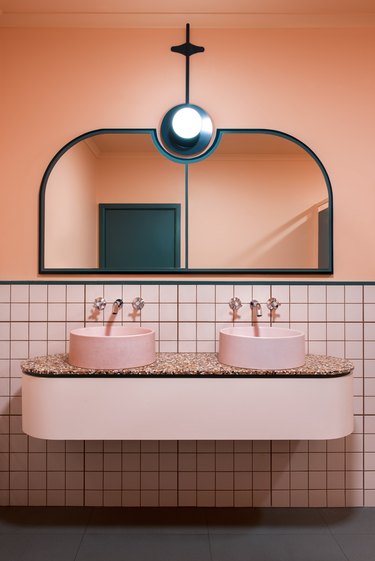 Many of us love venturing to fancy bathrooms in hotels and restaurants to secure that optimal selfie. But what if we told you how to create that luxe look in your own home? Spoiler: It all starts with a spectacular master bathroom vanity.
The bathroom vanity should be multi-functional. The mirror has to be gorgeous, and there has to be a ton of storage. Where else will you keep all those toiletries?
Don't feel compelled to splurge to get the perfect master bathroom vanity, though. You can DIY one or repurpose a vintage option. With a little creativity, your wash room will be ready for photoshoots in no time.
Here are eight master bathroom vanity ideas that are sure to wow.
1. Dress it up.
2. Wow with color.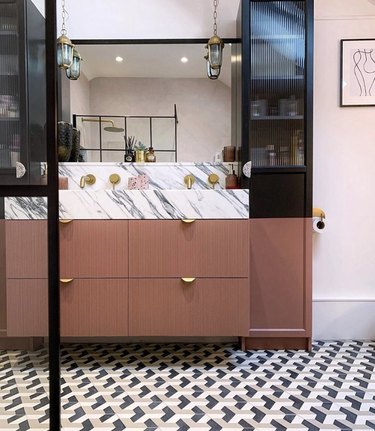 You needn't be afraid of color when it comes to your bathroom vanity. In fact, you should try using a bolder hue. Marisa and Chris of Oak Apple Decor opted for a pink shade in their master bath. But can you believe this is an IKEA hack? Some of the most successful vanities start with an IKEA base.
3. Experiment with texture.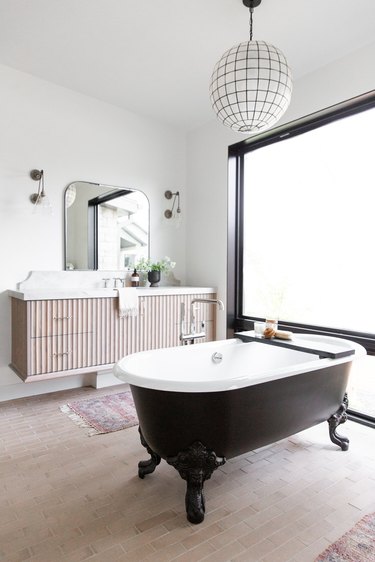 It can be hard to incorporate texture into your bathroom design. But this floating vanity from Ames Interiors is trendy and visually interesting. Accented with quartzite countertops and a decorative backsplash, the ribbed wood vanity fronts give an instant update to the more traditional elements of the space.
4. Try an L-shaped vanity.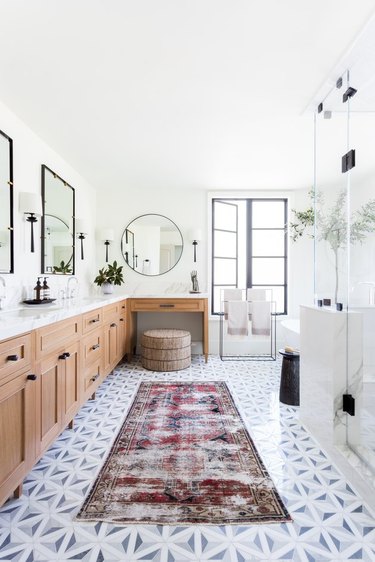 If you're blessed with a bathroom large enough, an L-shaped vanity might be the best option. If you've got the space, use it, right? These uniquely-shaped vanities offer distinct spaces to wash and groom. There's even a separate space to sit. This remodeled master bath from Kate Lester Interiors covers all bases, and the rug is vintage perfection.
5. Glam things up with a little gold.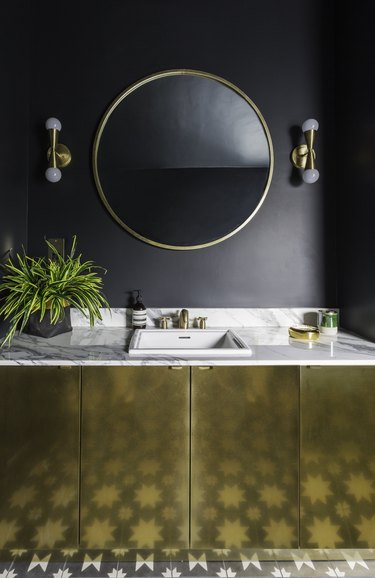 We think we're in love. There are regular bathroom vanities and then there are showstopping bathroom vanities. Just take this dazzling gold number. The shiny brass doors from Custom Fronts complement the Arabescato marble countertops. And the flooring is perfectly reflected in the vanity. A little bit of greenery tones things down the perfect amount.
6. Take a walk on the luxe side.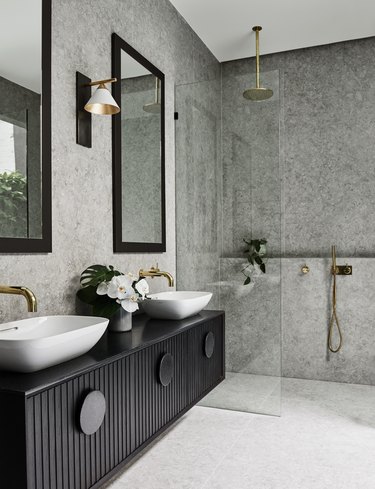 This master bathroom vanity looks like it was plucked straight out of a hotel. Designed by Alisa and Lysandra, the sleek black number features paneled fronts with geometric details, chic basin sinks, and gold fixtures.
7. Repurpose vintage furniture.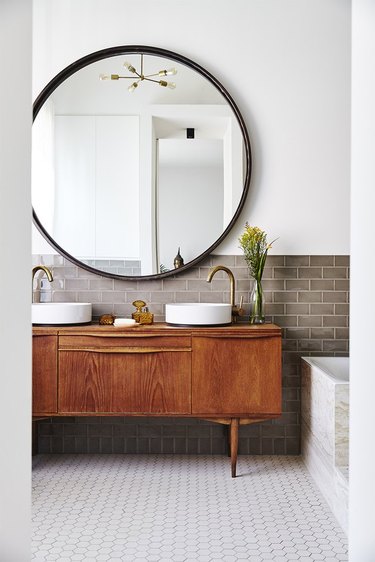 8. Forget about limitations.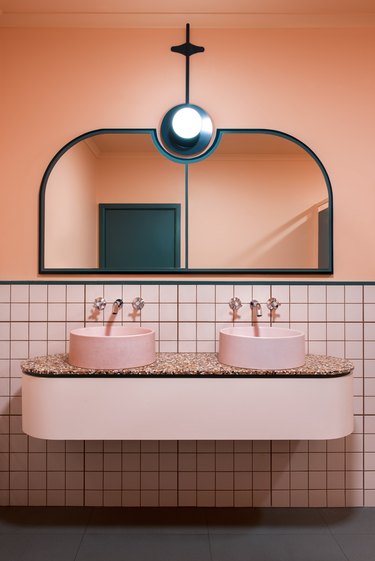 Forget about the norm when it comes to creating your ultimate master bathroom vanity. You don't have to choose standard options. Make like the Melbourne-based Bergman & Co., and create a bold and beautiful interior. Go tonal with pink tile that complements the vanity and sink. The more art deco the better.