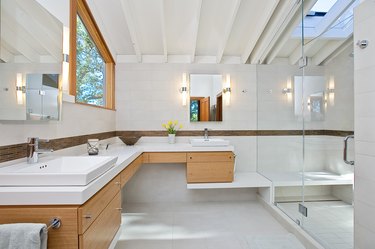 As a small-home owner, there are some things I desperately covet — a walk-in closet, a powder room, a place to store my vacuum cleaner that isn't the garage. Thanks to a remodel that came before us, I do enjoy an en suite master bath — something not as common in houses like mine from the 1920s. But what I wouldn't give for a vast L-shaped bathroom vanity.
An L-shaped bathroom vanity means a couple important things. One, your bathroom is large enough for the countertop to wrap. Bless. Second, storage, storage, storage. L-shaped bathroom vanities also offer the promise of separate and distinct spaces to wash and groom, even a place to sit. With a view. Sigh. Someday.
Below, seven L-shaped bathroom vanity ideas that are pretty enough to pin.
L-Shaped Vanity Inspo #1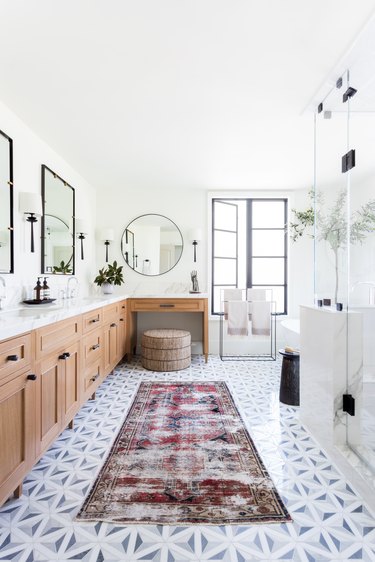 This remodeled master bath from Kate Lester Interiors is a showstopper for sure. (See the whole house here). And it solved one of the homeowner's biggest issues with the existing bathroom, with its standard single wall vanity.
"The one thing our client hated about her last makeup area was that it was right in between the sinks so makeup would fall in, and she never had enough room," explains Lester. "This made me realize that if we utilized some of the dead space on the return, we would be able to create a dedicated space for all of her hair and makeup needs that was far enough away from the sinks and next to the fantastic natural light of the large window. To keep things consistent, we kept everything counter height and gave her a counter stool instead of a traditional chair. It's the perfect solution."
L-Shaped Vanity Inspo #2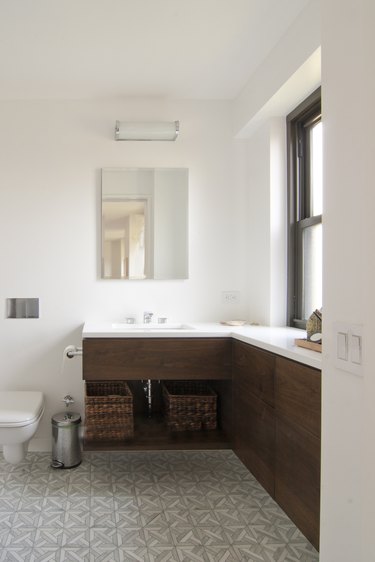 "L-shape vanities are wonderful to use to get a bit more storage space than you're used to," says interior architect and feng shui designer Anjie Cho, who renovated this downtown NYC apartment. "It's a good use of space under a window as well, like in this project." Cho used walnut and a white Glassos top for this custom L-shaped floating vanity.
Storage is key. "I prefer to design a larger vanity than keep the space open, so that the client can have space for concealed storage. It's much tidier and cleaner," Cho says. "Otherwise the area may end up getting cluttered with furniture."
L-Shaped Vanity Inspo #3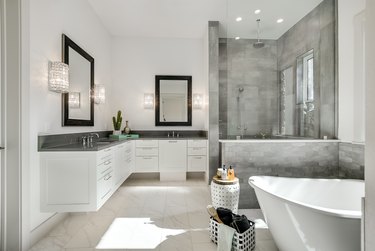 In this sprawling Austin, Texas, home, Cornerstone Architects made the most of the traditional en suite master bath with an L-shaped vanity featuring Shaker cabinets and grey worktops. The design is by Cerulean Concepts.
L-Shaped Vanity Inspo #4
This truly stunning, light-filled master bath overlooks the ocean from a bluff in Del Mar, California. I mean, come on. You'll be blowing out your hair with a view of the Pacific. It's a luxurious, coastal feel in a classic Craftsman, from Mark Gross & Associates and Zephyr— all yours for a cool $15 million.
L-Shaped Vanity Inspo #5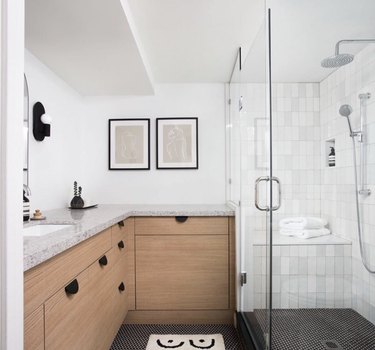 As part of a project in Toronto affectionately known as #projectdivorcetodivorceyay, by Jessica Leigh Interiors, a dated single vanity gets what the designer called "fresh fem vibes" (and a lot of new storage).
L-Shaped Vanity Inspo #6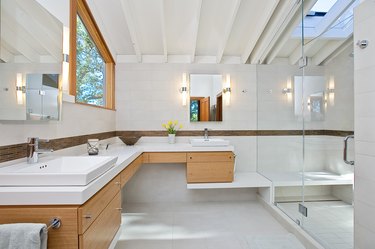 For Bill Willers, of Marcus & Willers Architects, an L-shaped vanity was a logical solution in this remodel of a Sea Ranch home in Sonoma County, California. Originally, the bathroom had a bathtub, a very small shower, and a single sink, he explains, and the new owners wanted a large shower, no tub, and double sinks. "The L-shape was the only way to give sinks adequate room from each other within the existing footprint of the room."
L-Shaped Vanity Inspo #7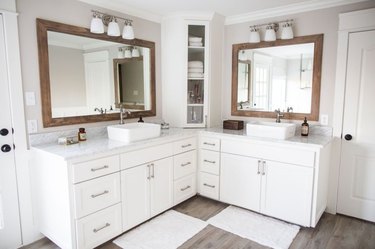 This classy master bath reno was featured in Fixer Upper season 3. Chip and Joanna Gaines transformed a dated '90s home into a beautiful, Magnolia-esque modern-traditional masterpiece, with lots of white and marble throughout, including the master bath. "This bathroom was originally the biggest eyesore in the whole home, but its bones I could definitely work with," Joanna wrote in The Magnolia blog.